Nieuport 28 Video - At Old Warden
Nieuport 28 Video - Nieuport 28 C-FEWL Runup
Nieuport 28 Aircraft Information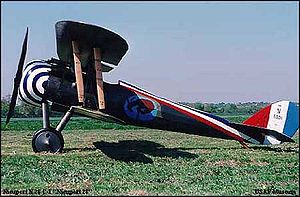 Picture - Reproduction of the Nieuport 28 at the National Museum of the United States Air Force
Role: Fighter
Manufacturer: Nieuport
Designed by: Gustave Delage
First flight: 14 June 1917
Introduced: March 1918
Retired: July 1918
Primary users: U.S. Army Air Service Aéronautique Militaire
Number built: about 300

The Nieuport 28 (N.28C-1) was a French biplane fighter aircraft flown during World War I, built by Nieuport and designed by Gustave Delage. Its principal claim to fame is that it was the first aircraft to see service with an American fighter squadron.
Design and development
By the middle of 1917 it was obvious that the Nieuport 17 was unable to cope with the latest German fighters, and that direct developments of the 17, such as the Nieuport 24bis. were unable to offer a substantially improved performance. In fact, the Nieuport was already being rapidly replaced in French service with the SPAD S.VII.
The Nieuport 28 design was an attempt to adapt the concept of the lightly built, highly maneuverable rotary engined fighter typified by the Nieuport 17 to the more demanding conditions of the times. It was designed to carry an up-to-date armament of twin synchronized machine guns, had a more powerful engine, and a new wing structure - for the first time a Nieuport biplane was fitted with conventional two spar wings, top and bottom, in place of the sesquiplane "v-strut" layout of earlier Nieuport types. Ailerons were fitted to the lower wings only. The tail unit's design closely followed that of the Nieuport 27, but the fuselage was much slimmer, in fact it was so narrow that the machine guns had to be offset to the left.
Operational history
By early 1918, when the first production Nieuport 28s became available, the type was already "surplus" from the French point of view. The SPAD S.XIII was a superior aircraft in most respects, and was in any case firmly established as the standard French fighter.
On the other hand, the United States Army Air Service was desperately short of fighters to equip its projected "pursuit" (fighter) squadrons. The SPAD was initially unavailable due to a shortage of Hispano-Suiza engines - and the Nieuport was offered to, and perforce accepted by, the American Expeditionary Force (AEF), as an interim alternative. A total of 297 Nieuport 28s were purchased by the Americans, and they were used to equip the very first American fighter squadrons, starting in March 1918. All together, four AEF "pursuit" squadrons flew 28s operationally, the 27th, 94th, 95th and 103rd Aero Squadrons.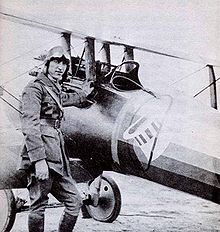 Picture - Rickenbacker with his Nieuport 28 - note offset guns
On 14 April 1918, the second armed patrol of an AEF fighter unit resulted in two victories when Lieutenants Alan Winslow and Douglas Campbell (the first American-trained ace) of the 94th Aero Squadron each downed an enemy aircraft. Several well known WWI American fighter pilots, including Quentin Roosevelt, the son of US president Theodore Roosevelt, as well as American aces like the 26-victory ace, Captain Eddie Rickenbacker, began their operational careers on the Nieuport 28.
On the whole the type was not a success, however. Although very maneuverable and easy to fly, its performance turned out to be mediocre and its engine unreliable. More seriously, the mixed plywood/fabric skinning of the wings proved problematic - the fabric which covered the rear portion of the wings tending to "balloon" and become detached from the plywood leading section. Although a solution to this problem was speedily found, the operational Nieuports in American service were replaced with SPADs as soon as sufficient of the latter became available. This process was complete by the end of July 1918.
After the end of the war some examples of the type crossed the Atlantic with the returning American forces with a small number supplied to various foreign air forces. Switzerland obtained 15 Nieuport 28s and Greece received a small number of aircraft.
Operators
Argentina (2 aircraft) France Greece Guatemala (1 aircraft) Switzerland (15 aircraft) United States
Specifications (Nieuport 28)
General characteristics
Crew: one, pilot
Length: 7.8 m (24.4 ft)
Wingspan: 8.1 m (26 ft 3 in)
Height: 2.5 m (8 ft 0 in)
Wing area: 15.8 m˛ (169 ft˛)
Empty weight: 475 kg (1,227 lb)
Loaded weight: 560 kg (1,635 lb)
Powerplant: 1x— Gnome 9-N rotary, 102kW (160 hp)

Performance
Maximum speed: 184 km/h (122 mph)
Range: 349 km (180 miles)
Service ceiling: 5300 m (17,390 ft)
Rate of climb: 11.5 min to 3,000 m (9,840 ft)
Wing loading: 37.9 kg/m˛ (7.77 lb/ft˛)
Power/mass: 0.15 kW/kg (0.09 hp/lb)

Armament
2 x— .303 in Vickers machine guns

Bibliography
Cheesman E.F. (ed.) Fighter Aircraft of the 1914-1918 War. Letchworth, UK: Harleyford Publications, 1960, pp. 98-99.
Cooksley, Peter. Nieuport Fighters in Action (Aircraft No. 167). Carrollton, Texas: Squadron/Signal Publications, 1997. ISBN 0-89747-377-9.
Dorr, Robert F. and David Donald. Fighters of the United States Air Force. London: Aerospace Publishing, 1990. ISBN 0-60055-094-X.
Treadwell, Terry C. America's First Air War. London: Airlife Publishing, 2000. ISBN 1-84037-113-7.

Living Warbirds: The best warbirds DVD series.
Source: WikiPedia