Nieuport IV Video - Classic World War I Fighters
Nieuport IV Video - Classic World War I Fighters
Nieuport IV Aircraft Information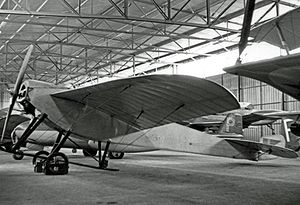 Picture - 1912 Nieuport IVG displayed in the Flygvapenmuseum at Malmen near Linkoping, Sweden.
Role: Sporting and military monoplane
National origin: France
First flight: 1911
Introduced: 1911
Status: preserved in museums
Primaryusers: Private pilots Air Forces
Variants: Nieuport VI

The Nieuport IV was a French-built sporting, training and reconnaissance monoplane of the early 1910s.
Design and development
Societe Anonyme des Etablissements Nieuport had been formed in 1909 by Edouard de Nieuport. The Nieuport IV was a development of the early Nieuport series of his monoplanes, which commenced with the single-seat Nieuport I. It was initially designed as a two-seat sporting monoplane, but quickly found ready customers with the air forces of several countries. It was initially powered by a 50hp (37kW) rotary engine, which was later replaced by a 70hp (52kW) powerplant.
Operational history
The first Nieuport IVs were built in 1911. The design was quickly adopted by several air arms, including the Swedish Air Force, which was presented by four individuals with a model IVG in 1912, becoming the initial equipment of that force. The IVG was one of the principal aircraft used by the Imperial Russian Air Service during its formative years. Lt Pyotr Nesterov performed the first ever loop over Kiev in a model IV on 27 August 1913.
Variants
IV basic civilian model IVG basic military model IVH float-equipped model IVM observation variant with 100 h.p. Gnome
Survivors
The Swedish Air Force maintained their first model IV in airworthy condition until 1965.. This aircraft is now preserved in the Flygvapenmuseum at Malmen near Linkoping. The Museo del Aire at Cuatro Vientos near Madrid has a full scale replica of one of their model IVs.
Operators
Military
(source: Priswell)
Argentina Greece Russian Empire Italy Japan Romania Thailand Spain Sweden
Swedish Navy

United Kingdom
Specifications (IVM)
Data from Aviafrance
General characteristics
Crew: 1
Capacity: 1 passenger
Length: 8.2m (26ft11in)
Wingspan: 12.1m (39ft8in)
Wing area: 22.0m (237sqft)
Empty weight: 483kg (1,065lb)
Powerplant: 1 x— Gnome rotary piston, 75kW (100hp)

Performance
Maximum speed: 120km/h (75mph; 65kn)
Time to altitude: 12 minutes 40 seconds to 500m

Green, William (1965). The Aircraft of the World. Macdonald & Co (Publishers) Ltd. ISBNnone.
Ogden, Bob (2006). Aviation Museums and Collections of Mainland Europe. Air-Britain (Historian) Ltd. ISBN0-85130-375-7.

Living Warbirds: The best warbirds DVD series.
Source: WikiPedia