Nieuport NiD 29 Video - Classic World War I Fighters
Nieuport NiD 29 Video - Classic World War I Fighters
Nieuport NiD 29 Aircraft Information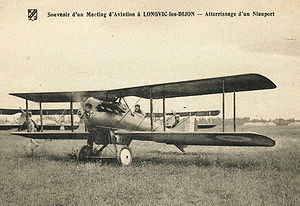 Role: Single-seat biplane fighter
National origin: France
Manufacturer: Nieuport-Delage
First flight: 1918
Introduced: 1922
Primary users: French Air Force Belgian Air Force
Number built: 250+

The Nieuport-Delage NiD 29 was a French single-seat biplane fighter in the C.I category designed and built by Nieuport-Delage for the French Air Force.
Design and development
The NiD was an equal-span biplane with ailerons on both upper and lower wings. It had a fixed tailskid landing gear, a nose-mounted engine and a single open cockpit for the pilot. The prototype NiD 29 first flew on the 21 August 1918 powered by a Hispano-Suiza 8Fb engine piston engine, it performed well in test but could not achieve the required ceiling. The second prototype was modified with an increased wingspan and on achieving the required ceiling it was ordered into production in 1920, becoming the fastest service fighter in the world at that time. Production aircraft did not have ailerons on the upper wing and the lower wing ailerons were increased in size.
The first deliveries were made in 1922 to the French Air Force and the typed was popular although it did have a tendency to enter a flat spin. The French military bought 250 aircraft which were built by Nieuport and seven other companies. The Ni-D 29 was to become an important fighter in the 1920s with purchases of 30 by Spain (including 10 Spanish licence built aircraft), 108 by Belgium (87 licensed built by SABCA). The Italian Regia Aeronuatica bought 175 aircraft including 95 built by Macchi as the Macchi-Nieuport 29 and 80 built by Caproni. Sweden bought nine aircraft and designated them J 2.
The Japanese company Nakajima bought a pattern aircraft and built 608 for the Imperial Japanese Army as the Ko-4.
Racing versions of the aircraft were developed and they gained eight world speed records and won the 1919 Coupe Deutsche and the 1920 Gordon Bennet Trophy.
Operational history
French aircraft were used on operations against insurgents in Morocco including some aircraft converted to carry small bombs. Spanish aircraft were also involved in similar operations in North Africa.
Variants
NiD 29 Production aircraft NiD 29 C.1 Alternate designation of NiD 29 aircraft in French service. NiD 29 B.1 Small number of conversions as an experimental assault version to carry six 10kg (22lb) bombs. NiD 29bis Prototype only with reduced wing area and steerable tailskid. NiD 29G Prototypes fitted with a Gnome 9N rotary engine, two later converted to take an Hispano engine and fitted with twin floats and an auxiliary tail float for the Grand Prix de Monaco in 1923. One aircraft was converted as a possible carrier-borne fighter the NiD 32RH. NiD 29D Conversion with amn engine supercharger for an attempt on the altitude record, reached 7,000 m (22,965 ft). NiD 29 E.1' Trainer variant with a 134 kW (180 hp) Hispano-Suiza engine and a single synchronised Vickers machine-gun. NiD 29 SHV Seaplane for the 1919 Schneider Trophy contest with reduced wingspan and all military equipment removed, two aircraft built and one was also entered in the 1921 event but neither aircraft actually took part in the races. NiD 29V Lightweight racer developed in 1919 with a wingspan reduced to 6.00m (19ft 8in) and the Hispano-Suiza engine boosted to give 239 kW (320 hp), three aircraft were built. NID 29Vbis One-off conversion with an enclosed cockpit to gain more speed, the pilot had small teardrop windows on each side with little forward visibility. The aircraft was lost in a landing accident in 1921. Nakajima Ko-4 Japanese licence-built NiD 29, 608 built.
Operators
Argentina Belgium France Italy Japan Spain Manchukuo A single ex-Japanese NiD 29 formed the initial equipment of the Manchukuo Air Force in 1937. Sweden
Swedish Air Force

Thailand (Siam)
Specifications (NiD 29)
Data from
General characteristics
Crew: 1
Length: 6.49 m (21 ft 3 in)
Wingspan: 9.70 m (31 ft 10 in)
Height: 2.56 m (8 ft 4 in)
Wing area: 26.70 m (287.41 ft)
Empty weight: 760 kg (1675 lb)
Gross weight: 1150 kg (2535 lb)
Powerplant: 1 x Hispano-Suiza 8Fb V-8 piston engine, 224 kW (300 hp)

Performance
Maximum speed: 235 km/h (146 mph)
Range: 580 km (360 miles)
Service ceiling: 8500 m (27,885 ft)

Armament
2 x fixed forward-firing 7.7 mm (0.303 in) Vickers machine-guns

Schneider Trophy

Bibliography
Andersson, Lennart (2008). A History of Chinese Aviation:Encyclopedia of Aircraft and Aviation in China until 1949. Taipei, Taiwan: AHS of ROC. ISBN 978-957-28533-3-7.
Taylor, Michael J. H. (1989). Jane's Encyclopedia of Aviation. London: Studio Editions.
The Illustrated Encyclopedia of Aircraft (Part Work 1982-1985). Orbis Publishing.

Living Warbirds: The best warbirds DVD series.
Source: WikiPedia