Nord Noratlas Video - Taxi and flight - Bitburg Airshow
Nord Noratlas Video - Hellenic Air Force
Nord Noratlas Aircraft Information
Nord Noratlas
Nord Noratlas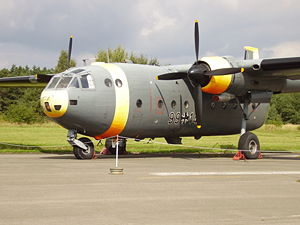 Picture - Nord 2501 Noratlas at the Airforce Museum of the Bundeswehr; Berlin-Gatow
Role: Military Transport
National origin: France
Manufacturer: Nord Aviation
Designed by: Jean Calvy
First flight: 1949-09-10
Introduced: 1953-06-12
Retired: 1989, France
Status: Retired
Primary users: France Germany Greece Israel
Number built: 425

The Nord Noratlas was a 1950s French military transport aircraft intended to replace the older types in service at the end of World War II. Several hundred were produced in a run lasting over a decade, finding a wide variety of uses.
Development
At the end of World War II, the French Armée de l'Air was left with two primary transport aircraft: the Junkers Ju 52 and the Douglas C-47. While both had given good service, they suffered from a common set of flaws: their tail-dragger landing gear gave them a nose-up attitude when at rest, complicating cargo stowing; restrictive side-loading doors; and limited payload.
Accordingly, in 1947 Direction Technique Industrielle organized a design competition for medium-weight cargo aircraft offering great flexibility in use. Société Nationale de Construction Aéronautique du Nord (SNCAN) answered with the Nord 2500, while their competitors, Breguet and SNCASO, offered the BR-891R Mars and SO-30C respectively. The Nord 2500, with its rear-opening clamshell doors allowing ease of loading, was considered the most promising, and DTI ordered two prototypes on April 27, 1948.
The first prototype took to the air on September 10, 1949 powered by two Gnome-Rhx´ne 14R engines of 1,600 hp driving 3-bladed variable pitch propellers, but it was found to be too slow for most applications. The second prototype replaced the 14Rs with two SNECMA-built Bristol Hercules 738/9 2,040 hp engines driving four-bladed propellers, and this model was rechristened the Nord 2501. DTI ordered 3 more preproduction Nord 2501s, which they flight-tested extensively against the similar Fairchild C-82 Packet. The N-2501 was found superior, and the first 34 were ordered on July 10, 1951.
After an eventual production run of some 425 planes, the last Noratlas was constructed in 1961.
Operational history
The Noratlas Nord 2501 gained fame during the Suez Crisis of 1956, when French paratroopers dropped over the south of Port Said and Port Fouad in Egypt. Its history began four years earlier.
1952 was marked by the unfortunate crash of the first Nord 2501 prototype as it underwent further testing, and on January 9, 1953, the Nord 2501 was baptized the Noratlas by the widow of the pilot killed in the crash. Despite this setback, the program was able to fulfill its initial contract for 34 planes by June 25, 1953, and the Armée de l'Air went on to order another 174 planes, for a total of 208.
These were initially overwhelmingly cargo planes, though 10 were ordered fitted out for passengers; however, following the conclusion of operations in Algeria in 1962, many were converted to other roles (detailed below). Of these modifications, the eight Nord Gabriels (an electronic warfare platform) were useful the longest, and it was the last of this type that was finally phased out in 1989 by the Armée de l'Air.

Picture - Nord Aviation N 2501D Noratlas at the Technik Museum, Speyer, Germany
West Germany, faced with the same situation that had prompted the development of the Noratlas, eventually ordered a total of 186 Noratlases from 1956 on, of which 25 were built in France, and the other 161 manufactured in West Germany by Flugzeugbau Nord under contract. These last were designated N-2501D. The Luftwaffe began selling its Noratlases in 1964, and is the source for most of the planes for the smaller national operators listed below.
The Israeli Air Force (IAF) initially purchased three examples of the N-2501IS in 1956, but under duress-the French government would only allow them to purchase 12 Dassault Ouragans if they purchased three Noratlases as well. The Israelis were upset by the terms of the offer, but France was one of very few countries willing to sell them arms, and eventually they knuckled under. However, they quickly realized the utility of the Noratlas following its performance in the Suez Crisis, and purchased another three N-2501ISs in 1959, and 16 N-2501Ds before the Six-Day War. These were primarily intended for cargo and paratroop transport, although several were put to more unconventional use as bombers on long-range strikes into Egypt (operation Drought), much as the contemporary C-130s deployed the Daisy Cutter bomb in Vietnam. It is also known that the IAF used their Noratlases for maritime reconnaissance at the outset of the Six-Day War, and one of these supposedly identified the USS Liberty prior to the strafing of the ship. The IAF phased the Noratlas out in 1978.
In 1970, the Hellenic Air Force (HAF) received 50 Noratlases from Germany as World War II compensations. These Noratlases were based at Elefsis AFB near Athens, with the 354th Tactical Airlift Squadron (112th Tactical Fighter Wing). Hellenic Air Force 354th Sqdr Noratlases were used in the airlifting of the 1st Greek Rangers Squadron from Crete (Souda) to Cyprus (Nicosia) on the night of July 21-22, 1974, during the Turkish invasion of Cyprus. In spite of the aircrafts' age and the adverse flying conditions, 12 of the 15 aircraft which participated in operation "Nike" (Victory in Greek) managed to land at Nicosia airport. The Greek 1st Rangers Squadron managed to keep the National Airport of Nicosia in UN hands and did not surrender it to the Turkish Brigade which attacked the airport.
The N-2502A/B, which added two small Turbomeca Marboré IIE turbojets at the wingtips, was used primarily by civil operators such as Union Aéromaritime du Transport (N-2502A) and CGTA-Air Algérie (N-2502B), but never found the success of the military versions, and only ten were built. The Portuguese Air Force purchased six militarized N-2502As (designated N-2502F) over 1961-1962 as well.
There were also several variants of limited service that are mentioned below.
Variants
N2500
Prototype powered by two Gnome et Rhx´ne 14R 1600-hp engines, one built.
N2501
Production version for the French Air Force, powered by SNECMA-manufactured Hercules 739 radial piston engines with 2,068 PS each (1521 kW), five prototypes and 208 production aircraft built.
Nord 2501A
Civil transport version for UTA, fitted with two 1,650-hp (1230-kW) SNECMA 758/759 Hercules radial piston engines, four built later converted to N2502.
Nord 2501D
Production version for the German Air Force, replaced some systems components of the N2501 with their equivalent from German manufacturers, 186 built (25 French built and 116 German built).
Nord 2501E
The redesignation of one standard Nord 2501 for flight testing, the aircraft was used to test two Turbomeca Marbore II auxiliary turbojet engines.
Nord 2501IS
Replaced some systems components of the N-2501, 6 produced, purchased by the Israeli Air Force
N-2501 Gabriel
SIGINT/electronic warfare platforms, 8 produced, probably modified N-2501s; operated by the Armée de l'Air
Nord 2501TC
Nord 2501 modified for civil use by Transvalair, 3 produced
Nord 2501
Civil transport version for Air Algeria and Union Aéromaritime de Transport, powered by two 1650-hp Bristol Hercules 758/759 radial engines, plus two Turbomeca Marbore II auxiliary turbojet engines.
Nord 2502A
Civil transport version for Union Aéromaritime de Transport, powered by two Turbomeca Marboré II auxiliary turbojets and two 1650-hp Bristol Hercules 758/759 radial engines. Five built and two conversions from N2501A.
Nord 2502B
Civilian cargo transport version for Air Algeria, powered by two Turbomeca Marboré II auxiliary turbojets and two 1650-hp Bristol Hercules 758/759 radial engines. 2 conversions from N2501A and one built.
Nord 2502C
Civilian cargo transport version, similar to Nord 2502A/B. Intended for purchase by an Indian airline, only one prototype was built.
Nord 2502F
Militarized version of the Nord 2502 for Portuguese Air Force, 6 conversions.
Nord 2503
Re-engined version with two 1864-kW (2,500-hp) Pratt & Whitney R-2800-CB17 radial piston engines. One conversion from one of the Nord 2501 prototypes.
Nord 2504
Modification of the Nord 2502 intended for antisubmarine warfare training role with the French Navy, 24 ordered but only one built.
Nord 2505
Modified Nord 2502 intended for antisubmarine warfare, cancelled not built.
Nord 2506
Special modification of Nord 2502 to improve STOL performance and performance under heavy load for use as an assault transport, one conversion and one built.
Nord 2507
Modified Nord 2502 intended for search and rescue role, with 12-hour endurance or greater, never passed the planning stage.
Nord 2508
Modified Nord 2503, powered by two 1864-kW (2,500-hp) Pratt & Whitney R-2800-CB17 radial piston engines and two Turbomeca Marboré IIE auxiliary turbojets added; highly capable, but none were ordered; the prototypes were sold to German, one conversion and one built.
Nord 2508B
Cargo transport version of the N.2508.
Nord 2509
Unbuilt version. Not built.
Nord 2510
Unbuilt anti-submarine warfare version. Not built.
Nord 2520
Enlarged Nord 2502 with better cargo capacity, never passed the planning stage
ACE/Transvalair
Union des Transports Aériens
Union Aéromaritime de Transport

Germany Elbeflug Zaire Guila Air
Specifications (Nord N-2501)
General characteristics
Crew: 4-5
Capacity: 45 soldiers, 36 paratroopers, 18 patients with medics, or cargo
Length: 72 ft 1 in (21.96 m)
Wingspan: 106 ft 8 in (32.5 m)
Height: 19 ft 8 in (6.0 m)
Wing area: 1089 ft² (101.2 m²)
Empty weight: 28,825 lb (13,075 kg)
Useful load: 18,647 lb (8,458 kg)
Max takeoff weight: 48,500 lb (22,000 kg)
Powerplant: 2x— SNECMA-manufactured Bristol Hercules 738/739 radial engine, 2,040 hp (1,520 kW) each

Performance
Maximum speed: 273 mph/251 mph (440 km/h/405 km/h) maximum/under full load
Cruise speed: 199 mph (320 km/h) at 1,500 meters
Range: 1,550 mi (2,500 km)
Service ceiling: 23,300 ft (7,100 m)
Rate of climb: 1,080 ft/min (5.5 m/s)

Armstrong Whitworth AW.660 Argosy
Blackburn Beverley
C-119 Flying Boxcar

Nord Noratlas Pictures and Nord Noratlas for Sale.
Living Warbirds: The best warbirds DVD series.
Source: WikiPedia