Lilienthal Normalsegelapparat - Picture
Lilienthal Normalsegelapparat Information
Lilienthal Normalsegelapparat
Normalsegelapparat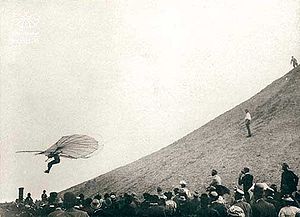 Picture - Lichterfelde (near Berlin), 29 June 1895
Role: Glider
National origin: Germany
Manufacturer: Otto Lilienthal
Designed by: Otto Lilienthal
First flight: 1893

The Lilienthal Normalsegelapparat (Normal soaring apparatus) was a glider that was developed by Otto Lilienthal in Germany in the late 19th Century. It is considered to be the first serial production of an aeroplane (1893-1896).
Today 9 buyers are in particular known, e. g. Nikolai Zhukovsky, William Randolph Hearst. Four original "normal gliders" are preserved in museums (London, Moscow, Munich (fragment) and Washington). A similar glider "Sturmflx¼gelapparat (storm wing model)" is preserved in Vienna.
Lilienthal flew with this apparatus usually a distance of 250 m starting from the top of a hill. A bow frame or "Prellbx¼gel" was used to reduce the impact in case of a crash. Later the "normal glider" was refined to a biplane.
Specifications (typical)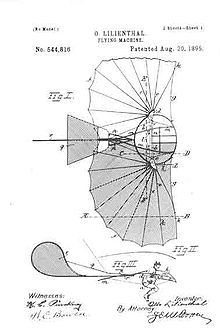 Picture - US-patent: Lilienthal flying machine[1]
General characteristics
Crew: One
Length: 5.30 m (17 ft 5 in)
Wingspan: 6.70 m (22 ft 0 in)
Wing area: 13.6 m² (146 ft²)
Empty weight: 20 kg (44 lb)

Performance
Maximum glide ratio: 5

More airplanes.
Source: WikiPedia