North American BT-9 Video - Dedication Ceremony
North American BT-9 Video - RCAF Yale 3399
North American BT-9 Aircraft Information
North American BT-9
BT-14 (NA-64 Yale)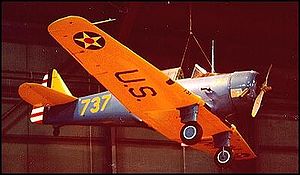 Picture - NA-64 Yale standing in for a BT-14 at the National Museum of the United States Air Force, Dayton, Ohio
Role: Trainer
Manufacturer: North American Aviation
First flight: April 1936
Primaryuser: United States Army Air Corps
Number built: +260
Unit cost: $20,000
Developed from: North American NA-16

The North American Aviation BT-9 was a low-wing single piston engine monoplane primary trainer aircraft that served with the United States Army Air Corps (USAAC) and other allied countries during World War II. It was a contemporary of the Kaydet biplane trainer and was used by pilots in Basic Flying Training following their completion of Primary in the Kaydet. In United States Navy (USN) service it was designated the NJ-1.
Design and development
The BT-9, designated NA-19 by the manufacturer, evolved from the North American NA-16, which first flew in April 1935. The BT-9 design first took to the skies in April 1936.
Fabric covered the movable surfaces on the tail and wings, as well as the sides of the fuselage from just behind the firewall to the tail. The remainder of the aircraft was metal-covered and featured fixed (non-retractable) landing gear. The Army Air Corps purchased a total of 199 BT-9s, BT-9As and BT-9Bs. Many foreign countries also used variants of this aircraft.
An improved version was the BT-14. It featured a Pratt & Whitney R-985 Wasp Junior engine versus the Wright R-975 Whirlwind on the BT-9, as well as metal skin replacing the fabric on the fuselage.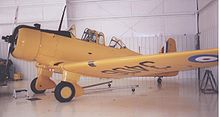 Picture - NA-64 Yale I preserved airworthy in 2006 at the Historic Aircraft Restoration Museum near St Louis in RCAF 1940 markings
The NA-64 model retained the fixed undercarriage layout and was built for the French in 1939-40. Just under half were delivered before France surrendered to the Nazis and the remaining aircraft were purchased by the Royal Canadian Air Force (RCAF). The RCAF named the type the Yale, and were used initially as intermediate pilot trainers and later as airborne wireless radio trainers. All were sold as scrap post-war but approximately 40 survive today, with about 15 in airworthy condition.
The NA-26, an improved model with retractable landing gear which became the prototype for AT-6 Texan advanced trainer, was developed from the NA-16 design. The Australian CAC Wirraway was also developed from the NA-16.
Variants
Source: Warbirds
NA-16
Prototype aircraft, one built. NA-18
Pre-production aircraft, one built. North American BT-9
Two-seat primary trainer for the USAAC, 42 built. North American BT-9A
Armed with two 0.30in (7.62mm) machine-guns. 40 built. North American BT-9B
Improved version, 117 built. North American BT-9C
Similar to the BT-9B, but with some equipment changes, 97 built. North American BT-9D
One prototype only, which lead to the development of the BT-14. North American NJ-1
Two-seat primary trainer aircraft for the USN, powered by a 600hp (447kW) Pratt & Whitney R-1340 radial piston engine, 40 delivered. North American NA-57
France, 230 delivered. Export version of BT-9. First 30 served with French Navy. Most were captured and used by the German Luftwaffe. ASJA/SAAB Sk 14
Sweden, 137 built. License built version of NA-16-4M North American BT-14
Advanced version, powered by a 450hp (336kW) Pratt & Whitney R-985-25 radial piston engine, USAAC, 251 delivered. North American BT-14A
27 BT-14s were converted to take the 400hp (298kW) Pratt & Whitney R-985-11 radial piston engine. North American NA-64 'Yale'
France and Canada, 230 aircraft order. 111 were delivered to France before the surrender in 1940. The remaining 119 aircraft were acquired by the British and delivered to the RCAF, designated the 'Yale'.
Operators
Canada
Royal Canadian Air Force

France
French Air Force
French Navy

United States
United States Army Air Corps (until June 1941)
United States Army Air Forces (after June 1941)
United States Navy

Sweden
Swedish Air Force (Sk.14)

Survivors/Aircraft on display
There are many surviving NA-64 Yales today because of Ernie Simmons, a farmer from near Tillsonburg, Ontario. Simmons bought over 30 Yales in 1946 and kept them on his farm until he died in 1970. These aircraft were subsequently auctioned in 1970, and have been restored by museums and warbird enthusiasts. Most of the Yales currently in existence came from the Simmons collection.
BT-9
Fundacion Museo del Aire de Honduras - BT-9C exported to Honduras as NA-16-2A

BT-14
No original aircraft, but several Yales have been painted as BT-14's
Commemorative Air Force - ex RCAF Yale 3450 to be restored as a BT-14
National Museum of the United States Air Force - ex RCAF Yale 3417 displayed as a BT-14

Sk 14
Swedish Air Force Museum -replica using parts from a Yale, Wirraway, and a real Sk 14

NA-64 Yale
Canadian Harvard Aircraft Association - ex RCAF 3399 - airworthy
Canadian Warplane Heritage Museum - ex RCAF 3350 & 3400 (airworthy) and 3411 (on static display)
Commonwealth Air Training Plan Museum - ex RCAF 3396 - under restoration
Nanton Lancaster Society Air Museum - ex RCAF 3404 - under restoration to airworthy
Pima Air & Space Museum - ex RCAF 3397 - on display
Reynolds-Alberta Museum - ex RCAF 3458 - on display
Western Canada Aviation Museum - ex RCAF 3430 - on display
Legend Of Aces Aviation - ex RCAF 3383 - under restoration
plus a couple dozen privately owned in Canada, the US, and Europe

Specifications (BT-9)
General characteristics
Crew: two, instructor and student
Length: 28 ft (8.5 m)
Wingspan: 42 ft (12.8 m)
Height: 13 ft 7 in (4.1 m)
Loaded weight: 4,470 lb (2,030 kg)
Powerplant: 1x— Wright R-975-53, 400 hp (300 kW)

Performance
Maximum speed: 170 mph (273 km/h)
Cruise speed: 146 mph (235 km/h)
Range: 877 mi (1,411 km)
Service ceiling: 19,750 ft (6,020 m)

Related development
North American NA-16
T-6 Texan
CAC Wirraway

Living Warbirds: The best warbirds DVD series.
Source: WikiPedia