North American F-86D Sabre Video - Alert drill
North American F-86D Sabre Video - Bombed with Napalm
North American F-86D Sabre Aircraft Information
North American F-86D Sabre
F-86D/K/L Sabre "Dog"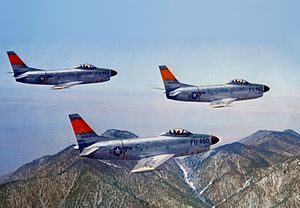 Picture - Early USAF F-86D-1-NA fighters
Role: Fighter interceptor
Manufacturer: North American Aviation
First flight: 22 December 1949
Primaryusers: United States Air Force Italian Air Force SFR Yugoslav Air Force Venezuelan Air Force
Number built: 2,847
Unit cost: US$343,839 (F-86D)
Developed from: F-86 Sabre

The North American Aviation F-86D Sabre (sometimes called the "Sabre Dog" or "Dog Sabre") was a transonic jet all-weather interceptor. Based on North American's F-86 Sabre day fighter, the F-86D had only 25 percent commonality with other Sabre variants, with a larger fuselage, larger afterburning engine, and a distinctive nose radome.
Design and development
The YF-95 was a development of the F-86 Sabre, the first aircraft designed around the new 2.75in (70mm) Mighty Mouse FFAR (Fin-Folding Aerial Rocket). Begun in March 1949, the unarmed prototype, 50-577, first flew on 22 December 1949 piloted by North American test pilot George Welch and was the first U.S. Air Force night-fighter design with only a single crewman and a single engine, a J47-GE-17 with afterburner rated at 5,425lbf (24kN) static thrust. Gun armament was eliminated in favor of a retractable under-fuselage tray carrying 24 unguided Mk. 4 rockets, then considered a more effective weapon against enemy bombers than a barrage of cannon fire. A second prototype, 50-578, was also built, but the YF-95 nomenclature was short-lived as the design was subsequently redesignated YF-86D.
The fuselage was wider and the airframe length increased to 40ft 4in, with clamshell canopy, enlarged tail surfaces, and AN/APG-36 all-weather radar fitted in a radome in the nose, above the intake. Later models of the F-86D received an uprated J-47-GE-33 engine rated at 5,550lbf/25kN (from the F-86D-45 production blocks onward). A total of 2,504 D-models were built.
Operational history
On 18 November 1952, F-86D-20-NA, 51-2945, set a speed record of 698.505mph (1,124.135 km/h). Captain J. Slade Nash flew over a three km course at the Salton Sea in California at a height of only 125ft (38 m). Another F-86D broke this world record on 16 July 1953, when Lieutenant Colonel William Barnes, flying the first F-86D-35-NA, 51-6145, in the same path of the previous flight, achieved 715.697mph (1,151.803 km/h).
Variants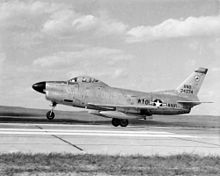 Picture - A Wyoming Air National Guard F-86L in the late 1950s.
YF-95A
prototype all-weather interceptor; two built; designation changed to YF-86D (North American model NA-164)
YF-86D
originally designated YF-95A.
F-86D
Production interceptor originally designated F-95A, 2,506 built.
F-86G
Provisional designation for F-86D variant with uprated engine and equipment changes, 406 built as F-86Ds.
YF-86K
Basic version of F-86D intended for export with rocket tray replaced by four 20mm (.79in) cannon and simplified fire control system, two conversions.
F-86K
NATO version of F-86D; MG-4 fire control system; four 20mm (.79in) M-24A1, with 132 rpg each; APG-37 radar. 120 were bulit by NAA, 221 were assembled by Fiat.
F-86L
Upgrade conversion of F-86D with new electronics, extended wingtips and wing leading edges, revised cockpit layout, and uprated engine; 981 converted.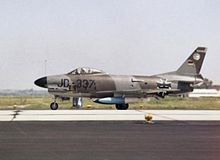 Picture - A West German F-86K in 1965.
Operators
Source: Dorr
Denmark
Royal Danish Air Force

Received 59 ex-USAF F-86Ds 1958-1960; assigned to 723, 726 and 728 Squadrons. France
French Air Force

Fiat built 62 F-86Ks for France (1956-1957), assigned to EC 1/13 Artois, EC 2/13 Alpes, and EC 3/13 Squadrons. Serials were 55-4814/4844, 55-4846/4865, 55-4872/4874, 55-4876/4879. Germany
Luftwaffe (West German Air Force)

Acquired 88 U.S. F-86Ks 22 July 1957-23 June 1958. The Ks were assigned to Jagdgeschwaders 74 and 75. Greece
Greek Air Force

Acquired some U.S. F-86Ds were received in 1961 (no details). Honduras
Honduran Air Force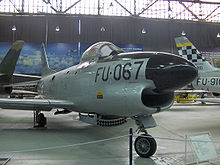 Picture - Exhibit at the Hellenic Air Force Museum at Dekelia (Tatoi), Athens, Greece. North American F-86D Sabre Dog
Acquired Six Venezuelan F-86Ks in 1970. Italy
Italian Air Force

Fiat produced 121 F-86Ks for Italy, 1955-1958. Also, 120 U.S. F-86Ks were acquired. F-86s were assigned to the AMI air groups: 6 Gruppo COT/1 Stormo, 17 Gruppo/1 Stormo, 23 Gruppo/1 Stormo, 21 Gruppo/51 Aerobrigata, 22 Gruppo/51 Aerobrigata and 12 Gruppo/4 Aerobrigata. Japan
Japanese Air Self-Defense Force

Acquired 122 US F-86Ds, 1958-1961; assigned to four all-weather interceptor hikotai, and Air Proving Ground at Gifu. Netherlands
Royal Netherlands Air Force (Koninklijke Luchtmacht) (KLu)

Acquired 57 U.S.-built and six Fiat-built F-86K Sabres, 1955-1956; and assigned to three squadrons, No. 700, 701 and 702. Norway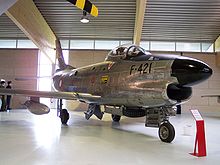 Picture - Danish North American F-86D Sabre
Royal Norwegian Air Force

Acquired 60 U.S.-built F-86K Sabres, 1955-1956, and four Italian-assembled Fiat K-models. Philippines
Philippine Air Force

Acquired 20 F-86Ds, beginning 1957; part of the U.S. military assistance package. South Korea
Republic of Korea Air Force

Acquired 40 F-86Ds, beginning 20 June 1955. Turkey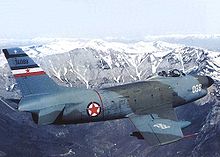 Picture - A SFR Yugoslav Air Force F-86D in flight during the 1970s.
Turkish Air Force

Acquired 50 US-built F-86Ds, and 40 F-86Ks. Thailand
Royal Thai Air Force

Acquired 20 F-86Ls. United States
United States Air Force

Venezuela
Venezuelan Air Force

Acquired 74 Fiat-built F-86Ks, October 1955 - December 1960; acquired 51 US-built F-86Ks from West Germany. Yugoslavia
SFR Yugoslav Air Force

Acquired 130 US-made F-86Ds and operated them between 1961 and 1974.
Survivors
Many Sabres of several different Marks are preserved around the world, some examples being:
F-86D Sabre, 51-8453, Danish F-453, Danish AF, Copenhagen, Denmark.
F-86D Sabre, 52-3863, National Museum of the United States Air Force, Wright-Patterson Air Force Base, Ohio.
F-86D Sabre, 52-10023 Yugoslav 14102, YUAF, manufacturers number 190-748; at Yugoslav Aeronautical Museum, Nikola Tesla Airport, Belgrade, Serbia.
F-86L Sabre, 53-0965 Pima Air Museum, Tucson Arizona

Specifications (F-86D-40-NA)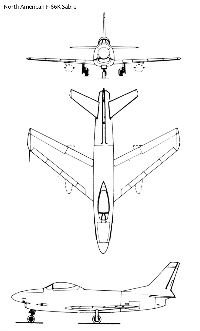 Picture - North American F-86K Sabre.
Data from Combat Aircraft since 1945 , The American Fighter
General characteristics
Crew: 1
Length: 40 ft 3 in (12.27 m)
Wingspan: 37 ft 1.5 in (11.31 m)
Height: 15 ft in (4.57 m)
Empty weight: 13,518 lb (6,132 kg)
Gross weight: 19,975 lb (9,060 kg)
Powerplant: 1 x— General Electric J47-GE-17B, 5,425 lbf (24.1 kN)dry, 7,500 lbf (33.4 kN) with afterburner

Performance
Maximum speed: 693 mph (1,115 km/h)
Range: 330 miles (531 km)
Service ceiling: 49,750 ft (15,163 m)
Rate of climb: 12,150 ft/min (61.7 m/s)

Armament
24 x— 2.75 in (70 mm) Mighty Mouse FFAR rockets in ventral tray

Air Defense Command
NORAD
Semi-Automatic Ground Environment

Related development
FJ-1 Fury
F-86 Sabre
Canadair Sabre
CAC Sabre
FJ-2/3/4 Fury
North American YF-93
Fuji T-1
F-100 Super Sabre

Comparable aircraft
F3D Skyknight
F4D Skyray
F-89 Scorpion
F-94 Starfire
Saab 29 Tunnan
Supermarine Swift
Fiat G.91

Bibliography
Allward, Maurice. F-86 Sabre. London: Ian Allen, 1978. ISBN 0-7110-0860-4.
Angelucci, Enzo and Peter Bowers. The American Fighter: the Definite Guide to American Fighter Aircraft from 1917 to the Present. New York: Orion Books, 1987. ISBN 0-517-56588-9.
Curtis, Duncan. North American F-86 Sabre. Ramsbury, UK: Crowood, 2000. ISBN 1-86126-358-9.
Dorr, Robert F.F-86 Sabre Jet: History of the Sabre and FJ Fury. St. Paul, Minnesota: Motorbooks International Publishers, 1993. ISBN 0-87938-748-3.
Kx¤smann, Ferdinand C.W. Die schnellsten Jets der Welt: Weltrekord- Flugzeuge (in German). Oberhaching, Germany: Aviatic Verlag-GmbH, 1994. ISBN 3-925505-26-1.
Knaack, Marcelle Size. Encyclopedia of US Air Force Aircraft and Missile Systems, Volume 1, Post-World War Two Fighters, 1945-1973. Washington, DC: Office of Air Force History, 1978. ISBN 0-912799-59-5.
Wilson, Stewart. Combat Aircraft since 1945. Fyshwick, ACT, Australia: Aerospace Publications Pty Ltd, 2000. ISBN 1-875671-50-1.
Swanborough, F. Gordon. United States Military Aircraft Since 1909. London: Putnam, 1963. ISBN 0-87474-880-1.
Wagner, Ray. American Combat Planes - Second Edition. Garden City, New York: Doubleday and Company, 1968. ISBN 0-370-00094-3.
Wagner, Ray. The North American Sabre. London: Macdonald, 1963. No ISBN.
Westrum, Ron. Sidewinder. Annapolis, Maryland: Naval Institute Press, 1999. ISBN 1-55750-951-4.

Living Warbirds: The best warbirds DVD series.
Source: WikiPedia