North American P-64 Video - With T-6
North American P-64 Aircraft Information
North American P-64
P-64 (NA-68)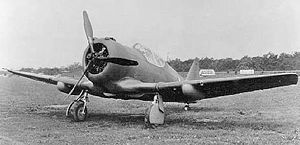 Role: Fighter
Manufacturer: North American Aviation
First flight: 1 September 1940
Introduced: 1940
Retired: Peru (1950)
Primary users: United States Army Air Forces Peru
Number built: 13
Developed from: North American NA-16

The North American Aviation P-64 was the designation assigned by the United States Army Air Corps to six North American model NA-68 aircraft seized by the US government that were destined for Thailand when that country was invaded by Japanese forces in World War II.
Design and development
The North American NA-68 was developed by the North American Aviation as a simple single seat, low-wing, single engine fighter for export. The design was developed from the model NA-16 experimental basic training aircraft of 1935. The NA-16 evolved into a series of aircraft that were some of the most successful advanced and basic training aircraft produced by any country and was the basic design for single engine fighters for small countries that needed simple aircraft with modern features.
The NA-50A Torito, built for Peru, was a single-seat fighter design based on the two-seat NA-26 that, for the first time, incorporated retractable landing gear. The NA-50A was powered by an 870 hp (650 kW) Wright R-1820-77 radial air-cooled engine and was armed with two .30 in (7.62 mm) M1919 Browning machine guns.
Operational history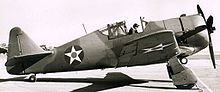 Picture - USAAC P-64
Peru purchased seven aircraft for the Peruvian Air Force, with deliveries completed in May 1939. In Peruvian service, these aircraft were fitted with bomb racks under the fuselage for light bombs. The Peruvian NA-50s took part in the Ecuadorian-Peruvian war of July 1941, supporting Army of Peru ground forces.
In 1940, the Royal Thai Air Force ordered six aircraft similar to the NA-50A that were designated NA-68. The changes in the NA-68 included a modified landing gear, heavier armament, and redesigned tail surfaces similar to that adopted in later production advanced trainers. These aircraft were en route to Thailand when seized and returned to the United States where they were disarmed, assigned the designation P-64, and used for advanced fighter training.
Survivors
NA-50A XXI-41-3 (c/n 50-950). One original NA-50A stills survives in Peru where it is displayed next to the Mausoleum of Captain José Quix±ones. Was assigned initially to Escuadrx³n de Aviacix³n No.1 (Chiclayo Field). Aircraft was later assigned to the 28th Advanced Fighter Training Group, 4th squadron until 1967.

NA-68A 41-19085 (c/n 68-3061). The only P-64 survivor is one of the six Thai-bound P-64s, that was used for training and liaison, and is now on display in the Eagle Hangar of the EAA AirVenture Museum.

A replica NA-50 was built from a Canadian T-6 Texan and is currently airworthy.

Operators
Peru
Peruvian Air Force

United States
United States Army Air Corps/United States Army Air Forces

Specifications (NA-68/P-64)
Data from
General characteristics
Crew: One
Length: 27 ft (8.23 m)
Wingspan: 37 ft 3 in (11.35 m)
Height: 19 ft 8 in (5.99 m)
Wing area: 227 ft² (21.1 m²)
Empty weight: 4,660 lb (2,114 kg)
Loaded weight: 5,990 lb (2,717 kg)
Max takeoff weight: 6,800 lb (3,080 kg)
Powerplant: 1x— Wright R-1820-77 radial engine, 870 hp (649 kW)

Performance
Maximum speed: 270 mph (435 km/h) at 8,700 ft (2,650 m)
Range: 965 mi (1,550 km)
Service ceiling: 27,500 ft (8,400 m)
Wing loading: 26 lb/ft² (129 kg/m²)
Power/mass: 0.13 hp/lb (0.21 kW/kg)

Armament
2 x— .30 in (7.62 mm) machine guns
2 x— 20 mm cannons
Up to 400 lb (180 kg) of bombs

Related development
North American NA-16
North American A-27
T-6 Texan

Comparable aircraft
CAC Boomerang

Bibliography
Green, William. War Planes of the Second World War - Fighters (Vol 4). London: MacDonald, 1961.

Living Warbirds: The best warbirds DVD series.
Source: WikiPedia