North American Sabreliner Video - Engine start
North American Sabreliner Video - Bob Hoover
North American Sabreliner Aircraft Information
North American Sabreliner
T-39 Sabreliner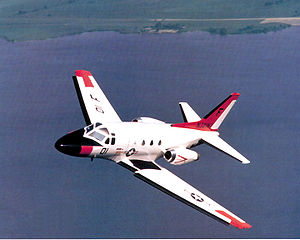 Picture - US Navy T-39N of Training Air Wing SIX at NAS Pensacola, FL
Role: Trainer aircraft Business jet
Manufacturer: North American Aviation Rockwell International
First flight: September 16, 1958
Introduced: 1962
Status: In active service
Primaryusers: United States Air Force United States Navy
Produced: 1959-1982
Number built: 800+

The North American Sabreliner (later sold as the Rockwell Sabreliner) is a mid-sized business jet developed by North American Aviation. It was offered to the U.S. Air Force in response to their Utility Trainer Experimental (UTX) program. Due to similarity of the wing and tail to North American's F-86 Sabre, it was dubbed "Sabreliner." Military variants, designated T-39 Sabreliner, were used by both the U.S Air Force and U.S. Navy after the Air Force placed an initial order in 1959. The Sabreliner was also developed into a commercial variant.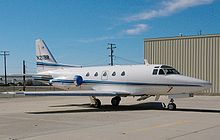 Picture - NA-265-60 Series 60 Sabreliner at NTPS, Mojave
Design and development
North American began development of the Sabreliner as an in-house project, and in response to the UTX request for proposals, they offered a military version to the Air Force. UTX combined two different roles, personnel transport and combat readiness training into the same aircraft.
The civilian version prototype, which carried the model number NA-265, made its first flight on September 16, 1958. It was powered by a pair of General Electric YJ85 turbojet engines. The type received its FAA certification in April, 1963. The UTX candidate, designated the T-39A was identical in configuration to the NA-265, but when the contract was awarded and the T-39A entered production, it was powered with two Pratt & Whitney JT12A8 turbojet engines.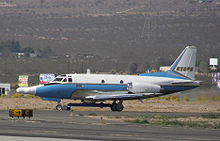 Picture - BAE Systems Flight Systems T-39A flight test aircraft at the Mojave Airport
The civilian production version, or Series 40, was slightly refined over the prototype, with more speed and a roomier cabin. North American then stretched the design by 3 feet 2inches, giving even greater cabin space, and marketed it as the Series 60, which was certificated in April, 1967. The aerodynamics were cleaned up in the Series 60A, and the cabin made taller in the Series 75.
By 1973, North American had merged with Rockwell International, and the company updated the Sabreliner designs with turbofan engines, selecting the Garrett AiResearch TFE731 for the Series 60, which became the Series 65A, and the General Electric CF700 for the Series 75A. These would be the last two versions, as Sabreliner production came to a close in 1981. The next year, Rockwell sold its Sabreliner division to a private equity firm which formed Sabreliner Corporation, the support organization for continuing operators.
Over 800 Sabreliners were produced, of which 200 were T-39s. A number of retired military T-39s have also entered the civilian world, since the military version also carry FAA type certification. As of May 2007, fifty-six examples have been lost in accidents. The Series 65 was the last series run and 76 of them were produced, mostly for the private market.
The original Navy version, the T3J-1 was redesignated T-39D after the 1962 re-designation), was fitted with the radar system from the F3H-1 Demon all-weather fighter and used as a radar trainer for pilots of that aircraft. The T-39D aircraft was subsequently introduced into the Basic Naval Aviation Observer (NAO), later Student Naval Flight Officer (SNFO) program. Three versions of the T-39D were used throughout the 1960s, 70s and 80s: one without radar for high altitude instrument navigation training and low altitude visual navigation training in the SNFO Intermediate syllabus, a second variant equipped with the APQ-126 radar from the A-7 Corsair II for training primarily bombardier/navigators, reconnaissance attack navigators and electronic countermeasures officers, and a third variant with the APQ-94 radar from the F-8 Crusader for training radar intercept officers in fighter aircraft.
The T-39N and T-39G are currently used in the NFO Strike and Strike Fighter syllabi in training USN and USMC Student Naval Flight Officers, student USAF navigators/Combat Systems Officers slated as weapon systems officers (WSOs) in the F-15E Strike Eagle and B-1 Lancer, various NATO/Allied/Coalition student navigators. Foreign students also train in the T-39 in place of the T-1 during the Intermediate Jet syllabus.
The Sabreliner requires a minium crew of two, and depending on cabin configuration, can carry up to 7 passengers (NA-265 through NA-265-40) or 10 passengers (NA-265-60 and subsequent models). As a Navy flight training aircraft, it will typically fly with a pilot, one or two NFO Instructors and two to three Student NFOs or student navigators/CSOs.
Accidents and incidents
On January 24, 1964, USAF T-39 Sabreliner flying from West Germany on a training mission crossed over East German airspace and was downed by a Soviet MiG-19, killing all three aboard.
In May 2002, two T-39 from VT-86 in Pensacola, FL collided mid-air, 40 miles off the Gulf Coast and killed all seven on board.
Variants
Civilian
Sabreliner
(NA265 or NA246) Prototype powered by two General Electric J85-GE-X turbojet engines, one built sometimes unofficially called XT-39. Sabreliner 40
(NA265-40 or NA282) Civil production variant for 11 passengers powered by two JT12A-6A or -8 engines, two cabin windows each side; 65 built. Sabreliner 40A
(NA265-40A or NA285) Model 40 with Model 75 wings, improved systems and two General Electric CF700 turbofans, three cabin windows each side.
Sabreliner 50 (NA265-50 or NA287) One built in 1964 as a Model 60 with JT12A engines, experimental platform for radome nose cowling. Sabreliner 60
(NA265-60 or NA306) Stretched Model 40 for 12 passengers with two JT12-A-8 engines, five cabins each side, 130 built. Sabreliner 60A
Series 60 with aerodynamic design improvements. Sabreliner 65
(NA265-65 or NA465) Based on the Series 60 with Garrett AiResearch TFE731-3R-1D engines and new super-critical wing, 76 built. Sabreliner 75
(NA265-70 or NA370) Series 60A with a raised cabin roof for greater cabin headroom, two JT12A-8 engines; nine built. Sabreliner 75A
(NA265-80 or NA380) Sabreline 75 with a number of aerodynamics and systems updates, and powered by two General Electric CF700 turbofan engines, 66 built.
Military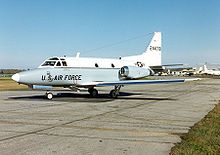 Picture - USAF T-39A
T-39A
NA265 - Initial production version for the United States Air Force based on Sabreliner prototype with longer nose and military equipment, pilot proficiency trainer, two Pratt & Whitney J60-P3 engines, 143 built. CT-39A
T-39A modified as a cargo and personnel transport, powered by P&W J60-P-3/-3A engines. NT-39A
One T-39A modified for electronic systems testing. T-39B
(NA270 or NA265-20) Radar systems trainer for the United States Air Force, equipped with doppler radar for pilot training, six built. T-39C
Planned Electronic Countermeasures and strategic bomber trainer, not built. T-39D
(NA265-20 or NA277) Radar systems trainer for the United States Navy, equipped with AN/APQ-94 radar for radar intercept officer training and the AN/APQ-126 radar for bombardier/navigator training. (T3J-1 prior to 1962 redesignation program.), 42 built. CT-39E
United States Navy cargo/transport version, with JT12A-8 engines, originally designated VT-39E, seven second-hand aircraft. T-39F
Electronic warfare crew training conversion of the T-39A for the United States Air Force. CT-39G
United States Navy cargo/transport version based on the stretched fuselage Sabreliner 60, JT12 engines equipped with thrust reversers, 13 bought. T-39G
CT-39G modified for the Undergraduate Flight Officer Training program. T-39N
Navy trainer for the Undergraduate Flight Officer Training program. T3J
Original United States Navy designation that became the T-39D in 1962.
Operators
Argentina
Argentine Air Force (One series 75A)
Argentine Army (One series 75A)

Bolivia
Bolivian Air Force (One series 60 FAB-001 used as a Presidential transport)

Ecuador
Ecuadorian Air Force

Mexico
Mexican Air Force
Mexican Navy

Sweden
Swedish Air Force (One series 65, local designation Tp 86)

United States
United States Air Force (149 with T-39 designations)
United States Navy (51 with T-39 designations)
BAE Systems Inc. (T-39A)
Federal Aviation Administration (Series 80)
National Test Pilot School

Specifications (T3J-1/T-39D)
Data from T-39 Sabreliner on Boeing History site
General characteristics
Crew: 4-5
Capacity: 5-7 passengers
Length: 44 ft (13.41 m)
Wingspan: 44 ft 6 in (13.56 m)
Height: 16 ft (4.88 m)
Wing area: 342.1 ft² (31.79 m²)
Empty weight: 9,257 lb (4,199 kg)
Loaded weight: 16,340 lb (7,412 kg)
Max takeoff weight: 17,760 lb (8,056 kg)
Powerplant: 2x— Pratt & Whitney J60-P-3 turbojet, 3,000 lbf (13.3 kN) each

Performance
Maximum speed: 478 knots (550 mph, 885 km/h)
Cruise speed: 435 knots (500 mph, 800 km/h)
Range: 2,170 nm (2,500 mi, 4,020 km)
Service ceiling: 40,000+ ft (12,200+ m)
Thrust/weight: 0.338

Comparable aircraft
T-1 Jayhawk

Type Certificate Data Sheet A2WE
"Model Designation of Military Aerospace Vehicles" (PDF). United States Department of Defense. 2004-05-12. pp. 60-61. http://www.dtic.mil/whs/directives/corres/pdf/412015l_0504/p412015l.pdf. Retrieved 2007-01-20.

Living Warbirds: The best warbirds DVD series.
Source: WikiPedia