North American XSN2J Video - Picture
North American XSN2J Aircraft Information
North American XSN2J
XSN2J-1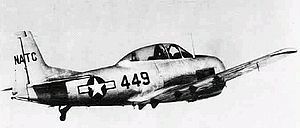 Role: Trainer aircraft
National origin: United States
Manufacturer: North American Aviation
Status: Cancelled
Primary user: United States Navy
Number built: 2
Developed into: T-28 Trojan

The North American XSN2J-1, also known by the company designation NA-142, was developed for the U.S. Navy by North American Aviation as a replacement for the SNJ Texan as an advanced scout-trainer. Designed in competition with the Fairchild XNQ, neither aircraft was considered satisfactory in evaluations. However, the XSN2J was later developed into the successful T-28 Trojan for the U.S. Air Force.
Specifications
General characteristics
Crew: two, pilot and instructor
Powerplant: 1 x— Wright R-1820-78 Cyclone radial, 820 kW (1100 hp)

Performance
Maximum speed: 435 km/h (270 mph)
Service ceiling: 9144 m (30000 ft)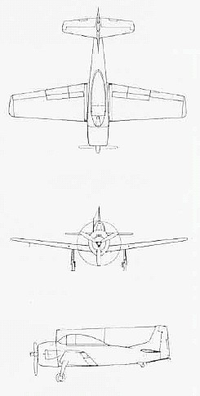 Picture - Three-view of XSN2J-1
Related development
T-28 Trojan

Comparable aircraft
Fairchild XNQ
T-6 Texan

"Trainer is Missing Link". Popular Science (New York: Popular Science Publishing Co.) 150 (5): 104. May 1947. http://books.google.com/books?id=KiYDAAAAMBAJ&pg=PA104&lpg=PA104&dq=XSN2J-1&source=bl&ots=5r67vsH5NC&sig=XKp14CuH77DDXkC31m0YaDhys_E&hl=en&ei=Zny2S-_4JoG-8wTvnojsAw&sa=X&oi=book_result&ct=result&resnum=2&ved=0CAcQ6AEwATgK#v=onepage&q=XSN2J-1&f=false. Retrieved 2 April 2010.
Silich, Rob. "North American Aviation T-28 Trojan: The Last Great Warbird?" KiwiFlyer Issue 6. New Zealand Warbirds Association.
Bridges, Derek. SN - Scout Trainer Aircraft, U.S. Military Aircraft and Weapon Designations.

Living Warbirds: The best warbirds DVD series.
Source: WikiPedia