Northrop Alpha Video - Picture
Northrop Alpha Aircraft Information
Northrop Alpha
Alpha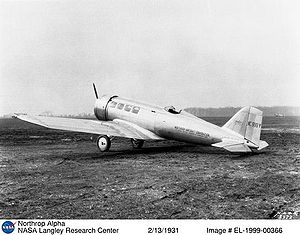 Picture - Northrop Alpha - NASA Photo
Role: Transport
Manufacturer: Northrop
Designed by: John K. Northrop
First flight: 1930
Introduced: 20 April 1931
Retired: 1975 to Smithsonian Institution
Primaryusers: Trans World Airlines US Army Air Corps
Number built: 17
Variants: Northrop Gamma C-19 Alpha

The Northrop Alpha was an American single-engine, all-metal, seven-seat, low-wing monoplane fast mail/passenger transport aircraft used in the 1930s. Design work was done at the Avion Corporation, which in 1929, became the Northrop Aircraft Corporation based in Burbank, California.
Design & Development
Drawing on his experience with the Lockheed Vega, John K. Northrop designed an advanced mail/passenger transport aircraft. In addition to all-metal construction, the new Alpha benefitted from two revolutionary aerodynamic advancements: wing fillets researched at the Guggenheim Aeronautical Laboratory at the California Institute of Technology, and a multicellular stressed-skin wing of Northrop's own design which was later successfully used on Douglas DC-2 and Douglas DC-3. In addition, the Alpha was the first commercial aircraft to use rubber deicer boots on wing and empennage leading edges which, in conjunction with state-of-the-art radio navigation equipment, gave it day or night, all-weather capability. The aircraft first flew in 1930, with a total of 17 built.
The Alpha was further developed into a dedicated fast transport Northrop Gamma.
Operational history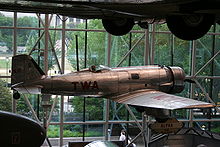 Picture - Alpha in TWA colors on display at the National Air and Space Museum
The Alpha entered service with Transcontinental & Western Air (future TWA) making its inaugural flight on 20 April 1931. The trip from San Francisco to New York required 13 stops and took just over 23 hours. TWA operated 14 aircraft until 1935, flying routes with stops in San Francisco, California; Winslow, Arizona; Albuquerque, New Mexico; Amarillo, Texas; Wichita, Kansas; Kansas City, Missouri; St. Louis, Missouri; Terre Haute, Indiana; Indianapolis, Indiana; Columbus, Ohio; Pittsburgh, Pennsylvania; Philadelphia, Pennsylvania; and New York. Three Alphas were operated by the US military as C-19 VIP transports until 1939.
The third Alpha built, NC11Y, was re-acquired by TWA in 1975, and is preserved at the Smithsonian National Air and Space Museum.
Variants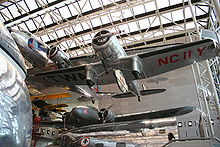 Picture - Under the Northrop Alpha
Alpha 2 six-passenger version Alpha 3 two-passenger plus cargo version, several Alpha 2s were converted to this configuration Alpha 4 cargo version with 2ft (0.6 m) increased wingspan, all converted from Alpha 3s Alpha 4A cargo version, all converted from Alpha 4s YC-19 & Y1C-19 military VIP transport, seating reduced to 4 passengers, serial numbers 31-516 to 31-518, YC-19 had a Pratt & Whitney R-1340-7, while the Y1C-19s had the R-1340-11 engine
Operators
United States
Trans World Airlines
US Army Air Corps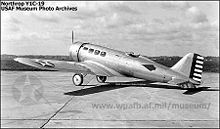 Picture - USAAC Northrop Alpha
Specifications (Alpha 2)
General characteristics
Crew: 1
Capacity: 6 passengers
Length: 28 ft 5 in (8.7 m)
Wingspan: 41 ft 10 in (12.8 m)
Height: 9 ft 0 in (2.7 m)
Wing area: 295 ft² (27.4 m²)
Empty weight: 2,590 lb (1,177 kg)
Loaded weight: 4,500 lb (2,045 kg)
Useful load: 1,910 lb (868 kg)
Max takeoff weight: lb (kg)
Powerplant: 1x— Pratt & Whitney Wasp R-1340-SC1, 420 hp (313 kW)

Performance
Maximum speed: 177 mph (285 km/h)
Cruise speed: 145 mph (233 km/h)
Range: 1,650 mi (2,650 km)
Service ceiling: 19,300 ft (5,885 m)
Rate of climb: 1,400 ft/min (7.1 m/s)
Wing loading: 15.3 lb/ft² (74.6 kg/m²)
Power/mass: 0.09 hp/lb (0.15 kW/kg)

Related development
Northrop Beta
Northrop Gamma
Northrop Delta

Comparable aircraft
Lockheed Vega
Boeing Monomail
Lockheed Model 9 Orion

Bibliography
Eden, Paul and Soph Moeng. The Complete Encyclopedia of World Aircraft. London: Amber Books Ltd., 2002. ISBN 0-7607-3432-1.
Smith, M.J. Jr. Passenger Airliners of the United States, 1926-1991. Missoula, Montana: Pictorial Histories Publishing Company, 1986. ISBN 0-933126-72-7.

Living Warbirds: The best warbirds DVD series.
Source: WikiPedia