Northrop BT Video - Picture
Northrop BT Aircraft Information
Northrop BT
BT-1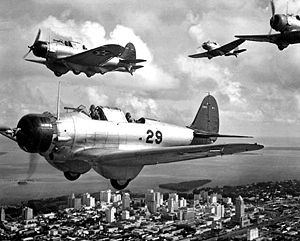 Picture - Northrop BT-1s over Miami in October 1939
Role: Dive bomber
Manufacturer: Northrop
Designed by: Ed Heinemann
First flight: 19 August 1935
Primaryuser: United States Navy
Number built: 55
Variants: SBD Dauntless

The Northrop BT was a two seat, single engine, monoplane, dive bomber built by the Northrop Corporation for the United States Navy. At the time Northrop was a subsidiary of the Douglas Aircraft Company.
Design and development
The design of the initial version began in 1935. A 700hp (522kW) Pratt and Whitney XR-1535-66 Twin Wasp Jr. double row, radial air-cooled engine powered the aircraft. The aircraft had slotted flaps and a landing gear that partially retracted.
The next iteration of the BT, designated the XBT-1 was equipped with a 750hp (559kW) R-1535 engine. This aircraft was followed in 1936 by the BT-1 that was powered by an 825hp Pratt and Whitney R-1535-94 engine. One of the BT-1 aircraft was modified with a fixed tricycle landing gear and was the first such aircraft to land on an aircraft carrier.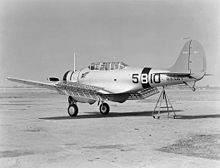 Picture - BT-1 of VB-5 in 1938
The final variant, the XBT-2, was a BT-1 aircraft modified to incorporate a fully retracting landing gear, wing slots, a redesigned canopy, and was powered by an 800hp (597kW) Wright XR-1820-32 radial air-cooled engine. The XBT-2 first flew on 25 April 1938 and after successful testing the Navy placed an order for 144 aircraft. In 1939 the aircraft designation was changed to the Douglas SBD-1 with the last 87 on order completed as SBD-2s. The Northrop Corporation had become the El Segundo division of Douglas aircraft hence the change to Douglas.
Operational history
The U.S. Navy placed an order for 54 BT-1s in 1936 with the aircraft entering service during 1938. The BT-1s served on the USSYorktown and Enterprise. The type was not a success in service due to poor handling characteristics, especially at low speeds, "a fatal flaw in a carrier based aircraft." It was also prone to unexpected rolls and a number of aircraft were lost in crashes.
Variants
XBT-1 Prototype, one built. BT-1 Production variant, 54 built. XBT-2 One BT-1 modified with fully-retractable landing gear and other modifications. BT-2 Production variant of the XBT-2, 144 on order completed as SBD-1 and SBD-2. Douglas DB-19 One BT-1 was modified as the DB-19 which was tested by the Imperial Japanese Navy as the DXD1 (Navy Experimental Type D Attack Plane)
Operators
United States
United States Navy

Specifications (BT-1)
Data from United States Navy Aircraft since 1911
General characteristics
Crew: two (pilot and gunner)
Length: 31 ft 8 in (9.65 m)
Wingspan: 41 ft 6 in (12.65 m)
Height: 9 ft 11 ft (3.02 m)
Wing area: 319 ft² (29.6 m²)
Empty weight: 4,606 lb (2,094 kg)
Max takeoff weight: 7,197 lb (3,271 kg)
Powerplant: 1x— Pratt & Whitney R-1535-94 Twin Wasp Jr. double row radial air-cooled engine, 825 hp (615 kW)

Performance
Maximum speed: 193 knots (222 mph, 357 km/h) at 9,500 ft (2,900 m)
Cruise speed: 167 knots (192 mph, 309 km/h)
Range: 1,000 nmi (1,150 mi1, 852 km)
Service ceiling: 25,300 ft (7,710 m)
Rate of climb: 1,270 ft/min (6.5 m/s)

Armament
Guns:
1 x— .50 in (12.7 mm) machine gun
1 x— .30 in (7.62 mm) machine gun
Bombs: 1,000 lb (454 kg) bomb under fuselage

Notable mentions in media
Northrop BT-1s appeared in pre-war yellow wing paint schemes in the Technicolor film Dive Bomber (1941) starring Errol Flynn.
Related development
Northrop YA-13
Northrop A-17
SBD Dauntless

Comparable aircraft
Blackburn Skua
Seversky P-35
Aichi D3A

Bibliography
Bowers, Peter M. United States Navy Aircraft since 1911. Annapolis, MD: Naval Institute Press, 1990, ISBN 0-87021-792-5.
Brazelton, David. The Douglas SBD Dauntless, Aircraft in Profile 196. Leatherhead, Surrey, UK: Profile Publications Ltd., 1967. No ISBN.
Drendel, Lou. U.S. Navy Carrier Bombers of World War II. Carrollton, TX: Squadron/Signal Publications, Inc., 1987. ISBN 0-89747-195-4.
Gunston, Bill. The Illustrated History of McDonnell Douglas Aircraft: From Cloudster to Boeing. London: Osprey Publishing, 1999. ISBN 1-85532-924-7.
Kinzey, Bert. SBD Dauntless in Detail & Scale, D&S Vol.48. Carrollton, TX: Squadron/Signal Publications, Inc., 1996. ISBN 1-888974-01-X.
Listemann, Phil. Northrop BT-1 (Allied Wings No.3). France: www.raf-in-combat.com, 2008. ISBN 2-9526381-7-9.
Swanborough, Gordon and Peter M. Bowers. United States Navy Aircraft since 1911. London: Putnam, Second edition, 1976. ISBN 0-370-10054-9.

Living Warbirds: The best warbirds DVD series.
Source: WikiPedia