Northrop Grumman Corporation - Picture
Northrop Grumman Corporation Information
Northrop Grumman
Industry: Aerospace and Defense
Founded: 1927 (in 1994, company took on current name), Denver, Colorado
Headquarters: Century City, Los Angeles, CA, USA
Area served: Worldwide
Key people: Wesley G. Bush (Chairman) & (CEO)
Products: Aircraft carriers Military aircraft Military vessels Missile defense systems Satellites Information Technology Advanced electronic sensors and systems
Revenue: US$ 33.887 billion (2008)(backlog of $ 76.9 billion)
Operating income: US$ -111 million (2008)
Net income: US$ -1.262 billion (2008)
Total assets: US$ 30.197 billion (2008)
Total equity: US$ 11.920 billion (2008)
Employees: 120,000 (2009)
Website: NorthropGrumman.com

Northrop Grumman Corporation (NYSE: NOC) is an American aerospace and defense technology company formed by the 1994 purchase of Grumman by Northrop. The company was the fourth-largest defense contractor in the world as of 2010, and the largest builder of naval vessels. Northrop Grumman employs over 122,000 people worldwide. Its 2007 annual revenue is reported at US$32 billion. Northrop Grumman ranks #61 on the 2010 Fortune 500 list of U.S. industrial companies. It is headquartered in the Century City area of Los Angeles, California.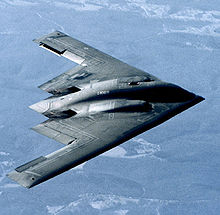 Picture - Northrop Grumman manufactured the B-2 Spirit strategic bomber.
In January 2010, Northrop Grumman announced plans to move its headquarters to the Washington, D.C. area by 2011, then in April 2010 narrowed the location to Northern Virginia and finally in July 2010 announced its new location would be in Falls Church, Virginia.
Products and services
Naval
Newport News Shipbuilding manufactures all U.S. aircraft carriers, including supercarriers. It has built the Nimitz-class supercarriers and is building the new Gerald R. Ford-class supercarrier. It is also one of only two companies capable of producing U.S. nuclear submarines. A separate sector, Northrop Grumman Ship Systems, produces amphibious assault ships and many other commercial and military craft, including icebreakers, tankers, and cargo ships. In a partnership with Science Applications International Corporation, Northrop Grumman provides naval engineering and architecture services as well as naval maintenance services.
In January 2008, Northrop Grumman combined its Newport News and Ship Systems sectors into a new business unit named Northrop Grumman Shipbuilding.
Aerospace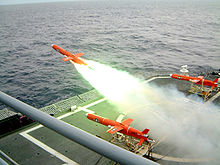 Picture - A BQM-74 Chukar unmanned aerial drone launches from a US Navy vessel.
Separate sectors, such as Aerospace Systems, produce aircraft for the US and other nations. The B-2 Spirit strategic bomber, the E-8C Joint STARS surveillance aircraft, the RQ-4 Global Hawk, and the T-38 Talon supersonic trainer, are used by the US Air Force. The US Army uses Northrop Grumman's RQ-5 Hunter unmanned air vehicle, which have been in operational use for more than 10 years. The US Navy uses Northrop Grumman-built aerial vehicles such as the BQM-74 Chukar, RQ-4 Global Hawk based BAMS UAS, C-2 Greyhound, E-2 Hawkeye, and the EA-6B Prowler. Northrop Grumman provides major components and assemblies for different aircraft such as F/A-18 Hornet, F/A-18E/F Super Hornet and the EA-18G Growler. Many aircraft, such as the F-5, T-38 Talon, and E-2 Hawkeye are used by other nations.
The former Space Technology sector (now Aerospace Systems Sector) builds satellites and space payloads for the US government, including NASA, NOAA and the US Air Force. The sector's Directed Energy unit builds chemical and solid-state lasers. Working with Boeing, the sector provides the chemical laser for the Boeing YAL-1 Airborne Laser system.
The former Mission Systems sector (now Information Systems Sector) is engaged in supporting the U.S. ballistic missile program; integrating various command, control and intelligence systems; and providing technical and management services to governmental and military customers.
Northrop Grumman intends to bid for the U.S. Air Force's next-generation strategic bomber project. Though it has not built a large manned aircraft since wrapping up B-2 Spirit production in the 1990s, The company has "been working hard to turn that perception around, with the skills and capabilities that back it up." It continues to build the RQ-4 Global Hawk, with many of the same long endurance and sensor technologies that are required for bombers.
Northrop Grumman partnered with EADS to use the KC-30 in the U.S. Air Force's KC-X tanker competition. The US Air Force chose the Northrop Grumman/EADS's KC-30 in February 2008, but the win was contested and the tanker program was halted by Defense Department in September 2008. Northrop Grumman announced in March 2010 it was withdrawing from the competition.
In November 2010, Northrop Grumman was selected by NASA for consideration for potential contract awards for heavy lift launch vehicle system concepts, and propulsion technologies.
Radar and sensors
Northrop Grumman Electronic Systems creates military sensors and related products, including C4I radar systems for air defense, Airspace Management radar systems such as AMASS, and battlefield surveillance systems like the Airborne Reconnaissance Low (ARL). Tactical aircraft sensors produced by Northrop Grumman Electronic Systems include the AN/APG-68 radar and the AN/APG-80 advanced agile beam fire control radar for the F-16 Fighting Falcon, the AN/APG-77 Advanced Electronically Scanned Array (AESA) radar for the F-22 Raptor, and the AN/APG-81 AESA radar for the F-35 Lightning II, and the AN/AAS-37 electro-optical Distributed Aperture System for the F-35, and the highly reliable APQ-164 Passive Electronically Scanned Array (PESA) radar for the B-1 Lancer. Electronic Systems also produces and maintains the AWACS aerial surveillance systems for the U.S., the United Kingdom, NATO, Japan, and other customers. Northrop Grumman is the prime contractor for the development and integration of the Air Force's $2-billion Multi-Platform Radar Technology Insertion Program. Many other smaller products are made by Northrop Grumman, such as night vision goggles and secure communications equipment.
Affiliated companies and partners
Remotec, a subsidiary, is the foremost manufacturer of remote control vehicles for explosive ordnance disposal and hazardous material handling. A UK-based subsidiary, Park Air Systems, makes navigation, traffic control, and communications equipment for international customers. They also have worked closely with Antenna Associates, Inc., a leading manufacturer of IFF(Identification Friend or Foe)/SSR(Secondary Surveillance Radar) Antennas located in Massachusetts.
In 2008, Northrop Grumman also began working with DHS Systems LLC, the manufacturer of the Deployable Rapid Assembly Shelter (DRASH) located in New York, as part of the U.S. Army's Standard Integrated Command Post System (SICPS) program. .
In August 2007, Northrop Grumman acquired Scaled Composites in which it had previously owned a 40% stake.
Other services
In addition to providing the products created by Northrop Grumman, the company also provides many military and non-military services, usually to governments. It is among the largest suppliers of IT services to the U.S. federal government, for instance. And Vinnell, a Northrop Grumman subsidiary within the Technical Services sector, provides training and communications services for the military. For example Vinnell landed a $48 million contract to train the Iraqi Army in 2003.
Many other nations, and individual states in the U.S. have contracted Northrop Grumman for various large-scale projects. In 2005, for instance, the company won a $2 billion contract with Virginia to overhaul most of the state's IT operations. Later that year, Great Britain paid for a $1.2 billion contract with the company to provide maintenance of many aspects of the country's defensive radar.
Northrop Grumman also performs various foreign functions in the War on Drugs. The company sends planes to spray herbicides on suspected cocaine fields in Colombia and opium poppy fields in Afghanistan.
History
Originally formed in California in 1939, Northrop Corporation was reincorporated in Delaware in 1985. In 1994, Northrop Aircraft merged with Grumman Aerospace to create the company Northrop Grumman. Both companies were previously established in the airplane manufacturing industry, and Grumman was famous for building the Apollo Lunar Module. The new company acquired Westinghouse Electronic Systems in 1996, a major manufacturer of radar systems. Logicon, a defense computer contractor, was added in 1997. Previously, Logicon had acquired Geodynamics Corporation in March 1996 and Syscon Corporation in February 1995.
A merger between Northrop Grumman and competitor Lockheed Martin was not approved by the U.S. government in 1998, slowing the consolidation of the defense industry. But in 1999, the company acquired Teledyne Ryan, which developed surveillance systems and unmanned aircraft. It also acquired California Microwave, Inc., and Data Procurement Corporation, in the same year. Other entities acquired included Xetron Corporation (1996), Inter-National Research Institute Inc. (1998), Federal Data Corporation (2000), Navia Aviation As (2000), Comptek Research, Inc. (2000), and Sterling Software, Inc. (2000).
In 1999, Northrop Grumman and SAIC created AMSEC LLC as a joint venture, which grew "from $100 million in revenue in 2000 to approximately $500 million in fiscal year 2007."
In 2001 the company acquired Litton Industries, a shipbuilder and provider of defense electronics systems to the U.S. Navy. During the acquisition process, a new Delaware holding company, NNG, Inc., was formed. It merged with Northrop Grumman through a one-for-one common shares exchange in April 2001. Both Northrop Grumman and Litton became subsidiaries of the new holding company. The original Northrop Grumman Corporation then changed its name to Northrop Grumman Systems Corporation; the holding company, NNG, Inc., changed its name to Northrop Grumman Corporation.
Later that year, Newport News Shipbuilding was added to the company. And in 2002, Northrop Grumman acquired TRW, which became the Space Technology sector based in Redondo Beach, CA, and the Mission Systems sector based in Reston, VA, with sole interest in their space systems and laser systems manufacturing. The Aeronautical division was sold to Goodrich, and the automotive divisions were spun off and retained the TRW name.
There have been many other smaller acquisitions throughout this period. On July 20, 2007, Northrop Grumman became the sole owner of Burt Rutan's Scaled Composites.
Northrop Grumman and Boeing have also recently collaborated on a design concept for NASA's upcoming Orion spacecraft (previously the Crew Exploration Vehicle), but that contract went to rival Lockheed Martin on August 31, 2006. Northrop Grumman announced formation of a new business unit (sector), effective January 1, 2006 called Technical Services.
In 2007 Northrop Grumman created the National Workforce Centers. The National Workforce centers are an alternative to Offshoring. Current locations are Auburn, AL; Corsicana, TX; Fairmont, WV; Helena, MT; Johnstown, PA; Lebanon, VA; and Rapid City, SD.
Three employees of Northrop Grumman (Thomas Howes, Marc Gonsalves and Keith Stansell) were freed in July 2008 after five years of captivity in Colombia during Operation Jaque. Tom Janis, also a former Northrop employee, was killed by the FARC shortly after their plane crashed in the Colombian jungle in 2003.
Business sectors
As of January 2009, Northrop Grumman is made up of five business sectors:
Aerospace Systems
Electronic Systems
Information Systems
Shipbuilding
Technical Services

Subsidiaries
Scaled Composites

Corporate governance
Kent Kresa was the CEO of the company until he was required to retire in 2003 due to age restrictions. At this point, Ronald Sugar, formerly the chief operating officer, took over as CEO. Sugar also served as the company chairman of the board. In January, 2010 Wes Bush succeeded Sugar as CEO and also assumed the position of company president.
Corporate headquarters
Northrop Grumman is headquartered in the Century City area of Los Angeles, California. but on January 4, 2010 announced plans to move to the Washington Metropolitan Area by 2011.
In January 2010 Northrop Grumman announced that it will move its headquarters to the Washington, DC area so the company can be closer to government customers. Wesley Bush, the new CEO of Northrop Grumman, stated that the company needed to be located close to Capitol Hill lawmakers and officials from intelligence and military communities. Northrop Grumman considered sites in Washington, DC and in suburbs in Maryland and Virginia. During the time of the announcement the company had not yet selected a headquarters site; the company planned to be at the new headquarters by the northern hemisphere Summer of 2011. Charles Proctor of the Los Angeles Business Journal said "In a way, the announcement was not a surprise" due to the trend of aerospace companies moving to the DC area and the fact that the newly hired CEO is from West Virginia. Proctor added that CEOs often move corporate headquarters to places that they want the headquarters located. Larry Kosmont, a Los Angeles area economic development consultant, described the move announcement as a "structural failure at all levels for Los Angeles County."
V. Dion Haynes of the Washington Post said that District of Columbia economic development officials were "pitching the city's urban hipness and proximity to Capitol Hill power brokers" to Northrop Grumman. In addition Maryland promoted its highly educated workforce and its large number of federal facilities, while Virginia marketed itself as a state with relatively low taxes.
Accolades and criticisms
Northrop Grumman was named Forbes's Company of the Year in 2002. Forbes's announcement credited the company with "master[ing] the art of innovation." Northrop Grumman no longer appears on their list of America's 400 Best Big Companies, however. Northrop Grumman is credited with sponsoring educational programs and donating thousands of dollars to various charities. Many members of the U.S. government have attended company events and spoken highly of the company and its contributions. In December 2007, Northrop Grumman Corporation was awarded the prestigious Ron Brown Award for Corporate Leadership, the only Presidential award recognizing companies for outstanding achievement in employee and community relations.
Environmental record
Based on year 2008 data, researchers at the Political Economy Research Institute of the University of Massachusetts identified Northrop Grumman as the 62nd-largest corporate producer of air pollution in the United States. According to their study, Northrop Grumman facilities released more than 23,798 pounds of toxic chemicals into the air in that year. The corporation has also been linked to 52 superfund toxic waste sites.
In 2003, the company was among 84 parties with which the United States Environmental Protection Agency, the U.S. Department of Justice, and the state of New York reached an estimated US$ 15 million settlement for the rehabilitation of the Mattiace Petrochemical Company Superfund site in Glen Cove, Long Island. In the same year, Northrop Grumman agreed to pay $33,214 after EPA inspectors found hazardous waste violations at the Capistrano test site.
As a response to many of the previous claims, the company has stood up an organization for social responsibility. Among the recent projects is the Greenhouse Gas (GHG) Inventory Project. To reduce the carbon footprint created by Northrop Grumman operations, and in anticipation of upcoming new regulations, the EHS Leadership Council championed an initiative in 2008 to develop a way to accurately quantify companywide greenhouse gas emissions, and address the issue responsibly.
In 2008, Northrop Grumman launched its Environmental Sustainability program, which aims to advance Northrop Grumman's commitment to environmental performance both internally and externally. Here are some 2008 highlights:
Communicated Earth Day statements from Ron Sugar and Wes Bush.
Published new internal and external web pages on environmental performance.
Established a foundation partnership with Earthwatch Institute to develop an innovative environmental education program. Teachers across the country will get the chance to participate in an Earthwatch expedition focused on climate change and ocean preservation, an invaluable transfer experience between the real world and classroom.
Developed a greenhouse gas strategy/plan.
Defined system requirements and developed a repeatable process for greenhouse gas data.
Collected an initial estimate of greenhouse gas emissions and water-use data.
Established a web-based data collection tool to collect annual data on water use and solid waste generation and recycling.
Switching lightbulb manufacturers-choosing greener alternatives to achieve energy savings, labor savings and procurement savings (bulbs last longer, so need less frequent replacement).
Instituted furniture and carpet recycling at several Northrop Grumman facilities.
Implemented a new requirement that janitorial service providers to Northrop Grumman use only "Green Seal Certified" chemicals.
Deploying Managed Print Solution across the company, which to date has eliminated almost 2,000 devices resulting in a 25 percent reduction in energy consumption and solid waste and a 20 percent reduction in paper use. By the end of 2009 its anticipated implementation was to include more than 50 percent of Northrop Grumman sites.
Achieved "SmartWay" certification as a freight shipper. Through such "load consolidation" programs, the company is targeting a reduction of more than 1 million freight miles in 2009 and an additional half million miles in 2010. A high percentage of Northrop Grumman freight travels via companies that meet the rigorous standards set to become SmartWay Certified.
Developing an ECO Model to help evaluate and prioritize candidate Environmental Sustainability projects using a combination of traditional financial measures and green criteria.
Established a companywide Energy Conservation Task Force.
Environmental Sustainabiliy teams are increasing employee involvement by bringing people together to identify and implement projects to improve the environment at work. And as a bonus, many employees are taking these lessons home. One such team, some 100 highly engaged participants at the Northrop Grumman site in El Segundo, California, has established a website to support the team's activities and interests, including its first project: expanding site-wide collection of paper for recycling. The team is now establishing a process to expand the collection of recyclable bottles and cans. The team also provides volunteers for various community events and supports company events such as e-waste roundups. In 2009, the team's attention focused on energy efficiency projects and engaging 58 employees to help conserve energy.

The company was named one of Computerworld's Top 12 Green-IT Organizations in October 2010 for its large-scale data center migration effort.
Political contributions and governmental ties
From 1990-2002, Northrop Grumman contributed $8.5 million to federal campaigns. According to PAC summary data compiled by Source Watch, the company gave US$1,011,260 to federal candidates in 2005-2006 election cycle, compared to $10,612,837 given by all defense contractors in the same cycle. This donation amount was only behind that of General Dynamics and Lockheed Martin in the defense industry. The majority of the contributions, 63%, went to Republicans. Former Northrop Grumman Electronics Systems chief James G. Roche served for two years as Secretary of the Air Force for George W. Bush. As reported by the Los Angeles Times, Roche would eventually be nominated to head the Army, but would be forced to withdraw his nomination among accusations of mismanaging a contract with Boeing and of failing to properly handle the Air Force sexual assault scandals of 2003. According to CorpWatch, "at least seven former officials, consultants, or shareholders of Northrop Grumman" have held posts "in the Bush administration...including Deputy Secretary of Defense Paul Wolfowitz, Vice-Presidential Chief of Staff I. Lewis Libby, Pentagon Comptroller Dov Zakheim, and Sean O'Keefe, director of NASA." Wolfowitz and Libby have both since left the government amid scandals.
Scandals
Northrop Grumman has had to deal with multiple scandals during its history. The company was sued in 1999 for allegedly knowingly giving the Navy defective aircraft. This suit seeks $210 million in damages and is ongoing. Then in 2003, the company was sued for allegedly overcharging the U.S. government for space projects in the 1990s. Northrop Grumman paid $111.2 million to settle that suit out of court.
In 1995, Robert Ferro, an employee for TRW, a company acquired by Northrop Grumman, discovered that satellite components manufactured for the United States Air Force (USAF) were faulty and likely to fail in operation. TRW allegedly suppressed Ferro's report of the problem and hid the information from the USAF, even after a satellite in space equipped with the faulty components experienced serious anomalies. Ferro later sued Northrop Grumman in federal court under the federal whistle-blower law. On April 2, 2009 Northrop Grumman agreed to pay $325 million to settle the suit. Ferro was awarded $48.8 million of the settlement. Northrop Grumman stated about the settlement that, "it believed that TRW had 'acted properly under its contracts' and that the company had substantive defenses against the claims."
From August 25 through September 2, 2010, Virginia's computer operations experienced a week-long computer outage. Northrop Grumman operated these systems under a $2.4 billion contract. As a result, as many as 45,000 citizens could not renew their drivers licenses prior to their expiration. Computer systems for 26 of the state's 89 agencies were affected and Governor Bob McDonnell announced that some data may be permanently lost. Northrop Grumman has apologized for the outage and will fund an investigation. Northrop Grumman had contributed approximately $75,000 to McDonnell's campaign.
International Traffic in Arms Regulations (ITAR) Violations
U.S. State Department investigators found that Litton Industries, a subsidiary of Northrop Grumman, provided portions of the computer source code of Air Force One to a company in Russia in 1998. Northrop Grumman agreed to pay a $15 million fine for 110 violations, occurring between September 1998 and November 1998, of the Arms Export Control Act and the International Traffic in Arms Regulations (ITAR). The ITAR violations centered around guidance and navigation system interface information unique to Air Force One.
Additionally, documents filed by the State Department state that between 1994 and 2003, Northrop Grumman failed to notify the U.S. State Department about the computer guidance systems also being transferred to Angola, Indonesia, Israel, China, Ukraine and Yemen.
IMETS
Top 100 US Federal Contractors - $19.7 billion in FY2009

Northrop Grumman Pictures and Northrop Grumman for Sale.
Living Warbirds: The best warbirds DVD series.
Source: WikiPedia