Northrop N-3PB Video - Overview
Northrop N-3PB Aircraft Information
Northrop N-3PB
N-3PB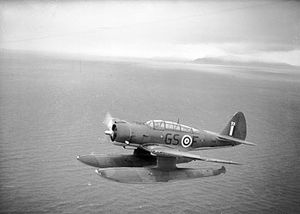 Role: Patrol bomber/torpedo bomber floatplane
Manufacturer: Northrop Aircraft Inc.
Introduction: 1940
Primaryuser: Royal Norwegian Navy Air Service
Number built: 24

The Northrop N-3PB is a sleek single engine low wing float-plane with a crew of three. The Royal Norwegian Navy Air Service was the only customer of the type. Norway was in need of a replacement for the Naval Air Service's M.F.11 biplane patrol aircraft and ordered 24 aircraft on 8 March 1940, at a total cost of NOK6,550,000.
Before the aircraft could be delivered, Norway was invaded by the Germans. All of the aircraft were delivered to the exiled Royal Norwegian Navy Air Service (RNNAS), operating as No. 330 (Norwegian) Squadron RAF in Reykjavx­k, Iceland. The RNNAS operated the N-3PBs on anti-submarine and convoy escort duties.
After the war the two surviving aircraft were flown to Norway, but both were scrapped sometime in the 1950s.
In the 1970s, a N-3PB wreck was located at Iceland. The aircraft was rescued, and later restored by Northrop in California. This only surviving aircraft is currently on exhibition as part of Norwegian Armed Forces Aircraft Collection at Gardermoen, Norway.
Military operators
Norway
Royal Norwegian Navy Air Service
No. 330 Squadron RAF

Specifications (N-3PB)
Data from
General characteristics
Crew: Three (pilot, navigator & wireless operator)
Length: 38 ft (11.58 m)
Wingspan: 48 ft 11 in (14.91 m)
Height: 12 ft (3.66 m)
Wing area: 376.8 ft² (34.93 m²)
Empty weight: 6,190 lb (2,808 kg)
Max takeoff weight: 10,600 lb (4,808 kg)
Powerplant: 1x— Wright Cyclone air-cooled radial engine, 1,200 hp (895 kW)

Performance
Maximum speed: 223 knots (257 mph, 414 km/h)
Cruise speed: 186 knots (215 mph, 348 km/h)
Range: 869 nm (1,000 mi, 1,609 km)
Service ceiling: 28,400 ft (7,392 m)

Armament
4 x— .50 in machine guns
2 x— .30 in machine guns
1 x— 2,000 lb torpedo or equivalent weight of bombs

Comparable aircraft
Aichi E13A
Arado Ar 196
OS2U Kingfisher

Bibliography
Hafsten, Bjx¸rn; Arheim, Tom (2003) (in Norwegian). Marinens Flygevx¥pen 1912-1944. Oslo: TankeStreken AS. ISBN82-993535-1-3.

Living Warbirds: The best warbirds DVD series.
Source: WikiPedia