Northrop YA-9 Video - Picture
Northrop YA-9 Aircraft Information
Northrop YA-9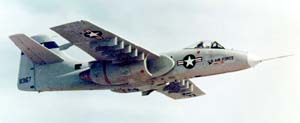 Role: Attack aircraft
Manufacturer: Northrop
First flight: 30 May 1972
Status: Canceled
Primary user: United States Air Force NASA
Number built: 2

The Northrop YA-9 was a prototype attack aircraft developed for the United States Air Force A-X program. The YA-9 was passed over in preference for the Fairchild Republic YA-10 that entered production as the A-10 Thunderbolt II.
Design and development
Background
Criticism that the U.S. Air Force did not take close air support seriously prompted a few service members to seek a specialized attack aircraft. In the Vietnam War, large numbers of ground-attack aircraft were shot down by small arms, surface-to-air missiles, and low-level anti-aircraft gunfire, prompting the development of an aircraft better able to survive such weapons. Fast jets such as the F-100 Super Sabre, F-105 Thunderchief and F-4 Phantom II proved for the most part to be ineffective for close air support. The A-1 Skyraider was the USAF's primary close air support aircraft.
A-X
In mid-1966 the U.S. Air Force formed the Attack Experimental (A-X) program office. On 6 March 1967, the Air Force released a request for information to 21 defense contractors for the A-X. The objective was to create a design study for a low-cost attack aircraft. Discussions with A-1 Skyraider pilots operating in Vietnam and analysis of the effectiveness of current aircraft used in the role indicated the ideal aircraft should have long loiter time, low-speed maneuverability, massive cannon firepower, and extreme survivability; an aircraft that had the best elements of the Ilyushin Il-2, Henschel Hs 129 and Skyraider.
In May 1970, the USAF issued a modified, and much more detailed request for proposals (RFP). The threat of Soviet armored forces and all-weather attack operations had became more serious. Now included in the requirements was that the aircraft would be designed specifically for the 30 mm cannon. The RFP also called for an aircraft with a maximum speed of 460 mph (740 km/h), takeoff distance of 4,000 feet (1,200 m), external load of 16,000 pounds (7,300 kg), 285-mile (460 km) mission radius, and a unit cost of US$1.4 million. During this time, an RFP was released for A-X's 30 mm cannon with requirements for a high rate of fire (4,000 round/minute) and a high muzzle velocity. Six companies submitted proposals to the USAF, with Northrop and Fairchild Republic selected to build prototypes: the YA-9A and YA-10A, respectively. General Electric and Philco-Ford were selected to build and test GAU-8 cannon prototypes.
While turboprops were considered in some designs for the A-X project, turbofans were selected for the flyoff prototypes. The A-9 used the Lycoming F-102 engine, while the A-10 used the GE TF34 as used in the contemporary S-3 Viking and proposed for use in the E-3 Sentry. The YA-9 took its first flight on 30 May 1972.
Fly-off
Apart from aircraft themselves, the A-X program was also developing a powerful cannon for the winning plane to carry. Eventually, this would result in the GAU-8 Avenger, but for trials, the YA-9 and YA-10 were both equipped with the smaller M61 Vulcan Gatling gun. By comparison, the A-10 engine location at the tail is less conventional, but offers greater survivability in the case of a hit on the engine area. The double tail of the A-10 also hides the engine infrared and noise signature, and is redundant in case one of the tails is shot away.
A fly-off of the two prototypes took place between 10 October and 9 December 1972, with the YA-10 declared the winner on 18 January 1973.
The two YA-9 prototypes were subsequently relegated to NASA for continued flight testing before being quickly retired. When retired, the YA-9s' custom-built engines were removed and were later mated to a C-8 Buffalo airframe as part of the NASA-Boeing joint Quiet Short-haul Research Aircraft (QSRA) study into a quiet short-haul commercial aircraft.
Survivors
71-1367 - Edwards AFB
71-1368 - March Field Air Museum, March Air Reserve Base, CA

Specifications (YA-9A)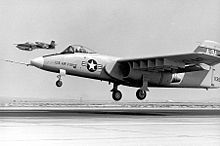 Picture - Northrop's YA-9; note the offset forward landing gear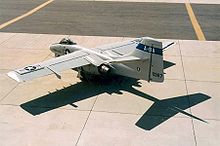 Picture - A rear view
Data from
General characteristics
Crew: 1
Length: 53 ft 6 in (16.3 m)
Wingspan: 57 ft 0 in (17.4 m)
Height: 17 ft 10 in (5.4 m)
Wing area: 580 ft² (53.88 m²)
Empty weight: 23,076 lb (10,467 kg)
Loaded weight: 28,575 lb (12,961 kg)
Max takeoff weight: 41,795 lb (18,958 kg)
Powerplant: 2x— Lycoming YF102-LD-100 turbofans, 7,500 lbf (33.4 kN) each

Performance
Maximum speed: 523 mph (837 km/h)
Thrust/weight: 0.33

Armament
1x 20 mm M61 Vulcan gatling gun
Up to 18,370 lb (8,350 kg) of ordnance

Comparable aircraft
A-10 Thunderbolt II
Sukhoi Su-25

Bibliography
Donald, David and Daniel J. March, eds. "A-10 Fighting Warthog". Modern Battlefield Warplanes. Norwalk, CT: AIRtime, 2004. ISBN 1-880588-76-5.
Donald, David, ed. "Northrop YA-9". The Complete Encyclopedia of World Aircraft. Barnes & Noble Books, 1997. ISBN 0-7607-0592-5.
Jenkins, Dennis R. Fairchild-Republic A/OA-10 Warthog. North Branch, Minnesota: Specialty Press, 1998. ISBN 1-58007-013-2.

Living Warbirds: The best warbirds DVD series.
Source: WikiPedia