Northrop YC-125 Raider Video - Engine test
Northrop YC-125 Raider Aircraft Information
Northrop YC-125 Raider
YC-125 Raider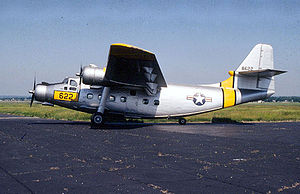 Picture - The aircraft on display in the National Museum of the USAF. Painted to represent the YC-125B used for cold weather tests, Wright-Patterson AFB, 1950.
Role: transport
Manufacturer: Northrop Corporation
First flight: 1 August 1949
Introduced: 1950
Retired: 1955
Primaryuser: US Air Force
Produced: 1949-1950
Number built: 23

The Northrop YC-125 Raider was a 1940s American three-engined STOL utility transport built by Northrop Corporation, Hawthorne, California.
Design and development
Northrop's first post-war civil design was a three-engined STOL passenger and cargo transport named the Northrop N-23 Pioneer. The Pioneer could carry 36 passengers or five tons of cargo and first flew on 21 December 1946. The aircraft had a good performance, but there was little interest due to the availability of cheap war surplus aircraft. The Pioneer was lost in a fatal crash in 1947. In 1948 the United States Air Force expressed interest in an aircraft of the same configuration and placed an order with Northrop for 23 aircraft, 13 troop transports designated the C-125A Raider and 10 for Arctic rescue work designated the C-125B. With the company designation N-32 Raider the first aircraft flew on 1 August 1949.
The aircraft was powered by three 1200hp (895kW) Wright R-1820-99 Cyclone radial engines. The aircraft could also be fitted with JATO rockets that enabled it to take off in less than 500ft (152 m). The 13 troop transporters were designated YC-125A in-service and the Arctic rescue version the YC-125B.
The Canadian company Canadair did consider building the N-23 under licence but this was not proceeded with.
Operational history
Deliveries of the YC-125 to the USAF began in 1950. Aircraft did not serve long as they were underpowered and they were sent soon to Sheppard Air Force Base, Texas and relegated to be ground instructional trainers until retired in 1955 and declared surplus.
Most of the surplus aircraft were purchased by Frank Ambrose and sold to bush operators in South and Central America.
Variants
N-23 Pioneer Prototype three-engined STOL transport, one built. N-32 Raider Company designation of military version of the N-23. YC-125A Raider N-32 with seats for thirty troops, thirteen built (serials 48-628/640). YC-125B Raider Arctic rescue version of the N-32 with twenty stretchers and provision for a ski undercarriage. Ten built (serials 48-618/627).
Survivors
YC-125A (XB-GEY, former 48-636) is on display at the Pima Air and Space Museum in Tucson, Arizona
YC-125B (Serial 48-626, painted as 48-622) is on display at the National Museum of the United States Air Force in Dayton, Ohio

Operators
United States: United States Air Force

Specifications (YC-125B)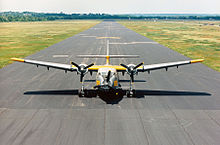 Picture - YC-125B
Data from National Museum of the US Air Force YC-125B Factsheet
General characteristics
Crew: four
Length: 67 ft 1 in ()
Wingspan: 86 ft 6 in ()
Height: 23 ft 1 in ()
Max takeoff weight: 41,900 lb ()
Powerplant: 3x— Wright R-1820-99 Cyclone radial, (1200 hp)895 kW each

Performance
Maximum speed: 207 mph
Cruise speed: 171 mph
Range: 1,856 miles ()
Service ceiling: 12,200 ft ()

The Illustrated Encyclopedia of Aircraft (Part Work 1982-1985). Orbis Publishing.
Andrade, John M. (1979). U.S Military Aircraft Designations and Serials since 1909. Leicestershire UK: Midland Counties Publications. ISBN0 904597 22 9.

Living Warbirds: The best warbirds DVD series.
Source: WikiPedia