Whitehead No. 21 - Picture
Whitehead No. 21 Information
Whitehead No. 21

Picture - Gustave Whitehead and his 1901 monoplane taken near Whitehead's Pine Street shop. His infant daughter, Rose, sits on her father's lap, and the engine that powers the front landing-gear wheels is on the ground in front of the others.
Role: experimental
Manufacturer: Gustave Whitehead
Designed by: Gustave Whitehead
First flight: August 14, 1901
Primary user: Gustave Whitehead
Produced: 1901
Number built: 1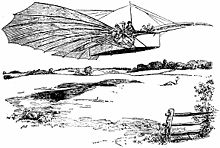 Picture - Drawing of No.21 aloft.
Number 21 was the name of an aircraft that aviation pioneer Gustave Whitehead claimed to have flown near Bridgeport, Connecticut on August 14, 1901.
The flight was reported in the August 18, 1901 issue of The Bridgeport Sunday Herald but the claims have been disputed. A monoplane design powered by a 20 hp acetylene engine - it started the takeoff run using the engine to power the wheels; upon takeoff, power would be switched to the propellers.
Design
The No.21 was a wire-braced monoplane with bat-like wings and triangular horizontal tail. There was no vertical fin, and lateral control was intended to be accomplished by shifting the pilot's body sideways.
The wings were constructed of cloth or silk, with radial bamboo ribs, and reached a span of 36 ft (11 m). They had noticeable dihedral, which would have contributed to the aircraft's stability had it ever flown, and could be folded like a fan for transport.
The fuselage was of rectangular box section with constant height, curved to taper inwards at front and rear when seen from above. Four small wheels were fixed to the bottom.
Although having two engines and twin propellers, the aircraft was not a conventional twin. It had separate engines for ground running and flight, both designed and made by Whitehead. The ground engine was of 10 hp (7.5 kW) and drove the wheels to reach takeoff speed. Propulsion was then changed to a 20 hp (15 kW) acetylene engine driving two counter-rotating tractor Maxim-type propellers mounted on outriggers. The aircraft could supposedly take off under its own power and without assistance.
History
According to Whitehead and a reporter supposedly at the event, the monoplane's longest flight was 60 meters (200 feet) above ground for 800 meters (0.5 miles). These claims are contested. Whitehead did not keep a log book or document his work.
In an article in the August 18, 1901 issue of The Bridgeport Sunday Herald the reporter states he witnessed a night test of the plane, at first unpiloted but loaded with sand bags, and later with Whitehead at the controls.
Whitehead reportedly made four flights that day, supporters of Whitehead's claims offer that as the reason for conflicting accounts from different witnesses. The conflicts have been used by opponents of the claims to question whether any flights took place.
Weissenborn, G.K,; "Did Whitehead fly?", Air Enthusiast thirty-five, Pilot (1988), pp19-21, 74-77.

More airplanes.
Source: WikiPedia