Oskar Bider Information
Oskar Bider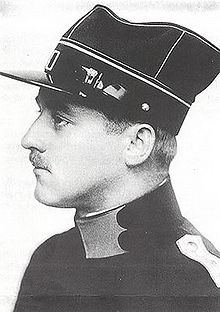 Born: 12 July 1891(1891-07-12) Langenbruck, Switzerland
Died: 7 July 1919(1919-07-07) (aged 27) Dx¼bendorf, Switzerland
Nationality: Swiss
Occupation: Pilot, farmer
Known for: First flight over the Pyrenees, crossing of the Alps from Bern (Switzerland) to Milano (Italy) in both directions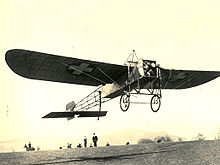 Picture - Oscar Bider starting in Bern to his flight over the Alps
Oskar Bider (July 12, 1891 in Langenbruck - July 7, 1919 in Dx¼bendorf) was a Swiss aviation pioneer.
Life
Oskar Bider grew up in Langenbruck (canton of Basel-Land) and graduated from the primary school to the district school in Waldenburg. He had no interest in his father's business' as draper and preferred to become a farmer; he attended the Agricultural School in Langenthal and then worked on several farms. Ending in June 1911 the primary military service (Rekrutenschule) in Switzerland, he decided to emigrate to Argentina and worked in 1911/12 as a Gaucho on the farm of a Swiss citizen living in Romang, Santa Fé province.
Beginning of the Swiss Aviation
Driven by ambition and nostalgia, Oskar Bider returned in 1912 to Europe and joint on November 8 Blériot's aviation school in Pau, situated in the northern Pyrenees. Ending the one month's training, he earned an international pilot's licence respectively on December 8 the Swiss pilot's licence number 32. Bider bought a Blériot XI monoplane, and on January 24, 1913, pioneered in crossing the Pyrenees from Pau to Madrid. In March 1913 he retourned to Switzerland, welcomed at the boundary in Basel as a much-admired 'aviation hero', doing on March 9 the first airmail flight in Switzerland from Basel to Liestal.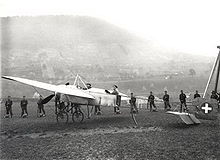 Picture - Oscar Bider in July 1913 in Liestal
On May 13 he crossed for the first time the Alps from Bern to Sion, Switzerland. While taking off to fly from Bern to Biel/Bienne on June 3, 1913, Emile Taddéoli lost a wheel but the good fortune was again with him. Oskar Bider witnessed the incident and took off with the wheel to catch up Taddéoli to him of the danger: Taddéoli landed without problems in Biel/Bienne.
Biders big goal, however, was the crossing of the Alps from Bern to Milano. Carefully he prepared this ambitious flight. His first schedule to cross directly the Alps, he resigned because his test flight showed that his plane, with the 70-hp engine and full tanks, in the thin mountain air did not reach the required altitude. So, in Domodossola he planned a stopover prior to refueling. On July 13, 1913, he started at 4 a.m. in Bern for Italy. Jungfraujoch was at the beginning the greatest obstacle, and for over half an hour Bider struggled desperately for the last hundred yards, before he reached the required altitude of 3,600 metres (11,800 ft) resulting in a new Swiss record. He glanced at 6:10 a.m. with about a hundred meters distance from the top of Jungfraujoch and flow there after without any difficulty towards Domodossola to Milano in Italy. 13 days he waited in Milano for good weather conditions and then flew back crossing Lukmanier Pass and Chrx¼zli Pass in northern Switzerland, where he landed in Liestal to refuel, and back from Basel to Bern. Bider thus became the first aviator that crossed the Alps in both directions.
On August 1, he pioneered again in doing the first night flight in Switzerland. At Christmas 1913, Bider achieved flying from Paris to Bern a new record; four hours and 20 minutes without a stopover in the air.
Beginning World War I, Oscar Bider and 11 Swiss-trained pilots and their aircraft, among them René Grandjean and Walter Mittelholzer, settled on August 1, 1914, in Bern the newly formed Fliegertruppe, the latter Swiss Air Force whose chief pilot became Bider in January 1915, ending WW I as commanding officer of the 1st flight squadron.
On June 21, 1919, Bider accomplished another great aviation performance in benefit of the civil aviation: he started with two passengers in St. Jakob, Basel, for a flight around Switzerland, landing successfully after 7½ hours at the starting point.
Initiated by Oskar Bider and Fritz Rihner, in July 1919 the «Schweizerische Gesellschaft fx¼r Lufttourismus», the latter Ad Astra Aero airline, was established in Zx¼rich. Touristical flights with flying boats were planned from sites at Zx¼richhorn, Geneva, Interlaken/Thun, Locarno, Lugano, Lucerne, Lausanne-Ouchy, Romanshorn and St. Moritz. Switzerland, with its numerous lakes, appeared predestined for the use of seaplanes, so that no expensive airports had to been built. Oskar Bider was killed in an accident before the ambitious project was realized. On July 7, 1919, on the occasion of his departure on July 2 from his duty in the Swiss Air Force, Bider demonstrated in probably drunken state his flight knowledge in his Nieuport 21 fighter and crashed fatally.
Honor
In Bern, a monument designed by Hermann Haller remembers Biders aeronautical services. In Dx¼bendorf, Liestal and Zx¼rich, a street was named after Bider. Among other Swiss air pioneers, he is commemorated in a Swiss postage stamp issued in 1977. The Biderhangar, one of the airport's hangars built by Oskar Bider at Bern Airport, is listed as a heritage site of national significance in the November 2008 review draft of the Swiss Inventory of Cultural Property of National and Regional Significance.
More airplanes.
Source: WikiPedia