Panavia Tornado ADV Video - Overview - F3
Panavia Tornado ADV Video - Great videos
Panavia Tornado ADV Aircraft Information
Panavia Tornado ADV
Tornado ADV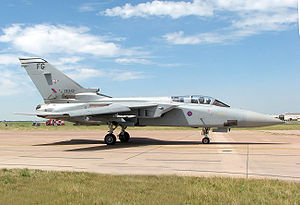 Picture - RAF Tornado F3
Role: Interceptor
Manufacturer: Panavia Aircraft GmbH
First flight: 27 October 1979
Introduced: 1 May 1985
Primary users: Royal Air Force Royal Saudi Air Force Italian Air Force
Number built: 218
Developed from: Panavia Tornado IDS

The Panavia Tornado Air Defence Variant (ADV) is an interceptor version of the Panavia Tornado in service with the British Royal Air Force (RAF). The aircraft's first flight was on 27 October 1979, and it entered service in 1986. It is a long-range, twin-engine aircraft, originally designed to intercept Soviet bombers as they came in from the east to strike the United Kingdom. The Tornado ADV for the Royal Saudi Air Force were produced to F3 standard. Both the RAF and RSAF are replacing the Tornado ADV with the Eurofighter Typhoon. Tornado F3s will retire from RAF service in April 2011.
Design and development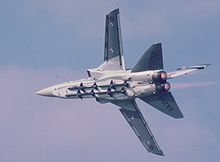 Picture - Tornado ADV prototype in 1980
The aircraft was developed to meet an RAF requirement (Air Staff Requirement 395 or ASR.395) for a long-range interceptor to replace the Lightning F6 and Phantom FGR2. Development was approved on 4 March 1976, with BAe to provide 3 prototypes. The first prototype was rolled out at Warton on 9 August 1979. The prototype made its maiden flight on 27 October 1979.
The Tornado ADV's differences compared to the IDS include a greater sweep angle on the inboard fixed wing sections, deletion of Kreuger Flaps, a longer radome for the Marconi/Ferranti AI.24 Foxhunter airborne interception radar, and a fuselage stretch of 1.36 m to allow the carriage of four Skyflash semi-active radar homing missiles. The port cannon was also deleted. It also has (or had) a completely new software suite.
The stretch was applied to the Tornado front fuselage being built by the UK, with a plug being added immediately behind the cockpit, which had the incidental benefit of reducing drag and making space for an additional fuel tank (Tank '0') carrying 200 imperial gallons (909 L; 240 U.S. gal) of fuel.
Tornado F2
The Tornado F2 (sometimes written as F.2) was the initial version of the Tornado ADV in Royal Air Force service, with 18 being built. It first flew on 5 March 1984 and was powered by the same RB.199 Mk 103 engines used by the IDS Tornado, capable of four wing sweep settings, and fitted to carry only two underwing Sidewinder missiles. Serious problems were discovered with the Foxhunter radar, which meant that the aircraft were delivered with concrete and lead ballast installed in the nose as an interim measure until they could be fitted with the radar sets. The ballast was nicknamed Blue Circle, which was a play on the Rainbow Codes nomenclature, and a British brand of cement called Blue Circle.
Tornado F3
The Tornado F3 made its maiden flight on 20 November 1985. Enhancements over the F2 included RB.199 Mk 104 engines, which were optimised for high-altitude use with longer afterburner nozzles, the capacity to carry four underwing Sidewinder missiles rather than two, and automatic wing sweep control.
Criticisms of the ADV
The Tornado ADV has been criticised for its lack of "true" fighter performance. It is true that the Tornado does not have the close combat performance of an aircraft such as the F-16. However, it was designed as an interceptor rather than as an air superiority fighter. Its primary purpose was to carry a large number of missiles and fly them far from base over the North Sea and Northern Atlantic; once on station it needed to have good endurance, and then be able to engage and destroy targets at long range. These targets were envisaged to be formations of Soviet bomber aircraft, the engagement of which would not have required significant air combat manouverability. For this reason, dogfighting capabilities would always be a secondary consideration.
Operational history
Royal Air Force
The Tornado F2 was first delivered to the RAF on 5 November 1984, and its short career came to an end after the Tornado F3 entered service. These aircraft were used primarily for training by No. 229 Operational Conversion Unit RAF until they were placed in storage. The F2s were intended to be updated to Tornado F2A standard (similar to the F3 but without the engine upgrade) but only one F2A, the Tornado Integrated Avionics Research Aircraft (TIARA) was converted, having been customised by QinetiQ for UAV trials at MoD Boscombe Down.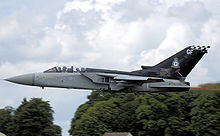 Picture - RAF 43 Sqn (ZE887) Tornado F3 takes off at Kemble Air Day 2008
Entering service in July 1986, 152 Tornado F3s were ordered. The F3's primary weapons when it entered service were the short-range AIM-9 Sidewinder and British Aerospace Skyflash, a British medium-range air-to-air missile based on the American AIM-7 Sparrow.
The Tornado F3 made its combat debut in the 1991 Gulf War with 18 aircraft deployed to Dhahran, Saudi Arabia. While the aircraft deployed were upgraded with improved radar, better defensive countermeasures and more powerful engines, they still lacked modern IFF and secure communications equipment. They therefore flew patrols further back from Iraqi airspace where encounters with enemy aircraft were less likely, and did not get the opportunity to engage any enemy aircraft. After 1991 combat operations continued as the southern no-fly zones over Iraq were patrolled. The Tornados flew from Saudi Arabia under Operation Bolton and then Operation Resinate South. On average six aircraft were involved. These operations continued right up until 2003 when Iraq was invaded again. Operation Telic saw 14 F3s deployed to Saudi Arabia. The F3s (of 43(F) and 111(F) Sqns) were, unlike during the 91 Gulf War, deployed deep into Iraq both before and after the shock and awe air strikes. Again no air-to-air victories were scored as the Iraqi Air Force flew no sorties at all during the 2003 campaign.
Capability Sustainment Programme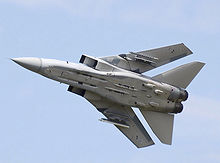 Picture - RAF 43 Sqn (ZE764) Tornado F3 with wings swept
Realising that in its current form the F3 would not continue as an effective platform up to its planned out of service date of 2010, the UK Ministry of Defence initiated the Capability Sustainment Programme (CSP). This project, announced on 5 March 1996, included;
Integration of ASRAAM and AMRAAM air-to-air missiles;
Radar upgrades to improve multi-target engagement;
Improved pilot/navigator displays;
New processor and weapon management computers.

The CSP would see the removal of a non-standard state of aircraft; various upgrades (notably to the Foxhunter radar) had led to the situation described as "fleets within fleets." However the Foxhunter radar, having overcome many of the early difficulties, was to cause significant problems during the upgrade programme. This manifested itself when efforts were made to integrate the AMRAAM missile with the aircraft as a replacement for Skyflash. The radar had to be considerably modified to interface properly with the missile.
In what was criticised as shortsighted at the time, the F3 would not exploit the full capabilities of the AMRAAM missile. AMRAAM uses two mid-course updates after launch to refresh target information prior to its own seeker taking over. The CSP, as announced, would not provide this capability. Despite becoming operational before 2002 the F3 force deployed on operations with the Skyflash, not AMRAAM, leading to suggestions that the decision not to fully integrate the missile made it no more effective than the original missile. On 8 June 2001, the MoD signed a contract for a further upgrade to the F3 force to allow these midcourse updates. The upgrade to give full AMRAAM capability, together with updated IFF, known as the AMRAAM Optimisation Programme (AOP) was incorporated in the remaining F3 fleet between December 2003 and September 2006.
Tornado EF3
A further upgrade, undisclosed until early 2003, was the integration of the ALARM anti-radiation missile to allow suppression of enemy air defence missions. The F3's existing radar warning receivers formed the basis of an extremely effective Emitter Location System, which is used to locate radar antennae. The modified aircraft were then given the new designation Tornado EF3 and operated by XI Squadron.
Retirement
As part of Delivering Security in a Changing World, the UK's vision for the future of the armed forces, on 21 July 2004, Defence Secretary Geoff Hoon detailed plans to reduce the number of Tornado F3 squadrons by one to three squadrons. This represented 16 aircraft and was the first stage in the transition to the F3's replacement, the Eurofighter Typhoon, which entered operational service with the RAF in 2005. In April 2009, it was announced that the Tornado F3 force would be reduced to one squadron of 12 aircraft in September 2009. The last Tornado F3's in RAF service, at RAF Leuchars, will be retired in April 2011.
Royal Saudi Air Force
The UK and Saudi Arabia signed a memorandum of understanding on 26 September 1985 for the Al-Yamamah arms deal. This involved the supply of 24 Tornado ADVs along with other aircraft, weapons, radar, spares and a pilot-training programme. The RSAF received its first ADV on 9 February 1989.
Italian Air Force (Aeronautica Militare)
In the early 1990s the Italian Air Force (AMI) identified a requirement for a "bridging fighter" to boost its air defence capabilities pending introduction of the Eurofighter Typhoon. These fighters were to operate alongside the service's F-104ASA Starfighters which were obsolete, particularly with regard to multinational and coalition operations. The Tornado ADV was selected from, amongst others, the F-16. In 1994 Italy announced its intention to lease 24 Tornado F3s from the RAF for a period of ten years. At this time the Eurofighter Typhoon was expected to begin entry into service around 2000.
First training of AMI pilots began in March 1995 at RAF Coningsby while technicians gained experience at RAF Cottesmore and Coningsby. The first aircraft was accepted on 5 July 1995 and flown to its Italian base the same day. Delivery of the first batch was completed by 1996. The second batch was delivered between February and July 1997 and these aircraft were of a slightly higher specification.
AMI Tornados flew combat air patrols during Operation Allied Force, the NATO air campaign against Yugoslavia in early 1999.
In 2000, with major delays hampering the Eurofighter, the AMI began a search for another interim fighter. While the Tornado itself was considered, any long term extension to the lease would have involved upgrade to RAF CSP standard at least. This was not considered cost effective and 34 ex-USAF F-16s were selected instead. By 2003 the AMI began returning Tornados to the RAF, with the final aircraft arriving at RAF Saint Athan on 7 December 2004. One aircraft was retained by the Italian Air Force.
Tornados in Italian service suffered poor serviceability rates. While this could be surprising given Italy's fleet of the Tornado IDS, the service did not have immediate access to spare equipment and engines available to the RAF. The aircraft did however allow the AMI to participate in multi-national training and operations.
Variants
Tornado F2 Two-seat all-weather interceptor fighter aircraft, powered by two Turbo-Union RB.199-34R Mk 103 turbofan engines. Initial production version, 18 built. Tornado F2A F2 upgrade to F3 standard, but retaining F2 engines, one built. Tornado F3 Improved version, powered by two Turbo-Union RB.199-34R Mk 104 engines, with automatic wing sweep control, increased AIM-9 carriage and avionics upgrades. Tornado EF3 Unofficial designation for F3 aircraft modified with ALARM missile capability.
Operators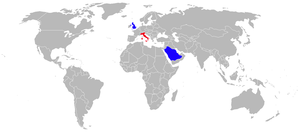 Picture - Panavia Tornado ADV Operators 2010 (former operators in red)
Italy
12º Gruppo, 36º Stormo, AMI 1995-2003
21º Gruppo, 53º Stormo, AMI 1995-2001

Saudi Arabia
No. 29 Squadron RSAF 1989-date

United Kingdom
Operational
No. 111 Squadron - RAF Leuchars 1990-date
Disbanded
No. 5 Squadron - RAF Coningsby 1987-2003
No. 11 Squadron - RAF Leeming 1988-2005
No. 23 Squadron - RAF Leeming 1988-1994
No. 25 Squadron - RAF Leeming 1989-2008
No. 29 Squadron - RAF Coningsby 1987-1998
No. 43 Squadron - RAF Leuchars 1989-July 2009
No. 56 (Reserve) Squadron - RAF Coningsby and RAF Leuchars 1992-2008 (Operational Conversion Unit)
No. 229 OCU (No. 65 (Reserve) Squadron) - RAF Coningsby 1984-1992 (Operational Conversion Unit)
No. 1435 Flight - RAF Mount Pleasant 1992-2009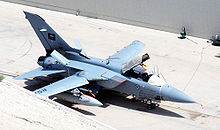 Picture - A Tornado F3 aircraft of the Royal Saudi Air Force sits on the flight line during Operation Desert Shield
Specifications (Tornado F3)
Data from Jane's All The World's Aircraft 1993-94.
General characteristics
Crew: 2
Length: 18.68 m (61 ft 3½ in)
Wingspan: (Variable geometry wing)
At 25° wing position : 13.91 m (45 ft 7½ in)
At 67° wing position: 8.60 m (28 ft 2½ in)
Height: 5.95 m (19 ft 6½ in)
Wing area: 26.60 m² (286.3 sq ft)
Empty weight: 14,500 kg (31,970 lb)
Loaded weight: 21,546 kg (47,500 lb)
Max takeoff weight: 27,986 kg (61,700 lb)
Powerplant: 2x— Turbo-Union RB199-34R Augmented Turbofans
Dry thrust: 40.5 kN (9,100 lbf) each
Thrust with afterburner: 73.5 kN (16,520 lbf) each

Performance
Maximum speed: 1,480 km/h (800 knots, 920 mph) IAS (Mach 2.2 at altitude)
Combat radius: more than 1,853 km (1000 nmi, 1,151 mi) (subsonic), more than 556 km (300 nmi, 345 mi) supersonic
Ferry range: 4,265 km (2,300 nmi, 2,650 mi) with four external tanks
Endurance: 2 hr combat air patrol at 560-740 km (300-400 nmi, 345-460 mi) from base
Service ceiling: 15,240 m (50,000 ft)

Armament
Guns: 1x— 27 mm (1.063 in) Mauser BK-27 revolver cannon with 180 rounds (internally mounted under starboard side of fuselage, versus 2x— BK-27 mounted on Panavia Tornado IDS)
Hardpoints: 10 total (4x— semi-recessed under-fuselage, 2x— under-fuselage, 4x— swivelling under-wing) holding up to 9000 kg (19,800 lb) of payload, the two inner wing pylons have shoulder launch rails for 2x— Short-Range AAM (SRAAM) each
Missiles:
4x— AIM-9 Sidewinder or AIM-132 ASRAAM
4x— British Aerospace Skyflash or AIM-120 AMRAAM (mounted on 4 semi-recessed under-fuselage hardpoints)
Others:
Up to 2x— drop tanks for extended range/loitering time. Up to 4 drop tanks for ferry role (at the expense of 4 Skyflash/AMRAAM).

Avionics
GEC-Marconi/Ferranti AI.24 Foxhunter radar

Related development
Panavia Tornado IDS
Panavia Tornado ECR

Comparable aircraft
F-14 Tomcat
F-15 Eagle

Bibliography
Evans, Andy. Panavia Tornado. Crowood Press, Ramsbury, Wiltshire UK, 1999. ISBN 1 861126 201 9.
Jackson, Robert. Air War At Night. Howell Press Inc., Charlottesville, VA, 2000. ISBN 1-57427-116-4 (see p. 139-144).
Lake, Jon. "Panavia Tornado Variant Briefing:Part Two". World Air Power Journal, Volume 31, Winter 1997. London:Aerospace Publishing. ISBN 1 86184 006 3. ISSN 0959-7050. pp. 114-131.
Lambert, Mark. Jane's All The World's Aircraft 1993-94. Coulsdon, UK:Jane's Data Division, 1993. ISBN 0 7106 1066 1.
Mason, Francis K. The British Fighter since 1912. Annapolis, Maryland, USA:Naval Institute Press, 1992. ISBN 1-55750-082-7.

Panavia Tornado ADV Pictures
Living Warbirds: The best warbirds DVD series.
Source: WikiPedia