Parnall Peto Video - Picture
Parnall Peto Aircraft Information
Parnall Peto
Peto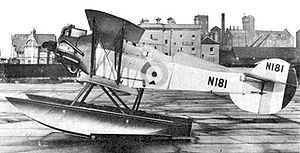 Role: Submarine launched Naval reconnaissance
Manufacturer: George Parnall and Company Limited
Designed by: Harold Bolas
First flight: 4 June 1925
Number built: 2

The Parnall Peto was a small seaplane designed to Air Ministry specification 16/24 in the early 1920s for use as a submarine-carried reconnaissance aircraft.
Design and development
Two examples were designed and built by George Parnall and Company, one being lost with the submarine HMS M2 when her hangar flooded. It was one of the most challenging projects which the company undertook, because of the very small hangar in which the aircraft had to fit, mounted immediately in front of the submarine's conning tower.
Of mixed wood, fabric, aluminium and steel construction, it had unequal span, Warren-braced folding rectangular wings. The first aircraft, N181, was powered by a 128 hp Bristol Lucifer engine and had mahogany plywood "Consuta" type floats. Performance was generally satisfactory but improvements were made and the machine was rebuilt with new wings, metal floats and a 169 hp Armstrong Siddeley Mongoose engine. Tests both on the sea and in the air showed that designer, Harold Bolas, had met the requirements and it was officially judged to be exceptionally good.
The aircraft was launched using a compressed air catapult mounted on the forward casing of the submarine and recovered using a crane.
With the loss of M2, the Royal Navy abandoned submarine-launched aircraft, although most other navies also experimented with the concept in the interwar years..
Aircraft
The two aircraft built were:
N181 Prototype which was wrecked at Gibraltar on 11 February 1930 and rebuilt as N255 with improved floats and lost with HMS M2.
N182 Which crashed 29 June 1930 at Stokes Bay. It was acquired by F.C.H. Allen and prepared for civil use at Ford aerodrome in Sussex between 1933 and 1934. Issued with civilian Registration G-ACOJ but the project was abandoned.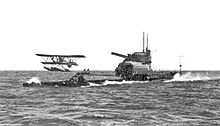 Picture - The submarine HMS M2 launching its Parnall Peto floatplane.
Specifications
Data from Wixey, pp.159-160
General characteristics
Crew: two (pilot and observer)
Length: 22 ft 6 in (6.86 m)
Wingspan: 28 ft 5 in (8.66 m)
Height: 8 ft 11 in (2.72)
Wing area: 174 ft² (16.17 m²)
Empty weight: 1,300 lb (590 kg)
Loaded weight: 1,950 lb (885 kg)
Powerplant: 1x— Armstrong Siddeley Mongoose IIIC five-cylinder air-cooled radial engine with two bladed wooden propeller, 135 hp (101 kW)

Performance
Maximum speed: 113 mph (182 km/h) at sea level
Endurance: 2 hours
Rate of climb: 600 ft/min (3.05 m/s)

Comparable aircraft
Yokosuka E14Y
Arado Ar 231
Besson MB.411

Jackson, A.J. (1974). British Civil Aircraft since 1919 Volume 3. London: Putnam. ISBN 0 370 10014 X.

Wixey, Kenneth (1990). Parnall Aircraft since 1914. Annopolis: Naval Institute Press. ISBN 1 55750 930 1.

Marriott, Leo (2006). Catapult Aircraft. Barnsley, UK: Pen and Sword Aviation. pp. 151-7. ISBN 1 84415 419 X.

Parnall Peto Pictures
More aircraft.
Source: WikiPedia