Parnall Information
Parnall
Parnall was a British aircraft manufacturer, that evolved from a wood-working company before the First World War to a significant designer of military and civil aircraft into the 1940s. It was based in the west of England.
History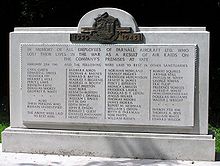 Picture - Memorial to the 52 killed in German air raids on Feb 27th 1941 at Parnall Aircraft in Yate
Parnall and Sons of Mivart Street, Eastville, Bristol was a wood-working firm in the period before the First World War. The demands of wartime aircraft production meant that many woodworking companies were contracted to build aircraft. Parnall received large orders from the Admiralty to build aircraft designed by other manufacturers, principally the Avro 504 and Short Admiralty Type 827 (of which 20 were built).
The company split in two in 1921, when George Geach Parnall left the company and formed George Parnall & Co. Ltd., the original company Parnall & Sons moving to Fishponds, Bristol, in 1923 to continue production of shop-fittings and aircraft components. In 1936 Parnall joined with Hendy Aircraft and Nash and Thompson to form Parnall Aircraft Ltd. In 1939 they stopped aircraft production to concentrate on aircraft components, particularly gun turrets.
Aircraft
Scout
The quality of workmanship and their enthusiasm for aircraft production was noted and so in 1916 they were approached for a design of their own to meet a requirement for a coastal defence aircraft. At that time the principal threat to Britain was seen as Zeppelin attacks and a specially designed fighter was sought to counter this threat.
Parnall's first aircraft, designed by A. Camden Pratt was called the Scout, a large single-seater, two-bay biplane powered by a 230 hp Sunbeam Maori, with an upward-firing gun mounted on the upper wing. It acquired nicknames including "Zeppelin Chaser" and "Zepp Straffer" but the design was not a success as it was too heavy; it is believed that only two flights were made.
Panther
A batch of the Fairey Hamble Baby were built and then another enquiry came in for a shipboard reconnaissance plane. For this work the Admiralty released the services of Harold Bolas, an engineer who had been instrumental in designing flying-boat hulls. Bolas's first design for Parnall was the Panther; among its notable features was a birch plywood monocoque fuselage with the pilot and observer placed high, offering them an all-round view. The fuselage was hinged for shipboard stowage; for ditching the plane had a hydrovane ahead of the undercarriage as well as air-bag floatation gear. Tests in 1918 were disappointing as performance was only marginally better than the Sopwith 1½ Strutter which it was designed to replace, and only 312 aircraft were ordered from the firm.
Around this time Parnall and Sons was acquired by W. & T. Avery Ltd. who considered prospects in the aircraft industry poor with the ending of hostilities. An attempt by the Admiralty to reduce the order led to a disagreement with the result that Parnall ceased aircraft manufacture and production passed to Filton where 150 were built during 1919 and 1920. In service the aircraft performed well being described as delightful to fly with none of the vices associated with large rotary engines, however deck landings on ships were hazardous in this period and the accident rate was high. Late production Panthers were fitted with oleo undercarriage and remained in service until 1926. Two aircraft were acquired by the US Navy and 12 were supplied to Japan.
Puffin
Despite this setback, the name Parnall was to reappear when George Geach Parnall formed a new company, George Parnall & Co. Ltd. with a handful of previous employees and opened the Coliseum Works in Park Row, Bristol in 1921. The first design, also by Bolas, was another naval aircraft: the Puffin. This was a large two seat, two bay amphibious biplane powered by a 450 hp Napier Lion engine. The fuselage was mounted above a large central float which contained wheels that could be lowered through a vertical slot, large out-rigger floats were fitted on the lower planes. The observer was equipped with a Scarff ring and had an uninterrupted field of fire as the fin and rudder were mounted beneath the fuselage. Three prototypes were built but production was not proceeded with.
Plover
More successful was Bolas's next design, the Plover naval fighter, a single bay wooden biplane powered by one 436 hp Bristol Jupiter IV engine. With the pilot placed high for a good view over the short nose and close-cowled radial engine, it could almost have come from the Filton drawing boards. Amphibious wheeled floats were tested and one was fitted with an Armstrong Siddeley Jaguar radial. The Plover had a good performance but only six were built for service in 1923; the Royal Navy preferring the Fairey Flycatcher despite its lower speed. One Plover was entered in the 1926 King's Cup Air Race but failed to finish.
Possum
Centrally-mounted engines powering wing-mounted airscrews was a concept that was explored with the large four-engined Bristol Tramp, the twin-engined Boulton Paul Bodmin and the next design to emerge from Parnall, the single engined Possum. Both the Tramp and the Possum were triplanes with twin tractor airscrews driven by shafts from the fuselage. The Possum was officially described as a "postal aircraft" - a curious designation for an aircraft having gun positions in the nose and amidships. The centrally-located 450 hp Napier Lion engine had side mounted radiators which could be retracted in flight to achieve additional streamlining. The Possum fared rather better than the Tramp, which never flew, and performed well, making a public appearance at the 1923 Hendon Pageant. Despite having proved the practicality of its layout it was regarded as something of a curiosity by the pilots that flew it from Martlesham Heath in Suffolk. Experience revealed insufficient advantages to support any further development of this concept.
Pixie
In 1923 the Daily Mail and the Duke of Sutherland sponsored competitions designed to stimulate light aircraft development; Parnall entered a single seat low wing monoplane, the Pixie, built in two forms with 13 hp and 26 hp Douglas engines. The Pixie won the £500 Abdulla Company prize for speed. The aircraft produced for the 1923 Lympne Trials were unrealistic machines being too lightly-powered to be flown in even modest winds and in 1924 the Air Council announced another competition for higher powered two seaters. Bolas revised the Pixie to produce both a monoplane and a biplane with an upper wing called the Pixie III and Pixie IIIA respectively. Both were powered by 32 hp Bristol Cherub III engines. Neither Pixie was successful in competition as both suffered forced-landings with engine trouble. The Pixie III was entered again in the 1926 Lympne Trials and finished fourth.
Parnall Pixie IIIa G-EBJG is still in existence with the Midland Air Museum, Coventry, England. The remains are in deep store and are not generally on view to the public without prior arrangement.
Perch
Naval interest continued with Bolas' next design, the Perch fleet aircraft trainer. This was a dual role machine that could be used for training pilots in deck-landing techniques or, when fitted with floats, as a seaplane trainer. The aircraft was an equal-span biplane that featured side-by-side seating and a 220 hp Rolls-Royce Falcon engine set low in the nose to give the pilot an excellent view for landing. The Perch performed well but no production order was made.
Gyroplane
In 1928 the Cierva Autogyro Company contracted Parnall to design and build two machines to be designated C10 and C11 in the Cierva series, the C11 was later called the Parnall Gyroplane. The airframes were designed by Harold Bolas, the C10 was powered by an Armstrong Siddeley Genet while the C11 used a 120 hp Airdisco. The C10 turned over on take-off at the airfield in Yate and was taken to Hamble for repair at which time it was modified to incorporate an engine-driven rotor-starting device. During these projects he worked with the inventor of autogyro, Juan de la Cierva.
Peto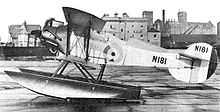 Picture - The Peto N181
The Peto submarine-launched floatplane was amongst the most technically difficult tasks that Parnall took on. It was a two-seat reconnaissance float-biplane of very small overall dimensions designed to be folded and carried in the confines of a submarine. Of mixed wood, fabric, aluminium and steel construction, it had unequal span, warren-braced rectangular wings and the first aircraft was powered by a 128 hp Bristol Lucifer engine and had mahogany plywood "Consuta" type floats. Performance on test was generally satisfactory but modifications were put in hand and the machine was rebuilt with new wings, metal floats and a 169 hp Armstrong Siddeley Mongoose engine. Tests both on the sea and in the air showed that Bolas had fully met the requirements and it was officially judged to be exceptionally good; it was successfully launched by catapult from the ill-fated submarine M2 but the concept of submarine-carried aircraft died in the Royal Navy after the loss of the M2 which took one of the Petos with it.
By the mid 1920s it was clear that an aircraft factory in the middle of a town was less than satisfactory where test flying was concerned, some of the aircraft having made their first flights from Filton. Accordingly a move was made to Yate, then in Gloucestershire, where hangars were built beside a grass aerodrome. Rumour has it that money was so tight that George would only allow a central strip for the runway to be mowed as he needed the profit from the hay crop! New aircraft continued to emerge at a steady rate and Harold Bolas designed two further naval types, the Pike and the Pipit.
Pike
The Pike was a large three-seater reconnaissance float-biplane powered by a 471 hp Napier Lion. The deep and narrow fuselage filled the gap between the back-staggered wings; the pilot's cockpit was located near the nose affording an excellent view. Defence was provided by a Scarf-mounted Lewis gun in the observer's cockpit at the upper wing trailing edge while the pilot had a forward-firing Vickers machine gun. Trials of the single prototype were carried out at Felixstowe during 1927 but the report was unfavourable; the handling in flight was considered poor, the pilot's cockpit was criticised for being cold and draughty and performance generally below specification. Neither the Pike nor its rival, the Short Sturgeon, were developed further.
Pipit
The Pipit was an aircraft of a very different character, a fleet fighter biplane of very clean appearance, designed to specification 21/26 and powered by a 495 hp Rolls-Royce F.XI. Of metal construction with fabric covering, the Pipit had a number of innovative features including detachable panels giving easy access to the fuselage, a wide-track undercarriage and a retractable radiator.
Two prototypes were ordered, the first flying from Yate in mid 1928. Despite its promising appearance and engineering novelty the Pipit did not fly as well as expected, the elevator being criticised as heavy while the rudder was weak and the type was longitudinally unstable. Before much development flying could be done, however, the tailplane failed due to flutter in a diving test on 20 September. The pilot landed the damaged aircraft but it was destroyed in the resulting somersault. The pilot sustained serious injuries.
A second modified machine was built, powered by a Rolls-Royce F.XIIS, featuring a strut-braced tailplane, rigidly linked ailerons and a large elliptical horn balanced fin and rudder assembly designed to improve its effectiveness. It first flew in January 1929 and was an improvement over the earlier machine but the rudder was still unsatisfactory. On February 24 a test was made by a service test pilot; whilst investigating the rudder's properties in a series of dives, violent flutter developed and both the fin and rudder broke away. The machine became uncontrollable but luckily the pilot escaped by parachute below 1000 ft. It was the end for the Pipit and the incident left a stigma in official circles from which Parnall never really recovered.
Imp
Harold Bolas always maintained an interest in light aircraft and in 1927 produced a small, two-seater biplane: the Imp. Powered initially by an uncowled Armstrong Siddeley Genet II of 80 hp, it was of striking appearance as it had a straight lower wing joined by wide chord struts without bracing wires to sharply swept upper wings. With the engine installation cleaned up, front cockpit faired over and a headrest fitted it flew into 8th place in the 1928 King's Cup race. At that time Parnall had thoughts of going into engine manufacture and collaborated with D.R.Pobjoy in the development of the 65 hp Pobjoy P air-cooled radial engine. This was test flown in the Imp, but Pobjoy decided to form his own company and his collaboration with Parnall ceased.
Elf
The attractive Elf was Bolas's last design for Parnall. It was a two-seater, touring biplane in the de Havilland Moth class using fabric-covered wooden construction and powered by an ADC Hermes I. It flew for the first time in 1929. A naval influence showed as it used Warren girder bracing with folding wings. A competent if somewhat uninspired performer, the prototype was sold to Lord Apsley in 1932 but it was destroyed in a crash in 1934. Two more were built as Elf IIs with ADC Hermes II engines. One, sold in 1933, crashed due to fuel-pump failure two months later but the second went to Lord Apsley as a replacement for the crashed Elf I.
In 1929 Harold Bolas, after some twelve years of trying to produce a winner for Parnalls, finally decided to leave for the USA. An enthusiastic and respected designer, he was highly regarded for the originality of his designs and was a skillful theoretician. He was not above test flying his own creations, suitably fortified after a visit to the nearby Railway Inn pub. One of his Elf biplanes survives to this day with the Shuttleworth Trust, occasionally flying at Old Warden in Bedfordshire.
Prawn & Parasol
Bolas was succeeded by H.V. Clark who produced two interesting research aircraft, each built to test a specific aspect. The first was the Prawn, a small single-engined, single-seater parasol flying-boat powered by a 65 hp Ricardo-Burt engine. It was designed to assess the feasibility of mounting a flying boat's engine in the extreme bow thereby producing a low drag installation. To make this feasible a very small four bladed propeller was needed and the engine could be tilted up to 22 degrees upwards to avoid the spray over the nose. It never was a very practical idea and it seems that little was done with it.
More useful was the Parasol of which two were built. This machine was a flying full scale aerodynamic test vehicle, it could test the effects seen in wind-tunnel tests but without the effects of scale inherent in a tunnel. It was a two-seater, the observer occupying the front cockpit which was equipped with a dynamometer for measuring flight-loads on the variable incidence wings which featured slots, flaps and separated ailerons. To eliminate the effects of the propeller, the Armstrong Siddeley Lynx engine could be stopped in flight for gliding then restarted with a gas starter. A camera could be mounted on struts above the tailplane and this was used for photographing tufts of wool that showed the airflow patterns over the wings.
G.4/31
The inter-war years produced a series of requirements for "general purpose" aircraft; in those miserly times this was a cheap way of providing the Air Force with aircraft that, it was hoped, would be of some general use if hostilities arose. Air Ministry Specification G.4/31 was no exception. Conceived as a replacement for the Westland Wapiti and Fairey Gordon it initially called for day and night bombing capabilities, reconnaissance, torpedo and dive-bombing roles. Designs came from Handley Page, Vickers, Fairey, Armstrong Whitworth and Parnall with what was to be the final expressly military type, the un-named type G.4/31. This was a large angular biplane with gull-type upper wings, wheel spats, a good collection of interplane and fuselage struts and very generous tail surfaces. Power came from a 690 hp Bristol Pegasus I M3 in a Townend ring, there was a forward-firing gun for the pilot and the observer had a Scarf-mounted Lewis gun. Flight tests were carried out during 1935 from Yate. It is believed the aircraft had handling problems for it was not delivered to Martlesham Heath until early in 1936, long after the competition had been decided in favour of the Vickers Type 253. The machine was used for armament trials until March 1937 when it was damaged in a crash and subsequently scrapped.
Heck
In 1929 Parnall built a cabin monoplane called the Hendy 302 to the design of Basil B. Henderson who followed it with another monoplane, the advanced Heck. 1935 marked a major change for Parnall when the firm acquired the assets of both Hendy Aircraft Ltd. and the armaments firm of Nash and Thompson. A new company called Parnall Aircraft was formed and the Heck passed to Parnall ownership, renamed the Parnall Heck it set a new record for the run from Cape Town to England of 6 days, 8 hours and 27 minutes in November 1936. A three seat derivative with a fixed, spatted undercarriage, powered by a Gypsy Six was produced as the Parnall Heck 2C, six were built in expectation of sales but none were sold and the first four were therefore used as communications aircraft by Parnall in connection with their armaments activities. The fifth and sixth aircraft were used for test-flying the Wolseley Aries radial engine and gun sight development work.
382/Heck III
The final Parnall aircraft was an open two-seater trainer derivative of the Heck to Air Ministry Specification T.1/37 named the Parnall 382, later the Heck III. It featured the Heck's advanced wing and had a speed range of 139 mph to 43 mph; it first flew in 1939. At Martlesham Heath it was assessed as pleasant to fly and generally good as a trainer. Notwithstanding a few modifications, no order was forthcoming. It was to be the last Parnall machine to fly, after which Parnall turned his attention to producing aircraft gun turrets to Archie Frazer Nash's design in the Yate factory until the war ended.
Histories of Bristol companies - Parnell of Yate

Parnall Pictures and Parnall for Sale.
Living Warbirds: The best warbirds DVD series.
Source: WikiPedia