Percival Pembroke Video - Picture
Percival Pembroke Warbird Information
Percival Pembroke
Percival P.66 Pembroke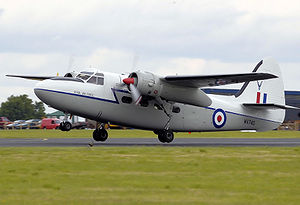 Aircraft Picture - Privately-owned Hunting Percival P-66 Pembroke C.1 takes off in 2008
Role: Light transport
Manufacturer: Percival Aircraft Company
First flight: 21 November 1952
Introduction: 1953
Retired: 1988
Primary user: Royal Air Force
Produced: 1953-1958
Number built: 128

The Percival Pembroke was a British high-wing twin-engined light transport aircraft built by the Percival Aircraft Company, later Hunting Percival.
Development
The Pembroke was a development of the Percival Prince civil transport. It had a longer wing to permit a higher fully laden weight. The prototype flew on 21 November 1952. Production was complete in early 1958.
Operational history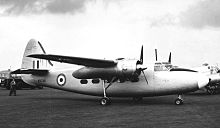 Airplane Picture - Percival Pembroke C.1 of Bomber Command Communications Squadron at Blackbushe Airport Hampshire in September 1956.
It entered service with the Royal Air Force as the Percival Pembroke C.1 in 1953 to replace the Avro Anson for light transport duties. As with other RAF transports passenger seats are rearward facing for improved safety.
Six were produced as the Pembroke C(PR).1 photographic reconnaissance aircraft. these saw use by No. 81 Squadron RAF during the Malayan Emergency. The RAF's Pembrokes were modified to extend their lifespan in 1970. The last unit to use them was No. 60 Squadron RAF based at RAF Wildenrath in Germany, these were withdrawn from use in 1988 and were replaced by the Hawker Siddeley Andover.
The Finnish Air Force operated two aircraft for aerial photography between 1956 to 1968, on behalf of the National Land Survey of Finland. One of the aircraft was destroyed when it hit a snow wall during landing in 1965. The other aircraft is currently stored at the Aviation Museum of Central Finland.
Survivors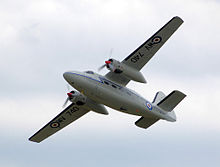 Airplane Picture - Preserved Pembroke C.1 WV740 giving a flying display
Pembroke C.1 WV740 (G-BNPH) is privately maintained in RAF markings in the UK (as of 2009) and gives flying displays.
Pembroke Mk. 51 s/n K66-B4001 is located at the Essex County Airport in Fairfield, New Jersey. The aircraft was built in 1953 and last served with the Belgium Air Force. The left engine is inoperable and the aircraft is damaged and in a deteriorated condition. It was offered as a warbird contest prize in spring 2009.
Pembroke Mk 51 s/n K66-4002 reported to be located at Pierce County Airport, Washington State.
Belgian Air Force keeps its RM7 at their Melsbroek premises just across the military air terminal.
Air Atlantique Classic Flight at Coventry Airport, England operate Pembroke C.1 G-BXES painted as XL954 in RAF Transport Command Livery.
Pembroke SE-BKH (ex RAF XK884) is at Vx¤sterx¥s Flygmuseum, Sweden, in airworthy condition with Swedish markings.
Variants
P.66 Pembroke C.1 - Communications and transport version for the RAF, 44 built.
P.66 Pembroke C(PR).1 - Photographic reconnaissance version for the RAF, 6 built and 2 conversions from C.1.
P.66 Pembroke C51 - export version for Belgium.
P.66 Pembroke C52 - export version for Sweden. Swedish military designation Tp 83.
P.66 Pembroke C53 - export version for Finland.
P.66 Pembroke C54 - export version for West Germany.
P.66 President - Civil transport version, 5 built.

Operators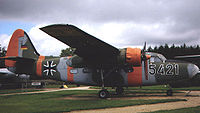 Airplane Picture - Luftwaffe Pembroke C.54 preserved at the Junior Museum, Hermeskeil, Germany, in June 2007
Belgium
Belgian Air Force (12 x C51 operated from 1954 to 1976)

Denmark
Royal Danish Air Force

Finland
Finnish Air Force

Germany
Luftwaffe
German Army
German Navy

Rhodesia
South Rhodesian Air Force two C.1 aircraft diverted from Royal Air Force contract.

Sweden
Swedish Air Force

Sudan
Sudanese Air Force

United Kingdom
Royal Air Force - 56 delivered from 1953
No. 21 Squadron RAF
No. 32 Squadron RAF
No. 60 Squadron RAF
No. 70 Squadron RAF
No. 78 Squadron RAF
No. 81 Squadron RAF
No. 84 Squadron RAF
No. 152 Squadron RAF
No. 207 Squadron RAF
No. 209 Squadron RAF
No. 267 Squadron RAF
Empire Test Pilots' School

Zambia
Zambian Air Force

Specifications (Pembroke C.1)
Data from Gatwick museum Pembroke page
General characteristics
Crew: Two pilots
Capacity: 8 passengers
Length: 46 ft (14.02 m)
Wingspan: 64 ft 6 in (19.66 m)
Height: 16 ft (4.9 m)
Empty weight: 9,961 lb (4,400 kg)
Max takeoff weight: 13,489 lb (6,124 kg)
Powerplant: 2 x— Alvis Leonides 127 9-cylinder supercharged radial piston engines, 540 hp (410 kw) each

Performance
Maximum speed: 186 mph (300 km/h)
Range: 1,012 nm (1,850 km)
Service ceiling: 7,680 m (22,000 ft)

Comparable aircraft
Twin Pioneer

Bibliography
The Illustrated Encyclopedia of Aircraft (Part Work 1982-1985) London: Orbis Publishing, 1985.
Jackson, A.J. British Civil Aircraft since 1919 (Volume 3). London: Putnam, 1974. ISBN 0-370-10014-X.
Jefford, Wing Commander C.G., MBE,BA,RAF (Retd). RAF Squadrons, a Comprehensive Record of the Movement and Equipment of all RAF Squadrons and their Antecedents since 1912. Shrewsbury, Shropshire, UK: Airlife Publishing, 2001. ISBN 1-84037-141-2.
Sturtivant, Ray, ISO and John Hamlin. RAF Flying Training And Support Units since 1912. Tonbridge, Kent, UK: Air-Britain (Historians) Ltd., 2007. ISBN 0-85130-365-X.

Percival Pembroke Pictures
More airplane video.
Source: WikiPedia