Percival Proctor Video - Picture
Percival Proctor Warbird Information
Percival Proctor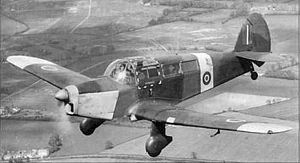 Aircraft Picture - RAF Percival Proctor I
Role: Radio trainer/communications aircraft
Manufacturer: Percival Aircraft Limited
Designer: Edgar Percival
First flight: 8 October 1939
Retired: 1955
Primary users: RAF Fleet Air Arm
Number built: 1,143
Developed from: Percival Vega Gull

The Percival Proctor was a British radio trainer and communications aircraft of the Second World War. The Proctor was a single-engine, low-wing monoplane with seating for three or four, depending on the model.
Design and development
The Proctor was developed from the Percival Vega Gull in response to Air Ministry Specification 20/38 for a radio trainer and communications aircraft. The prototype aircraft first flew on 8 October 1939 and the type was put into production for the RAF and RN. The prototype was tested as an emergency bomber during 1940 but this idea was abandoned as the invasion threat receded. F. Hills & Sons of Trafford Park near Manchester built 812 Proctors of several marks between 1941 and 1945.
Operational history
The Proctor was initially employed as a three-seat communications aircraft (Proctor I). This was followed by the Proctor II and Proctor III three-seat radio trainers.
In 1941, the Air Ministry issued Specification T.9/41 for a four-seat radio trainer. The P.31 - originally known as the "Preceptor" but finally redesignated the Proctor IV - was developed for this requirement with an enlarged fuselage. One Proctor IV was fitted with a 250 hp (157 kW) Gipsy Queen engine. This was used as a personal transport by AVM Sir Ralph Sorley but production models retained the 210 hp (157 kW) motor of earlier marks.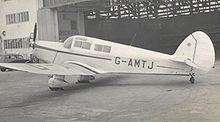 Airplane Picture - Proctor 5 of Field Aircraft services on a business flight to Manchester in 1953
At the end of the war, many Proctors of the early marks were sold on to the civil market. The Mk IV continued in service with the RAF until the last was withdrawn in 1955.
In 1945, a civil model derived from the Proctor IV was put into production for private owner, business and light charter use as the Proctor 5. The RAF purchased four to be used by air attachés.
The final model of the line was the solitary Proctor 6 floatplane sold to the Hudson's Bay Company in 1946.
Highly modified Percival Proctors were used in the film Battle of Britain as stand-ins for the Ju-87 Stuka.
Variants
P.28 Proctor I
Three-seat communications aircraft, 247 built.
P.30 Proctor II
Three-seat radio trainer, 175 built.
P.34 Proctor III
Three-seat radio trainer, 437 built.
P.31 Proctor IV
Four-seat radio trainer with enlarged fuselage, 258 built.
Proctor 5
Four-seat civil light aircraft, 150 built. RAF designation was Proctor C.Mk 5
Proctor 6
Floatplane version, 1 built.
Operators
Military operators
Australia
Royal Australian Air Force
Governor-General's Flight RAAF operated one Proctor from 1945 to 1947.

Belgium
Belgian Air Force - 4 P.31C delivered in June 1947, one in October and one in March 1948. Operated as liaison aircrafts by No 367 Sqdn until 1950. Last withdrawn from use 1954.

Canada
Royal Canadian Air Force - Used by a number of Canadian units in the RAF as a communications aircraft.

Czechoslovakia
Czechoslovakian Air Force in exile in the United Kingdom - One aircraft in service from 1944 to 1945.

Denmark
Royal Danish Air Force (RDAF) operated six P.44 Mk. III between November 1945 and November 1951. First aircraft operated by RDAF after World War II.

France
Armée de l'Air - 18 Proctor IV received between September 1945 and May 1946 for use by ERN 703 (Radio Navigation School) in Pau. When the navigation training was transferred to Morocco in 1949 the Proctors were replaced by Ansons and 16 Proctors went to the civil market.

Italy
Italian Air Force

Jordan
Royal Jordanian Air Force

Lebanon
Lebanese Air Force

Netherlands
Royal Netherlands Air Force - One Mk III was delivered in juin 1956, scrapped in february 1951, but the Koninklijke Luchtmacht also took delivery of 10 Proctor IV in juin 1947. Used as liaison aircrafts they were all scrapped in october 1953.

Poland
Polish Air Force in Great Britain operated few aircraft (liaison duty). Example aircraft: DX190, LZ603.

United Kingdom
Royal Air Force
No. 24 Squadron RAF
No. 31 Squadron RAF
No. 117 Squadron RAF
No. 173 Squadron RAF
No. 267 Squadron RAF
No. 510 Squadron RAF
Middle East Communications Squadron
No. 2 Radio School
No. 4 Radio School
No. 2 Signals School
No. 4 Signals School
Fleet Air Arm
No. 752 Squadron
No. 754 Squadron
No. 755 Squadron
No. 756 Squadron
No. 758 Squadron

Civil Operators
Canada
Hudson's Bay Company

Portugal
CTA - Companhia de Transportes Aéreos operated one Proctor V (serial number AE1) between 1945 and 1950.

Notable Owners
Nevil Shute flew his Percival Proctor from Burma to Australia. Neville Shute Norway flew his Proctor from England to Australia and terminated the return flight in Italy, 1500 miles short of his goal, after a ground loop caused by a cross wind landing damaged the undercarriage. Italian bureaucracy delayed the importation of replacement parts and he was forced to return to England by commercial air.

Survivors
Flying
Proctor Mk III G-ALJF and Proctor Mk IV G-ANXR (RAF number RM221) are both airworthy and based at Biggin Hill.
Proctor Mk I ZK-DPP and Proctor Mk Vs ZK-AQZ & ZK-ARP are airworthy and flying in New Zealand.
Under restoration
Proctor III LZ766 at the Imperial War Museum, Duxford, Proctor IV NP294 at the Lincolnshire Aviation Heritage Centre, East Kirkby, G-AHTE at Clacton and Air Atlantique Classic Flight's G-AKIU are under restoration.
Proctor Mk III G-AOGE has been at Biggin Hill for at least 20 years. The airframe has been completely restored over this time with much new wood and modern glue, but it has lain in the corner of one of the hangars for the last 5-6 years awaiting the finances to restore its engine.
On display
Proctor III Z7197 is on display at RAF Museum, Hendon. Another Mark III is on show at the RAAFAWA Museum, Bullcreek, near Perth, Western Australia.
Specifications (Proctor IV)
Data from The Hamlyn Concise Guide to British Aircraft of World War II
General characteristics
Crew: 2/1
Capacity: 1/2
Length: 28 ft 2 in (8.59 m)
Wingspan: 39 ft 6 in (12.04 m)
Height: 7 ft 3 in (2.21 m)
Wing area: 202 ft² (18.77 m²)
Empty weight: 2,375 lb (1,075 kg)
Max takeoff weight: 3,500 lb (1,588 kg)
Powerplant: 1 x— de Havilland Gipsy Queen II driving a 2-bladed propeller, 210 hp (157 kW)

Performance
Maximum speed: 139 knots (160 mph, 257 km/h)
Cruise speed: 122 knots (140 mph, 225 km/h)
Stall speed: 42 knots (48 mph, 77 km/h ) (flaps down)
Range: 435 nm (500 mi, 805 km)
Service ceiling: 14,000 ft (4,265 m)
Rate of climb: 700 ft/min (3.6 m/s)

Armament
none
Notable appearances in media
Mentioned in the song "Flying Doctor" by Hawklords (1978)
Related development
Percival Gull
Percival Vega Gull
Youngman-Baynes High Lift

Comparable aircraft
Messerschmitt Bf 108
Miles Mercury
Miles Messenger

Bibliography
Ellison, Norman H. Percivals Aircraft (The Archive Photographs Series). Chalford, Stroud, UK: Chalford Publishing Company, 1997. ISBN 0-7524-0774-0.
Percival, Robert. "A Portrait of Percival." Aeroplane Monthly, Vol. 12, No. 9, September 1984.
Scholefield, R.A. "Manchester's Early Airfields", an extended chapter in Moving Manchester. Stockport, Cheshire, UK: Lancashire & Cheshire Antiquarian Society, 2004. ISSN 0950-4699.
Silvester, John. "Percival Aircraft 1933-1954 (Parts 1-4)." Aeroplane Monthly, Vol. 11, No. 1-4, January-April 1983.

Percival Proctor Pictures
More airplane video.
Source: WikiPedia