Percival Provost Video - Picture
Percival Provost Warbird Information
Percival Provost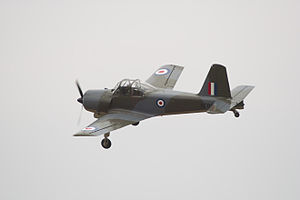 Aircraft Picture - A Percival Provost T.1 preserved as part of The Shuttleworth Collection.
Role: Military trainer aircraft
Manufacturer: Percival
Designer: Henry Millicer
First flight: 24 February 1950
Introduction: 1953
Retired: 1969
Primary users: Royal Air Force Burma Air Force Iraqi Air Force Irish Air Corps
Produced: 1950-1956
Number built: 461
Variants: BAC Jet Provost

The Percival P.56 Provost was a British ab initio trainer for the Royal Air Force in the 1950s, replacing the Percival Prentice. It was a low-wing, monoplane with a fixed, tailwheel undercarriage. Seating was side-by-side. After a lengthy service career, the design was adapted for a turbojet.
Design and development
The Provost was designed to Air Ministry specification T.16/48 for a single-engined basic trainer aircraft to meet Operational Requirement 257 for a Percival Prentice replacement. The specification was issued on 11 September 1948 and the ministry received over 30 proposals for consideration two designs were chosen for prototype construction, the Handley Page H.P.R 2 and the Percival P.56. Percival were given a contract to build two Cheetah powered prototyes on the 13 January 1950, the company also built a third prototype with a Alvis Leonides Mk 25.
The Armstrong Siddeley Cheetah powered prototype serial number WE522 first flew on 24 February 1950. After evaluation against the H.P.R 2 at Boscombe Down the Leonides powered P.56 was selected for production as the Provost T.1, with an initial order for 200 aircraft being placed on 29 May 1951. Production ended in 1956 when 461 aircraft had been completed. The Percival Provost eventually formed the basis for the Jet Provost trainer which replaced it in RAF service.
Operational history
The Provost entered service with the RAF in 1953. It had more than twice the power of its predecessor, the Prentice, with higher performance and manoeuvrability. The aircraft served with the RAF until the early 1960s, when it was replaced by the Jet Provost. A few Provosts continued in service until the last example was retired in 1969. Several retired airframes were renumbered with maintenance serials and used for training of airframe and engine tradesmen. At least five Percival Provost have survived as civilian aircraft.
Variants
Provost T.Mk 1 : Two-seat basic trainer for the RAF.
Provost Mk 51 : Unarmed export version for the Irish Air Corps.
Provost Mk 52 : Armed export version for the Rhodesian Air Force.
Provost Mk 53 : Armed export version for Burma, Iraq, Ireland and Sudan.

Operators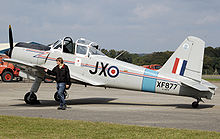 Airplane Picture - Privately-owned Percival Provost P.56 T1 in 2007
Burma
Burma Air Force

Iraq
Iraqi Air Force

Ireland
Irish Air Corps

Malaysia
Royal Malaysian Air Force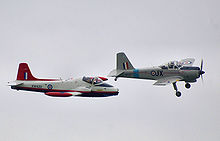 Airplane Picture - Piston Provost T1 and Jet Provost T.5a in formation
Oman
Royal Air Force of Oman

Rhodesia
Rhodesian Air Force

Sudan
Sudanese Air Force

United Kingdom
Empire Test Pilot's School
Royal Air Force

Specifications (T.1)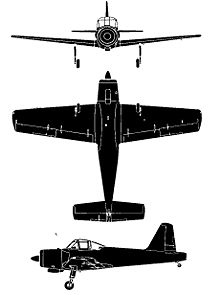 Airplane Picture - Percival Provost T.1
Data from World Encyclopedia of Military Aircraft
General characteristics
Crew: 2
Length: 28 ft 6 in (8.73 m)
Wingspan: 35 ft 0 in (10.7 m)
Height: 12 ft 0 in (3.70 m)
Wing area: 214 ft² (19.9 m²)
Empty weight: 3,350 lb (1,523 kg)
Loaded weight: 4,399 lb (1,995 kg)
Powerplant: 1 x— Alvis Leonides 126 9-cylinder radial engine, 550 hp (410 kW)

Performance
Maximum speed: 200 mph (170 knots, 320 km/h) at sea level
Range: 560 nm (650 mi, 1,020 km)
Service ceiling: 25,000 ft (7620 m)
Rate of climb: 2,200 ft/min (11.2 m/s)
Wing loading: 20.6 lb/ft² (100 kg/m²)
Power/mass: 0.276 hp/lb (0.206 kW/kg)
Climb to 10,000 ft 3.27 minutes
Endurance 4 hours

Related development
Percival Prentice
BAC Jet Provost

Comparable aircraft
CAC Winjeel

Bibliography
Angelucci, Enzo. World Encyclopedia of Military Aircraft. London: Jane's Publishing, 1981. ISBN 0-7106-0148-4.
Clarke, Bob. Jet Provost: The Little Plane With The Big History. Stroud, UK: Amberley Publishing Plc., 2008. ISBN 978-1-84868-097-5.
Meekcoms, K J and Morgan, E B. The British Aircraft Specification File. Tonbridge, Kent, UK: Air-Britain, 1994ISBN 0 85130 220 3
Thetford, Owen. Aircraft of the Royal Aircraft 1918-57, 1st edition. London: Putnam, 1957.

Percival Provost Pictures
More airplane video.
Source: WikiPedia