Percival Vega Gull Video - Picture
Percival Vega Gull Warbird Information
Percival Vega Gull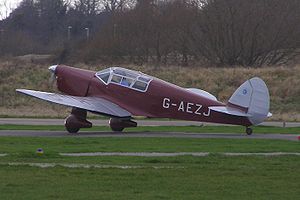 Role: Civil touring aircraft, military trainer and communications aircraft
Manufacturer: Percival Aircraft Limited
Designer: Edgar W. Percival
First flight: November 1935
Retired: 1945
Primary users: Royal Air Force Fleet Air Arm
Produced: November 1935-July 1939
Number built: 90
Developed from: Percival Gull
Variants: Percival Proctor

The Percival Vega Gull was a 1930s British, four-seater touring aircraft built by Percival Aircraft Limited. It was a single-engine, low-wing (Folding), wood-and-fabric monoplane with a fixed tailwheel undercarriage.
Design and development
Built by Percival Aircraft of Gravesend and Luton (after 1936 when Percival Aircraft became a Limited Company), the 'K-Series' Vega Gull was a development of their earlier 'D-Series' Gull. The major changes from the earlier design were the provision of an additional fourth seat, dual controls and flaps. To effect these changes, the fuselage was widened, and the wingspan increased. The resulting increases in drag were largely negated by a very extensive clean-up of parasitic drag from detailed exterior fittings such as hinges and actuation horns etc. This work was largely attributable to the arrival at Percivals of the very talented aircraft designer Arthur Bage. Thus, the Vega Gull was very nearly as fast as the more svelte Gull Six. Payload, range and usability were likewise all much-improved. The prototype G-AEAB first flew from Gravesend in November 1935.
The Vega Gull retained the de Havilland Gipsy Six air-cooled inline engine introduced in the D.3 Gull Six of 1934. Most examples were fitted with the optional DH Gipsy Six Series II engine in conjunction with the DH-PD30 VP airscrew. The final Mk II examples were fitted with a curved windscreen (the earlier examples had a multi-faceted windscreen of flat panels) similar in appearance to the early marks of the Proctor.
Operational history
A Vega Gull named "Messenger" was used by Beryl Markham on her transatlantic flight September 4-5, 1936, the first solo east-to-west crossing by a woman.
Two early production Vega Gulls were entered into the Schlesinger Race from England to Johannesberg, South Africa. C.W.A. Scott and Giles Guthrie flying Vega Gull G-AEKE was the only finisher landing at Rand Airport on 1 October 1936. The aircraft had left Portsmouth 52 hours 56 minutes 48 seconds earlier. With the publicity of the win, Percival set up a production line at larger premises at Luton. The new type was an immediate success with production running to 90, the last production aircraft had its maiden flight on 27 July 1939.
The Vega Gull was widely used by British and Commonwealth aviators during the later years of the "Golden Age" of record-setting aviation during the 1930s. Alex Henshaw, Jim Mollison, Amy Johnson, Beryl Markham, C.W.A. Scott and others, won races and broke records to South Africa, South America, Australia and New Zealand, to name but a few.
In addition to civil orders, 15 were ordered by the Air Ministry. Of these, 11 served with 24 Squadron Royal Air Force on communications duties and two were issued to the Fleet Air Arm, which was yet to come under Admiralty control. The remaining two were used by the British air attachés in Buenos Aires and Lisbon. A third aircraft for use by the British air attaché in Berlin was seized by the Germans at the outbreak of the Second World War. It remains unclear whether the Luftwaffe subsequently used this machine.
After the outbreak of war, some numbers of Vega Gulls were requisitioned for military use. In the UK, 21 were impressed in 1939-40, 14 for the RAF and seven for the FAA. Two aircraft were impressed in each of Australia and India, while one other was "called to the colours" in New Zealand.
By the end of the war, the Vega Gull had been largely supplanted by its younger sibling, the Proctor, of which more than 1,100 were manufactured. Most Proctors, especially the later examples, were much slower and more cumbersome than the original Vega. Despite the obvious drawbacks of its wooden airframe in terms of weather resistance, the Vega Gull still compares very favourably with, and indeed often surpasses, many much more modern designs even today. It was capable of transporting four adults, full fuel and baggage, at a good cruise speed over a considerable distance, on a modest 200 hp at about nine gallons (Imp.) per hour fuel consumption. It could do all this out of a small grass airfield. Added to all this, to save space in the hangar, the wings could be folded with great ease to enable the aircraft to fit into a small space. All these feats are still noteworthy today, - a full 72 years after the design first flew.
Variants
Type K.1 Vega Gull : Single-engined, four-seat touring aeroplane.

Operators
Military operators
Australia
Royal Australian Air Force
Governor-General's Flight RAAF

Belgium
Belgian Air Force

New Zealand
Royal New Zealand Air Force
No. 42 Squadron RNZAF

United Kingdom
Royal Air Force
No. 24 Squadron RAF
Fleet Air Arm

Specifications (Vega Gull, Gipsy Six Series II)
Data from British Civil Aircraft 1919-1972: Volume III
General characteristics
Crew: 1
Capacity: 3 passengers
Length: 25 ft 6 in (7.77 m)
Wingspan: 39 ft 6 in (12.04 m)
Height: 7 ft 4 in (2.24 m)
Wing area: 184 ft² (17.09 m²)
Empty weight: 1,740 lb (789 kg)
Loaded weight: 3,250 lb (1,474 kg)
Powerplant: 1 x— de Havilland Gipsy Six Series II six-cylinder inverted air-cooled inline, driving 2-blade propeller, 205 hp (153 kW)

Performance
Maximum speed: 174 mph (151 knots, 280 km/h)
Cruise speed: 150 mph (130 knots, 241 km/h)
Range: 660 mi (574 nmi, 1,062 km)
Service ceiling: 17,000 ft (5,180 m)
Rate of climb: 1,020 ft/min (5.2 m/s)

Related development
Percival Gull
Percival Proctor

Comparable aircraft
Messerschmitt Bf 108 Taifun
Miles Messenger

Bibliography
Ellison, Norman H. Percivals Aircraft (The Archive Photographs Series). Chalford, Stroud, UK: Chalford Publishing Company, 1997. ISBN 0-7524-0774-0.
Grey, C.G. Jane's All the World's Aircraft 1938. London: David & Charles, 1972. ISBN 0715-35734-4.
Jackson, A.J. British Civil Aircraft 1919-1972, Volume III. London: Putnam, 1988. ISBN 0 85177 818 6.
Lewis, Peter. British Racing and Record-Breaking Aircraft. London: Putnam, 1970, ISBN 0 370 00067 6.
Percival, Robert. "A Portrait of Percival." Aeroplane Monthly, Vol. 12, No. 9, September 1984.
Silvester, John. "Percival Aircraft 1933-1954 (Parts 1-4)." Aeroplane Monthly, Vol. 11, No. 1-4, January-April 1983.

Percival Vega Gull Pictures
More airplane video.
Source: WikiPedia