Piper Aircraft Information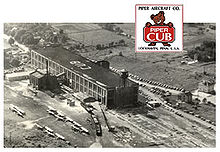 Picture - Piper Aircraft Company factory in Lock Haven, Pennsylvania, with the Piper Cub logo superimposed at the top.
Piper Aircraft
Industry: General aviation
Founded: 1927
Headquarters: Vero Beach, FL
Key people: CEO Kevin Gould (26 June 2009-21 July 2010) Interim CEO Geoffrey Berger (from 21 Jul 2010)
Owner(s): Imprimis
Website: http://www.piper.com

Piper Aircraft, Inc., is a manufacturer of general aviation aircraft, located at the Vero Beach Municipal Airport in Vero Beach, Florida. Along with Beechcraft and Cessna, it is considered one of the "Big Three" in the field of general aviation construction.
Between its founding in 1927 and the end of 2009 the company has produced 144,000 aircraft in 160 certified models, of which 90,000 are still flying.
History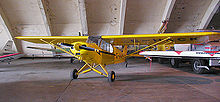 Picture - Piper Super Cub
Originally founded as the Taylor Brothers Aircraft Manufacturing Company in September 1927 by Clarence Gilbert Taylor and Gordon A. Taylor in Rochester, New York. The company was renamed Taylor Brothers Aircraft Corporation in April 1928, shortly before Gordon Taylor died in a plane crash on April 24, 1928. The company was enticed to move to Bradford, Pennsylvania with the promise of larger facility and investment capital from local businessmen, including an initial investment of $400 from local oilman William T. Piper. The move was completed in September, 1929.
In late 1930 the company filed for bankruptcy and William T. Piper purchased the assets of the company for $761. Reorganized as the Taylor Aircraft Company, Piper effectively took control of the firm when he assumed the position of corporate secretary-treasurer, although he retained C. G. Taylor in the role of president. Piper, often called the "Henry Ford of Aviation", firmly believed that a simple-to-operate low-cost private airplane would flourish, even in the darkest depths of the Great Depression.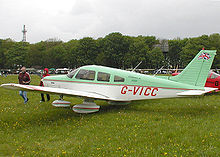 Picture - Piper PA-28-161 Warrior II
In December 1935, after a series of clashes, William Piper bought out C. G. Taylor, who left the company and went on to form the Taylorcraft Aircraft Company. On March 16, 1937 a fire destroyed the Bradford factory and Piper relocated to an abandoned silk mill in Lock Haven, Pennsylvania. By November, 1937, all traces of Taylors' involvement with the company were erased when it was renamed Piper Aircraft Corporation.
Piper continued operations in Lock Haven throughout World War II. In their business planning following the war, it became clear that the Lock Haven facility would not support larger manufacturing efforts, and in 1955, they acquired rights to property at the Vero Beach Municipal Airport. Initially, this location was limited to the design and production of the Piper Cherokee series.
In 1969, The Piper Family agreed to sell Piper Aircraft to Bangor Punta Corporation, which started an eight-year court battle with the losing bidder, Chris-Craft Industries, culminating in a Supreme Court decision in 1977. Piper remained a member of the Bangor Punta family through 1984, when B-P was acquired by Lear Siegler. Lear Siegler, in turn, was acquired by Forstmann Little in 1986. Forstmann Little then sold Piper to M. Stuart Millar in 1987. Piper filed for protection under the bankruptcy code in 1991 and was reorganized in 1994.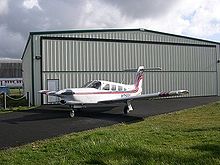 Picture - Piper PA-32-RT-300T Turbo Lance II
The Lock Haven facility was nearly destroyed in 1972 when torrential rains from Hurricane Agnes caused the great Susquehanna River flood of 1972, flooding the manufacturing plant and destroying airframes, parts, and much of the tooling necessary for production of several designs, including the Aztec, Navajo, and Comanche. The company decided to end production of the Piper PA-24 Comanche and Piper PA-30 Twin Comanche, neither of which were selling particularly well (and were very expensive to produce), move the production of remaining models to Florida, and within 5 years close all operations in Pennsylvania.
Manufacture ceased in the mid 1980's when increasing insurance premiums made continued operation financially impossible for Piper Aircraft and other American sellers of light aircraft. Upon limitation of liability provided by new legislation in the early 90's, manufacturing re-commenced in 1995. The firm was re-branded New Piper Aircraft at that time.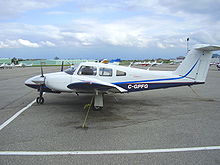 Picture - Piper PA-44-180 Seminole
On July 2003, American Capital Strategies, Ltd. bought 94% of Piper's voting equity.
In August 2006 the firm dropped the "New" from its name, reverting to Piper Aircraft. Also in that month, a partnership with Honda was announced to market the new HondaJet.
On 1 May 2009 American Capital Strategies sold the company to Singapore-based investment strategy company Imprimis, making a profit of US$31M on the sale. Piper headquarters will remain in Vero Beach, while the company is expected to seek expanded markets in Asia through Imprimis. Imprimis is funded by the Government of Brunei and has offices in Bangkok, Singapore and Brunei Darussalam.
In June 2009 James Bass, CEO of Piper Aircraft since 2005, announced that he would step down effective 26 June 2009. He was succeeded by VP of operations Kevin Gould. During his four years at Piper, Bass oversaw development of the PiperJet, the Meridian G1000 and the Matrix and negotiated a new business partnership with Honda. He also negotiated $32 million in incentives from the state and county that retained Piper's factory in Vero Beach, Florida.
On 2 November 2009 another Piper executive resigned. Company president John Becker announced his resignation effective 1 December 2009 to "to pursue other career opportunities". Becker was replaced as President by CEO Kevin Gould.
On 4 January 2010 the company announced that Boeing subsidiary Aviall will act as Piper's sole global parts distributor.
In July 2010 CEO Kevin Gould resigned for unspecified reasons, having served just over a year in the post. Gould was replaced on an interim basis by Geoffrey Berger, managing director of Imprimus in Brunei, on behalf of the government of Brunei. Also in July 2010 longtime Piper media spokesman Mark Miller left the company.
Piper started renovation of a 75,000 sq ft factory in Vero Beach in October 2010, to be complete in 2011. The facility will being used to build the PiperJet.
Late 2000s recession
In response to the late 2000s recession the company announced in November 2008 that it was reducing its work-week to save money while avoiding lay-offs. Piper is party to an agreement with the state of Florida that will see the company benefit from US$32 million in incentives in exchange for increasing its work force to 1400 people plus building the PiperJet in the state.
In December 2008 the company announced that it will defer the US$10M incentive that would have required it to hire 400 new workers by 2012 for the PiperJet project and retain 1,417 employees through 2015. The company stated that the move was precautionary. Piper spokesman Mark Miller said: "While this year has been a good one for Piper, we have taken measures to keep the company healthy and to weather any future adversity."
In February 2009 the company announced that it was laying off an additional 300 workers without notice immediately and that the 650 remaining workers would be given unpaid weeks off in April and July to reduce unsold inventory. Piper spokesman Mark Miller stated that company regrets the pain caused by the layoffs and indicated that the employees will be rehired when the economy improves. He also said: "Even the willing buyers that we have find it incredibly difficult to get financing...We can't keep a full workforce on at this point when people aren't buying planes...If market conditions continue to deteriorate, it may be necessary for the company to take additional actions." On 24 February 2009 the company announced that it would add two more weeks of unpaid furlough for its employees in May and June, bringing the total to four weeks in 2009, citing a need to reduce inventory and cut expenses. In June 2010 the company announced it would shut down for a further week in August to save money. The lay-off will affect all workers except those on the PiperJet program and some critical company business functions.
In September 2010 Piper announced the lay-off of an additional 60 production workers. Piper's interim CEO Geoffrey Berger stated: "Piper remains challenged by overall market weakness". The company hired 140 workers for the PiperJet program in 2009-10.
Aircraft
Piper's J-3 Cub, a single-engine, high-wing two seater, was the first inexpensive training aircraft produced in large numbers. Many former military examples were sold to civilian owners over the 1950-1995 period and seem certain to see many more years in recreational use. The more powerful Super Cub is popular for use as a glider tug.
The PA-28 Cherokee has been one of the company's most successful products with variants being manufactured almost every other year. Both this design and the twin-engined PA-34 Seneca are used for pilot training around the world. The PA-23 Apache was one of the first aircraft associated with the term "air taxi," although it was superseded in that role by faster and more spacious designs from the competitive Beechcraft Corporation. In recent years, aircraft from SOCATA, and more recently Cirrus Design and Diamond Aircraft Industries, have been strong competitors with the Cherokee and Cessna designs that traditionally dominated flying schools.
Beginning production in 1965, the PA-32 series provided 6 or 7 seat single-engine designs based on the smaller Cherokee. Variously named Cherokee Six, Lance, and Saratoga, these were available as both fixed and retractable gear models and also with normally aspirated, fuel injected, and turbo-charged engines. The PA-32s proved popular with private owners, air taxi, and freight companies. Production of the Saratoga-II HPs and Saratoga TCs ended in 2009.
On 21 January, 2010 the company announced they had licenced the CZAW SportCruiser and intended to market it as the PiperSport. Piper CEO Kevin Gould said, "The PiperSport is an amazing entry-level aircraft that will bring new customers into Piper and lead the way for those customers to step up into more sophisticated and higher performance aircraft within our line over time." In January 2011, the licensing agreement with Piper was abruptly ended with Piper CEO Geoffrey Berger saying "the company has a different business perspective and approach to the market than Czech Sport Aircraft".
Current projects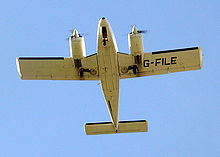 Picture - Piper Seneca PA-34
In October 2006, Piper Aircraft announced the first jet (that the company would work all the way from design to production) that they would be developing, a single-engined very light jet (VLJ), known as the PA-47 PiperJet, to compete with the twin-engined Eclipse 500 and Cessna Citation Mustang and single-engine Diamond D-Jet. The aircraft will carry six passengers, have a single, tail-mounted turbofan, and be capable of cruising at 360 knots (670 km/h), at a maximum altitude of 35,000 ft (11,000 m) Maximum range will be 1300 Nm, with a full-fuel payload of 800 lb (360 kg). A selling price of $2.199 m (2006 USD) is quoted. An Entry-into-Service date of 2012 is anticipated. On June 30, 2008 the Piper Jet made its maiden test flight at Vero Beach, Florida.
In September 2007, Piper announced the PA-46R-350T Matrix, an unpressurized, single-engine piston aircraft based on the Mirage. It will seat six and will be sold for a base price of US$757,000 (2007), to be a third model in the Malibu family, along with the top-end, turboprop-powered Meridian and the Piper Mirage.
List of Piper aircraft
Beechcraft
Cessna
Cirrus Design
Diamond Aircraft Industries
Mooney Airplane Company
Piper Aircraft Co. v. Reyno

Sources
Bowers, Peter M. (1993). Piper Cubs. McGraw Hill. ISBN 0-8306-2170-9.
Phillips, Edward H. (1993). Piper - A Legend Aloft. Flying Books International. ISBN 0-911139-14-1.
Piper Aircraft and their forerunners, R.W.Peperell & Colin M.Smith, Air-Britain, Tonbridge Kent, 1987, ISBN 0-85130-149-5
The New Piper Aircraft: Soaring High

Piper Aircraft Pictures and Piper Aircraft for Sale.
Living Warbirds: The best warbirds DVD series.
Source: WikiPedia