Piper J-5 Video - Picture
Piper J-5 Aircraft Information
Piper J-5
J-5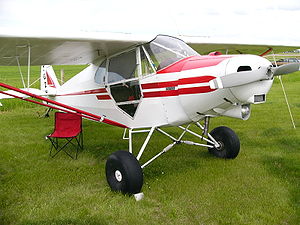 Role: Multipurpose light civil aircraft
Manufacturer: Piper Aircraft
First flight: July 1939
Produced: 1940-1946
Number built: 1,507
Unit cost: US$$1,995 (1947)
Variants: Piper J-3 Piper PA-12

The Piper J-5 'Cub Cruiser' was a larger, more powerful version of the basic Piper J-3 Cub. It was designed just two years after the J-3 Cub, and differed by having three seats instead of two, a 75-hp Continental engine and a cruising speed of 85 mph. It was advertised as being a three-seater, but pilots of the Cruiser have said it would be more accurately described as a two-and-a-half-seater, because only a small child would feel comfortable in the third seat. The Cruiser also had a deeper fuselage than the J-3. The Cruiser sold for $1,995 when it was first designed. Only about two hundred remain airworthy today.
History
Throughout World War II, Piper modified the basic structure of the J-5A. The J-5B had a 75 h.p. Lycoming GO-145-C2 engine. The later J-5C also built as the HE-1 (later AE-1) ambulance for the U.S. Navy with rear hinged fuselage decking, used the fully cowled 100 h.p. Lycoming O-235-C engine with an electrical system, and redesigned landing gear.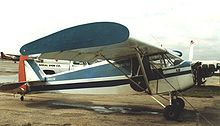 Picture - Piper J-5A Cub Cruiser with wing endplates and banner-towing gear at North Perry airport, Florida, in March 1987
After the war, Piper dropped the J- designation system in exchange for the PA- system, and the J-5C became the PA-12 "Super Cruiser". The Super Cruiser was more popular than the basic J-5A, with 3,759 being built. They sold for $2,995 each. In 1947, two PA-12s flew around the world, and the worst mechanical failure they suffered was a cracked tailwheel. More than a thousand still fly today.
Piper also produced a four-seat variant of the Super Cruiser with a 115-hp engine. It was designated the PA-14 Family Cruiser. It was the least successful of the three Cruiser designs in terms of aircraft sold, with 238 being built in 1948/49, and only about one hundred remain in existence.
Variants
J-5
75hp Continental A-75-8 powered variant.
J-5A
Continental A-75-9 powered variant.
J-5A-80
J-5As modified with a 80hp Continental A-80-8 engine.
J-5B
75hp Lycoming O-145-B powered variant.
J-5C
100hp Lycoming O-235-C powered variant.
J-5CA
Prototype ambulance variant produced as the HE-1 for the United States Navy.
J-5CO
Prototype observation variant, later modified as the L-4X to be a prototype for the military L-14 version.
J-5D
1946 built aircraft with a 125hp Lycoming engine.
Military designations
YL-14
Prototype liaison aircraft for the United States Army Air Force, five built.
L-14
Production variant of the YL-14, order for 845 cancelled and nine under construction completed for the civilian market.
AE-1
HE-1 redesignated in 1943 in the Ambulance category.
HE-1
Hospital variant for the United States Navy with hinged fuselage top for stretcher access, 100 built later re-designated AE-1.
UC-83
Four J-5A aircraft impressed into military service in Panama later becoming the L-4F.
L-4F
Four UC-83s re-designated and an additional 39 J-5As impressed.
L-4G
J-5B impressed into military service, 34 aircraft.
Specifications (J-5)
Data from Peperell, 1987, p. 43
General characteristics
Crew: 1
Capacity: 2 passengers
Payload: 620 lbs ()
Length: 22 ft 6 in ()
Wingspan: 35 ft 6 in ()
Height: 6 ft 10 in ()
Empty weight: 830 lbs ()
Loaded weight: 1,450 lbs ()
Useful load: 620 lbs ()
Powerplant: x— 1 Lycoming G0-145-C2, 75 h.p. () each

Performance
Maximum speed: 96 mph
Cruise speed: 86 mph
Stall speed: 42 mph ()
Range: 430 miles ()
Service ceiling: 10,200 ft ()
Rate of climb: 460 ft/min ()

Bibliography
Peperell, Roger (1987). Piper Aircraft and their forerunners. Air-Britain (Historians) Ltd. ISBN 0-85130-149-5.
Simpson, Rod (2001). Airlife's World Aircraft. Airlife Publishing Ltd. ISBN 1-84037-115-3.

Piper J-5 Pictures
More aircraft.
Source: WikiPedia