Piper PA-18 Video - Picture
Piper PA-18 Aircraft Information
Piper PA-18
PA-18 Super Cub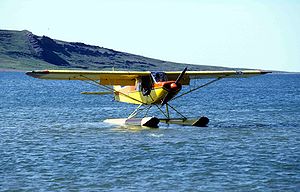 Picture - PA-18-150 "Super Cub" floatplane at Tinney Cove (Bathurst Inlet)
Role: Light utility aircraft
Manufacturer: Piper Aircraft
First flight: 1949
Introduced: 1949
Produced: 1949-1983; 1988-1994
Number built: over 9,000
Developed from: Piper PA-11

The Piper PA-18 Super Cub is a two-seat, single-engine monoplane. Introduced in 1949 by Piper Aircraft, it was developed from the Piper PA-11, and traces its lineage back through the J-3 to the Taylor E-2 Cub of the 1930s. In close to 40 years of production, over 9,000 were built. Super Cubs are commonly found in roles such as bush flying, banner and glider towing.
Design and development
While based on the design of the earlier Cubs, the addition of an electrical system, flaps (3 notches), and a vastly more powerful engine (150 hp), make it a very different flying experience. Although the "standard" Super Cub was fitted with a 150 horsepower (112 kW) Lycoming engine, it was not uncommon to see them equipped with a 180 hp (134 kW) powerplant. The high-lift wing and powerful engine made the Super Cub a prime candidate for conversion to either floatplane or skiplane. In addition, the PA-18A (an agricultural version) was produced for applying either dry chemical or liquid spray.
The Super Cub retained the basic "rag and tube" (fabric stretched over a steel tube frame) structure of the earlier J-3 Cub.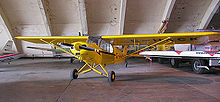 Picture - PA-18 Super Cub 150 (G-HACK) at the Great Vintage Fly-In Weekend, Kemble, England, in May 2003
The first true "Super" Cubs had flaps, dual fuel tanks, and an O-235 Lycoming engine producing about 108 hp (115 hp for takeoff only). However, a 90 hp Continental without flaps and an optional second wing tank was available. Their empty weight was, on the average, 800-1000 pounds with a gross weight of 1,500 lb. These Cubs would take off in about 400 feet (at gross weight) and land in about 300 feet (thanks to the flaps). The Super Cub is renowned for its ability to take off and land in very short distances. The O-290 Lycoming powered Cubs (135 hp) followed and would take off in about 200 feet (61 m). The landing distance remained the same at about 400 feet (120 m), or 300 feet (91 m) using flaps. With the use of the Lycoming O-320 at 150-160 hp, the Cub's allowable gross weight increased to 1,750 lb while retaining the capability of a mere 200 feet (61 m) for takeoff.
Variants
PA-18 Super Cub
Prototype and production variant powered by a 95hp Continental C-90-8F piston engine, sometimes known as the PA-18-95.
PA-18-105 Super Cub
Production variant fitted with a 105hp Lycoming O-235-C1 piston engine and larger tailplane.
PA-18-105 Special
Special variant built in 1952 and 1953 for the Civil Air Patrol as a trainer with horn balanced elevators and provision for seat parachutes.
PA-18-125 Super Cub
Variant to replace the PA-18-95 with flaps and horn balanced elevators and a 125hp Lycoming O-290-D piston engine and either or a metal controllable-pitch propeller.
PA-18-135 Super Cub
Variant with a 135hp Lycoming O-290-D piston engine and fitted with two wing tanks as standard.
PA-18-150 Super Cub
1954 variant with a 150hp Lycoming O-320.
PA-18-180 Super Cub
Experimental variant with a 180hp Lycoming O-360 engine, one built in 1980 by Piper. Other aircraft have been re-engined under a Supplemental Type Certificate.
PA-18A
Designation for production aircraft with different engines built as single seat cropdusters with a wider rear fuselage holding a hoppertank in the back seat.
PA-18S
Designation for production aircraft fitted with floats.
PA-18AS
Designation of a small number of agricultural aircraft fitted with floats.
PA-19 Super Cub
Original designation of the military variant of the PA-18, only three built and all subseqeuent military production were designated as PA-18s.
Military designations
L-18C Super Cub
Military designation of the PA-18 Super Cub for the United States Army, powered by a 95-hp (71-kW) Continental C90-8F piston engine, 838 delivered 108 of which were delivered to other nations under MDAP.
YL-21 Super Cub
Two Super Cub 135s for evaluation by the United States Army.
L-21A Super Cub
Military designation of the Super Cub 125, powered by a 125-hp (92-kW) Avco Lycoming 0-290-II piston engine, 150 delivered.
L-21B Super Cub
Military designation of the Super Cub 135, powered by a 135-hp (101-kW) Avco Lycoming 0-290-D2 piston engine, 584 delivered many to other nations under MDAP, re-designated U-7A in 1962.
TL-21A
A number of L-21As were converted into training aircraft.
U-7A Super Cub
1962 redesignation of the L-21B.
Operators
Military operators
Austria
Austrian Air Force

Belgium
Belgian Army

Germany
Luftwaffe

Iran
Imperial Iranian Air Force

Italy
Italian Army

Israel
Israeli Air Force

Netherlands
Royal Netherlands Air Force

Nicaragua
Nicaraguan Air Force

Japan
Japanese Army

Norway
Royal Norwegian Air Force

Portugal
Portuguese Air Force

Sweden
Swedish Army

Turkey
Turkish Army

Uganda Uruguay United States
United States Air Force
United States Army

Specifications (PA-18-150 landplane)
Data from Jane's All The World's Aircraft 1976-77
General characteristics
Crew: 1
Capacity: 1 passenger
Length: 22 ft 7 in (6.88 m)
Wingspan: 35 ft 2½ in (10.73 m)
Height: 6 ft 8½ in (2.02 m)
Wing area: 178.5 sq ft (16.58 m²)
Airfoil: USA 35B
Aspect ratio: 7:1
Empty weight: 930 lb (422 kg)
Max takeoff weight: 1,750 lb (794 kg)
Powerplant: 1x— Lycoming O-320 air-cooled flat four, 150 hp (112 kW)

Performance
Never exceed speed: 132 knots (246 km/h, 153 mph)
Maximum speed: 113 knots (208 km/h, 130 mph) at sea level
Cruise speed: 100 kts (185 km/h, 115 mph) (75% power)
Stall speed: 38 knots (69 km/h, 43 mph) flaps down
Range: 399 nmi (735 km, 460 mi)
Service ceiling: 19,000 ft (5,595 m)

Related development
Piper J-3

Comparable aircraft
American Champion Scout
Aviat Husky
Light Miniature Aircraft LM-5 - copy of the PA-18
CubCrafters Carbon Cub SS - 180hp Light Sport

John Andrade, U.S.Military Aircraft Designations and Serials since 1909, Midland Counties Publications, 1979, ISBN 0 904597 22 9
Peperell, Roger W. and Colin M. Smith. Piper Aircraft and their forerunners. Tonbridge, Kent, England:Air-Britain, 1987, ISBN 0 85130 149 5
Taylor, John W.R. Jane's All The World's Aircraft 1976-77. London:Jane's Yearbooks, 1976, ISBN 0 354 00538 3.

Piper PA-18 Pictures
More aircraft.
Source: WikiPedia