Piper PA-31 Navajo Video - Picture
Piper PA-31 Navajo Aircraft Information
Piper PA-31 Navajo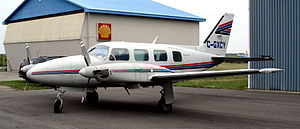 Picture - Piper PA-31 Navajo
Role: Civil utility aircraft
Manufacturer: Piper Aircraft
First flight: 30 September 1964
Introduced: 30 March 1967
Status: Active service
Produced: 1967 - 1984
Number built: 3942
Variants: Piper PA-31T Cheyenne

The Piper PA-31 Navajo is a family of cabin-class, twin-engine aircraft designed and built by Piper Aircraft for the general aviation market, most using Lycoming engines. It was also licence-built in a number of Latin American countries. Targeted at small-scale cargo and feeder liner operations and the corporate market, the aircraft was a success. It continues to prove a popular choice, but due to greatly decreased demand across the general aviation sector in the 1980s, production of the PA-31 ceased in 1984.
Design and development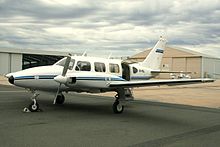 Picture - The 30th production Navajo, fitted with two-bladed propellers and early two-part airstair cabin entry door (without the third door, introduced later)
At the request of company founder William T. Piper, Piper began development of a six- to eight-seat twin engine corporate and commuter transport aircraft in 1962 under the project name Inca. The type, now designated the PA-31 and looking like a scaled-up Twin Comanche, was officially announced in late 1964 after its first flight on 30 September that year. It was a low-wing monoplane with a conventional tail, powered by two 310 hp (231 kW) Lycoming TIO-540-A turbocharged engines in so-called "tiger shark" cowlings, a feature shared with the Twin Comanche and also the PA-23 Aztec. As testing proceeded two cabin windows were added to each side of the fuselage and the engines moved further forward. The PA-31, now named "Navajo" after a Native American tribe, was not certified by the Federal Aviation Administration (FAA) until 24 February 1966, and deliveries did not begin until the following year, after the type was re-certified in mid-1966 with an increase in maximum take off weight (MTOW) from 6,200 lb (2,812 kg) to 6,500 lb (2,948 kg).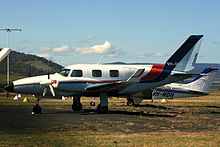 Picture - A modified PA-31P Pressurized Navajo, fitted with winglets
The PA-31-300 was the next model, certified by the FAA in June 1967. This model was the only one of the PA-31 series not to have turbocharged engines. A pair of 300 hp (224 kW) Lycoming IO-540-M1A5 engines were fitted to the PA-31-300, driving two-bladed propellers. Following the introduction of the PA-31-300 the turbocharged model began to be known unofficially as the PA-31-310. The PA-31-300 was only produced in 1968 and 1969 and had the smallest production total for any PA-31 series model, with only 14 aircraft built.
The next member of the family was also Piper's first pressurized aircraft, the PA-31P Pressurized Navajo, certified in late 1969. Development of the PA-31P had begun in January 1966, before the FAA had awarded the PA-31 a Type certificate. The PA-31P was powered by 425 hp (317 kW) Lycoming TIGO-541-E engines and compared to earlier models had a longer nose, fewer and smaller windows, 25 US gal (95 l) fuel tanks in the engine nacelles and a one-piece airstair cabin entry door instead of the split pair of doors on the unpressurized models. MTOW was greatly increased at 7,800 lb (3,538 kg). Also known unofficially as the PA-31P-425, the PA-31P was produced from 1970 to 1977. In 1971 Piper introduced improvements to the PA-31 model. The Navajo B featured airconditioning, increased baggage space achieved by the addition of storage lockers in the rear part of extended nacelles, a third door next to the cabin entry doors to facilitate the loading of baggage, and an optional separate door for the pilot to enter the cockpit.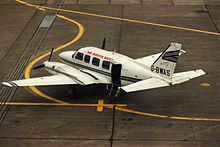 Picture - An Air South West PA-31 in service at Dublin Airport in 1994
In September 1972 Piper unveiled the PA-31-350 Navajo Chieftain, a stretched version of the Navajo B with more powerful engines and counter-rotating propellers to prevent critical engine handling problems. The fuselage was lengthened by 2ft 0in (0.61m), allowing for up to ten seats in total. Variants of the Lycoming TIO-540 developing 350 hp (261 kW) were fitted to the Chieftain, with an opposite-rotation LTIO-540 installed on the right-hand wing; MTOW was increased to 7,000 lb (3,175 kg). The Chieftain's introduction was delayed by a flood at Piper's factory at Lock Haven, Pennsylvania caused by Hurricane Agnes, and deliveries did not commence until 1973. In 1974 Piper used a Navajo B as the basis for developing a new model, the PA-31-325 Navajo C/R. The Navajo C/R had lower-power versions of the counter-rotating engines of the Chieftain, rated at 325 hp (242 kW). After certification of the PA-31-325 in May 1974, production commenced in the 1975 model year. The Navajo B was also superseded in the 1975 model year, by the Navajo C version of the PA-31 model.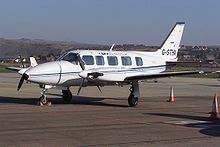 Picture - 1980 Navajo Chieftain
Piper established its T1000 Airliner Division in May 1981 at its Lakeland, Florida factory. There were two aircraft in the T1000 series. The T1020, or more accurately the PA-31-350T1020 was a PA-31-350 Chieftain optimised for and marketed to the commuter airline market. It featured reduced fuel capacity compared to the standard Chieftain, with the 40 US gal (151 l) auxiliary fuel tanks in each wing of the Chieftain not fitted to the T1020. It also had reduced baggage capacity (600 lb (272 kg) maximum instead of the Chieftain's 700 lb (318 kg) maximum) and up to eleven seats. The first T1020 was delivered in December 1981. The second aircraft in the T1000 stable was the T1040 - the PA-31T3 model. The T1040 was a hybrid, featuring the main fuselage of the PA-31-350T1020 with the nose and tail of the PA-31T1 Cheyenne I. The wings were similar to the Cheyenne I's, but with reduced fuel capacity and baggage lockers in the engine nacelles similar to those of the Chieftain. An optional underbelly cargo pod was also available. The Pratt & Whitney Canada PT6A-11 turboprop engines were the same as those of the Cheyenne I. Deliveries of the T1040 began in July 1982. A T1050 variant with a fuselage stretch of 11ft 6in (3.51m) and seating capacity of 17 was proposed as a factory conversion of existing aircraft, but did not proceed.
The last member of the PA-31 family to enter production was the PA-31P-350 Mojave. Like the T1040 the Mojave was a hybrid, but whereas the T1040 was essentially a turboprop Chieftain the Mojave was more-or-less a piston-engine version of the Cheyenne. The Mojave combined the fuselage of the Cheyenne I with the tail of the Chieftain. The wings were similar to the Chieftain's, but with greater structural strength, a 4 ft (1.2 m) increase in wingspan and greater fuel capacity of 243 US gal (920 l). The engines were slightly different variants of the Chieftain's TIO-540 and LTIO-540, being fitted with intercoolers, and like the Chieftain had baggage lockers on the rear part of the nacelles. The Mojave's MTOW of 7,200 lb (3,266 kg) was 200 lb (91 kg) higher than the Chieftain's. Certified in 1983, like the T1020 and T1040 the Mojave was introduced at a time of economic recession and was only produced in 1983 and 1984; combined production of the T1020, T1040 and Mojave amounted to less than 100 aircraft. Two experimental PA-31-353s were also built in the mid-1980s.
Licence manufacture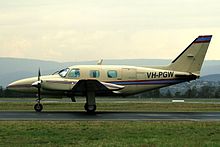 Picture - A PA-31P-350 Mojave
The PA-31 series was manufactured under licence in several countries from kits of parts supplied by Piper. Chincul SACAIFI in Argentina assembled most of the series as the PA-A-31, PA-A-31-325, PA-A-31P and PA-A-31-350 and Aero Industrial Colombiana SA (AICSA) in Colombia assembled PA-31, PA-31-325 and PA-31-350 aircraft. The PA-31-350 Chieftain was also assembled under licence in Brazil by Embraer as the EMB 820C Navajo. In 1984, Embraer subsidiary company Indxºstria Aeronx¡utica Neiva began converting Embraer EMB 820Cs by installing Pratt & Whitney Canada PT6 turboprop engines; Neiva called the converted aircraft the Carajx¡.
Variants
PA-31 Navajo
Initial production version, also known unofficially as the PA-31-310.
PA-31-300 Navajo
Variant of the Navajo with normally-aspirated engines; 14 built.
PA-31 Navajo B
Marketing name for 1971 improved variant with 310 hp (231 kW) Lycoming TIO-540-E turbo-charged piston engines, new airconditioning and optional pilot access door and optional wide utility door.
PA-31 Navajo C
Marketing name for 1974 improved variant with 310 hp (231 kW) Lycoming TIO-540-A2C engines and other minor improvements.
PA-31P Pressurized Navajo
Pressurized version of the PA-31 Navajo, powered by two 425-hp (317-kW) Lycoming TIGO-541-E1A piston engines.
PA-31-325 Navajo
Referred to as the "Navajo C/R" for Counter Rotating; variant of Navajo with counter-rotating propellers introduced with the PA-31-350 Chieftain. 325hp (242kW) Lycoming TIO-540 / LTIO-540 engines
PA-31-350 Chieftain
Stretched version of the Navajo with more powerful 350-hp (261-kW) engines that rotate in opposite directions (a Lycoming TIO-540 and a Lycoming LTIO-540) to eliminate critical engine issues.
PA-31P-350 Mojave
Piston-engine variant of the PA-31T1 Cheyenne I; 50 aircraft built.
PA-31-350T1020
Also known as the T1020/T-1020; variant of the PA-31-350 Chieftain optimised for commuter airline use, with less baggage and fuel capacity and increased seating capacity (nine passengers). First flight September 25, 1981. 21 built.
PA-31T3
Also known as the T1040/T-1040; turboprop powered airliner with fuselage of the PA-31-350T1020, and wings, tail and Pratt & Whitney Canada PT6A-11 engines of PA-31T Cheyenne. First flight July 17, 1981. 24 built.
PA-31-353
Experimental version of PA-31-350; two built.
T1050
Unbuilt airliner variant with fuselage lengthened by 11ft 6in (3.51m) compared to the PA-31-350.
EMB 820C
Version of Chieftain built under licence by Embraer in Brazil.
Neiva Carajx¡
Turboprop conversion of EMB 820C, fitted with two Pratt & Whitney Canada PT6A-27 engines flat-rated to 550shp. The Carajx¡'s MTOW of 8,003lbs was 1000lbs more than that of the Chieftain.
Colemill Panther
Re-engined Navajo with 350 hp (261 kW) Lycoming TIO-540-J2B engines, 4-blade "Q-Tip" propellers and optional winglets. Conversion designed by Colemill Enterprises of Nashville, Tennessee.
Operators
Civil
The Navajo family is popular with air charter companies and small feeder airlines, and is operated by private individuals and companies.
Military
Bahamas
Royal Bahamas Defence Force

Finland
Finnish Air Force Former operator

Honduras
Honduras Air Force

Dominican Republic
Dominican Air Force

Sweden
Royal Swedish Air Force
Royal Swedish Navy

Trinidad and Tobago
Trinidad and Tobago Defence Force

Specifications (PA-31 Navajo)
Data from Jane's All The World's Aircraft 1976-77
General characteristics
Crew: 1 or 2
Capacity: 5 to 7 passengers
Length: 32 ft 7½ in (9.94 m)
Wingspan: 40 ft 8 in (12.40 m)
Height: 13 ft 0 in (3.96 m)
Wing area: 229 sq. ft (21.3 m²)
Empty weight: 3,930 lb (1,782 kg)
Max takeoff weight: 6,500 lb (2,948 kg)
Powerplant: 2 x— Lycoming TIO-540-A air-cooled six-cylinder horizontally-opposed piston engine, 310 hp (231 kW) each
Propellers: Two or three blade, metal, fully feathering, Hartzell propeller

Performance
Never exceed speed: 236 knots (438 km/h, 272 mph)
Maximum speed: 227 knots (420 km/h, 261 mph) at 15,000 ft (4,570 m)
Cruise speed: 207 knots (383 km/h, 238 mph) econ cruise at 20,000 ft (6,100 m)
Stall speed: 63.5 knots (118 km/h, 73 mph) flaps down
Range: 1,011 nmi (1,875 km, 1,165 mi)
Service ceiling: 26,300 ft (8,015 m)
Rate of climb: 1,445 ft/min (7.3 m/s)

Related development
Piper PA-31T Cheyenne

Comparable aircraft
Beechcraft Queen Air
Cessna 402
Cessna 414
Aero Commander 500

Barnett, Cliff. "Piper looks ahead" Flight International magazine, 24 September 1983, p.833 (online archive version) retrieved 2010-04-03.
Bonelli, Regis and Pinheiro, Armando Castelar. New Export Activities in Brazil: Comparitive Advantage, Policy or Self-Discovery, Research Network Working Paper #R-551, Inter-American Development Bank, July 2008.
Flight Magazine, Volume 54, No. 11, November 1965. Air Review Publishing Corporation, Dallas, Texas.
Lambert, Mark. "In the air: Piper PA-30 Twin Comanche", Flight International magazine, 12 September 1963, pp.468-470 (online archive version).
Levy, Howard. "Piper consolidates at Lakeland", Flight International magazine, 30 April 1983, pp.1152 and 1153. Online archive version retrieved 2010-04-03.
Marsh, David. EUROCONTROL Trends in Air Traffic, volume 1; Getting to the Point: Business Aviation in Europe European Organisation for the Safety of Air Navigation (EUROCONTROL) May 2006. Retrieved 2010-04-11.
Michell, Simon. Jane's Civil and Military Aircraft Upgrades 1994-95. Coulsdon, UK: Jane's Information Group, 1994. ISBN 0 7106 1208 7.
Piper Aircraft Inc. Customer Service Information File 2009 retrieved 2010-04-08
Piper Airplane Parts Catalog: PA-31 Navajo, PA-31-300 Navajo, PA-31-325 Navajo C/R; September 10, 2009. Piper Aircraft Corporation, Manual Part Number 753-703
Piper Navajo Information Manual, Revision 9, March 18th 1994. Piper Aircraft Corporation, Manual Part Number 761-723
Piper Navajo Pilot's Operating Manual, Revision 34, April 22nd 2002. Piper Aircraft Corporation, Manual Part Number 761-456
Piper T1020 Parts Catalog, Revision 10, September 10, 2009. Piper Aircraft Corporation, Manual Part Number 761-775
Taylor, John W.R. Jane's All The World's Aircraft 1976-77. London: Jane's Yearbooks, 1976, ISBN 0-354-00538-3.
Taylor, John W.R. Jane's All The World's Aircraft 1982-83. London: Jane's Yearbooks, 1982, ISBN 0 7106-0748-2.

Piper PA-31 Navajo Pictures
More airplane videos.
Source: WikiPedia