Polikarpov I-1 Video - Picture
Polikarpov I-1 Aircraft Information
Polikarpov I-1
Polikarpov I-1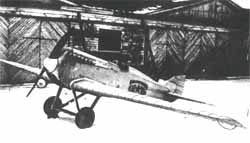 Role: Monoplane fighter
National origin: USSR
Manufacturer: Polikarpov
First flight: 1923
Primary user: Soviet Air Force
Number built: 18

The Polikarpov I-1 (developed from the IL-400 and IL-400b prototypes) was the first home-produced Soviet monoplane fighter.
Development
The I-1 (I = Istrebitel or fighter) was a single-seat cantilever low-wing monoplane fighter of mixed construction, built mainly from wood it had aluminium alloy covering on the tailplane, forward part of the wings and the vertical tail.
First flown in 1923, the initial prototype was known as the IL-400 due to the nose-mounted 198 kW (400 hp) Liberty engine. Following a crash during the first flight it was rebuilt with a redesigned tailplane and wing becoming the IL-400b prototype. After testing of the IL-400b, 33 production aircraft were ordered under the designation I1-M5 (later simplified to I-1), although the production and prototype aircraft differed with minor design changes. The I-1 was prone to unintentional spinning and in June 1927 a pilot saved himself from an out-of-control aircraft to make one of the first recorded parachute escapes in the Soviet Union. The aircraft never entered operational service and only 18 were produced.
Operators
Soviet Union
Soviet Air Force

Specifications
General characteristics
Crew: 1
Wingspan: 10.80 m (35 ft 5¼ in)
Gross weight: 1,510 kg (3,329 lb)
Powerplant: 1 x— Liberty L-12 piston engine, 298 kW (400 hp)

Performance
Maximum speed: 264 km/h (164 mph)

Armament
2 x— synchronised 7.7 mm (0.303 in) PV-1 machine guns.

Taylor, Michael J. H. (1989). Jane's Encyclopedia of Aviation. London: Studio Editions.
The Illustrated Encyclopedia of Aircraft (Part Work 1982-1985). Orbis Publishing.

MI-3
Living Warbirds: The best warbirds DVD series.
Source: WikiPedia