Polikarpov I-15 Video - At airshow
Polikarpov I-15 Video - At Duxford Airshow - Great pictures
Polikarpov I-15 Aircraft Information
Polikarpov I-15
I-15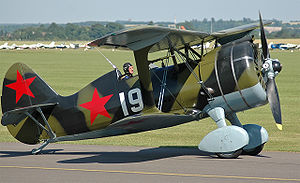 Picture - I-15bis
Role: Fighter
Manufacturer: Polikarpov
First flight: October 1933
Primary user: Soviet Air Force
Number built: 3,313
Developed from: Polikarpov I-5
Variants: Polikarpov I-153

The Polikarpov I-15 (Russian: И-15) was a Soviet biplane fighter aircraft of the 1930s. Nicknamed Chaika (Russian: И-15 Чайка, "Lapwing") because of its gulled upper wings, it was operated in large numbers by the Soviet Air Force, and together with the Polikarpov I-16 monoplane, was one of the standard fighters of the Spanish Republicans during the Spanish Civil War, where it was called Chato (snub-nose) in the Republican Air Force, or "Curtiss" (because its resemblance to Curtiss F9C Sparrowhawk) in the Nationalist Air Force.
Design and development
The design for the 14th fighter for the VVS, the I-14, started as an advanced (for the era) monoplane under the direction of Andrei Tupolev. He grew concerned that the design would not mature, and ordered two backup biplane designs as the I-14A and B just to be safe. Polikarpov had just been released from prison in August 1932, and was handed the I-14A project. When both the I-14 and I-14A were ordered into production, Polikarpov's design, a development of the I-5 fighter became the famous I-15.
The first flight was made in October 1933 with V.P. Chkalov at the controls, powered by an imported Wright R-1820 Cyclone engine. The I-15, also known by its development name TsKB-3, was a small biplane fighter with a gulled upper wing. The single bay wings were of wooden construction, while the fuselage was of mixed steel and duralumin construction, with a fabric covered rear fuselage.
Production started in 1934, initially being powered by the M-22, a licensed built version of the Bristol Jupiter radial engine. While less powerful than the Cyclone, the M-22 powered aircraft were still superior to the I-5 which it replaced, demonstrating excellent manoeuvrability. Production switched to the 515 kW (700 hp) M-25 engine (a license built Cyclone) in late 1936. A total of 671 I-15s were built, 284 in the Soviet Union and a further 287 under license by CASA in Spain.
The gulled upper wing of the I-15 was unpopular with some pilots, as it was felt to restrict visibility, so Polikarpov's design bureau produced a revised version, again powered by the M-25, with a longer span un-gulled upper wing. This version, the I-15bis, commenced production in 1937, a total of 2,408 I-15bis' being delivered by the time production finished in 1940.
Operational history
The I-15 was used in combat extensively by the Republicans in the Spanish Civil War and proved to be one of the best fighter biplanes of its time. The I-15bis also saw a great amount of action in Manchuria and Battle of Khalkhin Gol in the various border clashes between the Russians and the Japanese. In 1937, I-15s in the hands of the Chinese Nationalist Air Force fought against invading Japanese, where the tough biplane began to meet its match in some of the newer, faster Japanese monoplanes. More than 1,000 I-15bis fighters were still in use during the German invasion when the biplane was employed in the ground attack role. By late 1942, all I-15s and I-15bis' were relegated to second line duties.
Variants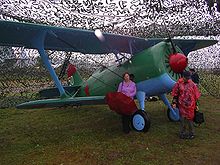 Picture - I-15bis flying replica, Monino, 2004. Note the straight upper wing typical of the I-15bis.
TsKB-3bis Prototype. TsKB-3ter Prototype fitted with the more powerful M-25V radial piston engine. I-15 First production series. I-15bis Single-seat fighter biplane, armed with four 7.62 mm (0.30 in)PV-1 or ShKAS machine guns, plus up to 150 kg (330 lb) of bombs. The I-15bis was powered by the more powerful 570 kW (775 PS) Shvetsov M-25V radial piston engine. It had a straight upper wing. A total of 2,408 machines were built. I-152 Modernised version of I-15bis. One built in 1938. Series production was not undertaken, since it was decided to build I-153 instead. I-152GK (Germetichyeskoi Kabine - hermetic (pressure) cabin) - One aircraft fitted with a pressure cabin. I-152TK (Turbo Kompressor - turbo-charged) - One aircraft fitted with two turbochargers. I-15ter (I-153) Development of the I-15 with retractable landing gear, see Polikarpov I-153. UTI-1 (Oochebno Trenirovochnyy Istrebitel' - fighter trainer) - Factory built two seat trainer version, front cockpit moved forwards, dual controls fitted, 20 built in 1934 but not used by VVS
Operators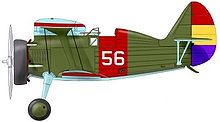 Picture - Spanish Republican Air Force "Chato"
China
Chinese Nationalist Air Force

Finland
Finnish Air Force (captured)

Germany
Luftwaffe (captured)

Mongolia
Mongolian People's Army Air Force- received more than 40 aircraft in July 1939

Soviet Union
Soviet Air Force

Spanish Republic
Spanish Republican Air Force

Specifications (I-15 M-22)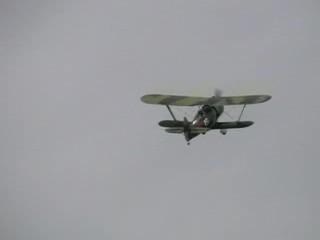 Picture - Polikarpov I-15bis in flight
General characteristics
Crew: 1
Length: 6.10 m (20 ft)
Wingspan: 9.75 m (32 ft)
Height: 2.20 m (7 ft 3 in)
Wing area: 23.55 m² (236 ft²)
Empty weight: 1,012 kg (2,231 lb)
Loaded weight: 1,415 kg (3,120 lb)
Powerplant: 1x— M-22 radial engine, 353 kW (473 hp)

Performance
Maximum speed: 350 km/h (220 mph)
Range: 500 km (310 mi)
Service ceiling: 7,250 m (23,800 ft)
Rate of climb: 7.6 m/s (1,490 ft/min)
Wing loading: 65 kg/m² (13 lb/ft²)
Power/mass: 0.25 kW/kg (0.15 hp/lb)

Armament
4 x— fixed forward-firing 7.62 mm PV-1 machine guns or
2 x— fixed forward-firing 12.7 mm BS machine guns
Up to 100 kg (220 lb) of bombs or
6 x— RS-82 rockets

Related development
Polikarpov I-5
Polikarpov I-16
Polikarpov I-153

Comparable aircraft
Avia B-534
Curtiss F9C Sparrowhawk
Fiat CR.32
Grumman F2F
Gloster Gladiator
Hawker Fury
Heinkel He 51
Ikarus IK 2
PZL P.7

Bibliography
Abanshin, Michael E. and Nina Gut. Fighting Polikarpov, Eagles of the East No. 2. Lynnwood, WA: Aviation International, 1994. ISBN 1-884909-01-9.
Gordon, Yefim and A. Dexter. "Polikarpov Biplane Fighter Variants". Wings of Fame, Volume 17. London:Aerospace Publishing, 1999, pp. 106-129. ISBN 1-86184-041-1.
Gordon, Yefim and Keith Dexter. Polikarpov's Biplane Fighters (Red Star, vol.6). Earl Shilton, Leicester, UK: Midland Publishing, 2002. ISBN 1-85780-141-5.
Gordon, Yefim and Dmitri Khazanov. Soviet Combat Aircraft of the Second World War, Volume One: Single-Engined Fighters. Earl Shilton, Leicester, UK: Midland Publishing Ltd., 1998. ISBN 1-85780-083-4.
Green, William. Warplanes of the Second World War, Volume Three: Fighters. London: Macdonald & Co. (Publishers) Ltd., 1961 (seventh impression 1973). ISBN 0-356-01447-9.
Green, William and Gordon Swanborough. "Of Chaika and Chato... Polikarpov's Fighting Biplanes". Air Enthusiast. Issue 11, November 1979-February 1980. pp. 9-29. ISSN 0143-5450.
Gunston, Bill. The Osprey Encyclopedia of Russian Aircraft 1875-1995. London: Osprey, 1995. ISBN 1-85532-405-9.
Léonard, Herbert. Les avions de chasse Polikarpov (in French). Rennes, France: Editions Ouest-France, 1981. ISBN 2-85882-322-7.
Léonard, Herbert. Les chasseurs Polikarpov (in French). Clichy, France: x‰ditions Larivix¨re, 2004. ISBN 2-914205-07-4.
Maslov, Mikhail A. Polikarpov I-15bis (Wydawnictwo Militaria 199) (in Polish). Warsawa, Poland: Wydawnictwo Militaria, 2004. ISBN 83-7219-178-6.
Stapfer, Hans-Heiri. Polikarpov Fighters in Action, Part 1 (Aircraft in Action number 157). Carrollton, TX: Squadron/Signal Publications, Inc., 1995. ISBN 0-89747-343-4.

Living Warbirds: The best warbirds DVD series.
Source: WikiPedia