PZL-130 Orlik Video - Deblin Air Show
PZL-130 Orlik Video - Polish Air Force Demo Team
PZL-130 Orlik Aircraft Information
PZL-130 Orlik
PZL-130 Orlik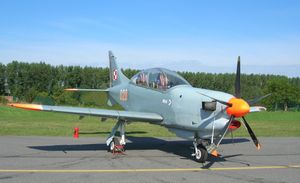 Role: trainer
National origin: Poland
Manufacturer: PZL Warszawa-Okecie
First flight: 24 October 1984
Introduced: 1994
Primary user: Polish Air Force
Number built: 50 + 9 prototypes

The PZL 130 Orlik (Eaglet) is a Polish turboprop, single engine, two seat trainer.
Development and design
The Orlik was designed by PZL Warszawa-Okecie as a trainer for the Polish Air Force, intended as a replacement for its PZL-110 Kolibers. It was also designed to meet the American FAR 23 standard. The project was under the supervision of Andrzej Frydrychewicz, head engineer of PZL Warszawa-Okecie. It was fitted with a low-aspect ratio wing to better simulate the handling characteristics of jet fighters. The aircraft was designed to be powered by a Soviet-designed and built Vedeneyev M14Pm radial engine with the intention of replacing it by a modified Polish built Ivchenko AI-14 engine in production aircraft. The first prototype Orlik flew on 12 October 1984, with a second prototype following in December and a third in January 1985.
While the Polish Air Force planned to power its Orliks with locally produced radial engines, PZL planned a turboprop powered version, the PZL-130T Turbo Orlik for export purposes. The third prototype was therefore re-fitted with a 410 kW (550 shp) Pratt & Whitney PT6A-25P turboprop, flying in this form on 13 July 1986, but was destroyed in a crash in January 1987 while being demonstrated to a representative of the Colombian Air Force. Two further turboprop prototypes followed in 1989 and 1990, powered by a Czech-built 560 kW (750 shp) Walter M-601E and a PT6A-25 as the PZL-130TB and PZL-130TP respectively.
In 1990, development of the piston-engined Orlik was abandoned, as the Polish built radial engines gave insufficient power, with Polish interest switching to the M-601 powered PZL-130TB.
Operational history
Deliveries of PZL-130TBs to the Polish started in 1994, with the aircraft equipping the Military Pilot Academy at Dęblin and the 60th Training Air Regiment at Radom. All of Poland's PZL-130TBs were upgraded to TC-1 standard, with better ejection seats and avionics.
Variants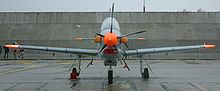 Picture - PZL 130TC-1 #049
PZL-130 Orlik The original aircraft with one Vedeneyev M14Pm piston engine PZL-130T Turbo Orlik Variant with a Pratt & Whitney Canada PT6A-25P turboprop engine PZL-130TM Orlik Variant with a Walter M601E turboprop engine PZL-130TB Orlik Variant with a Walter M601T turboprop engine PZL-130TC I Orlik Variant with added Martin-Baker Mk.11, zero-zero class ejection seats and modernized avionics PZL-130TC II Orlik Variant with Pratt & Whitney Canada PT6A-25C turboprop, added winglets, modernized avionics and changed tutor's seat position PZL-130TC III Orlik Variant with modernized avionics (for example: added Head-Up Display)
Operators
Poland
Polish Air Force

Specifications (PZL-130TC II Orlik)
General characteristics
Crew: 2: student, instructor
Length: 9.30 m ()
Wingspan: 10.00 m ()
Height: 3.53 m ()
Wing area: 14.56 m² ()
Empty weight: 1,825 kg ()
Loaded weight: 2,400 kg ()
Max takeoff weight: 2,950 kg ()
Powerplant: 1x— Pratt & Whitney Canada PT6A-25C turboprop, 750 hp ()

Performance
Maximum speed: 501 km/h
Range: 2,200 km ()

Orlik Aerobatic Team

Comparable aircraft
Atlas ACE
Aérospatiale/Socata TB-30 Epsilon
Beechcraft T-6 Texan II
Beechcraft T-34 Mentor
Embraer EMB 312 Tucano
ENAER T-35 Pillx¡n
Fuji T-3
Fuji T-7
KAI KT-1
Pilatus PC-7
Pilatus PC-9
Short Tucano
Socata TB-31 Omega
TAI Hx¼rkuÅŸ
Utva Lasta

Lambert, Mark. Jane's All The World's Aircraft 1993-94. Coulsdon, UK:Jane's Data Division, 1993. ISBN 0 7106 1066 1.
"Orlik…A Polish Fledgeling". Air International, October 1985, Vol 29 No 4. pp. 167-172. ISSN 0306-5634.
Taylor, John W. R. Jane's All The World's Aircraft 1988-89. Coulsdon, UK:Jane's Defence Data, 1988. ISBN 0 7106-0867-5.
Taylor, Michael J.H. Brassey's World Aircraft & Systems Directory 1999/2000. London: Brassey's, 1999. ISBN 1 85753 245 7.

PZL-130 Orlik Pictures and PZL-130 Orlik for Sale.
Living Warbirds: The best warbirds DVD series.
Source: WikiPedia