PZL I-22 Iryda Video - Takeoff and flyby
PZL I-22 Iryda Video - Great airplane pictures
PZL I-22 Iryda Aircraft Information
PZL I-22 Iryda
PZL I-22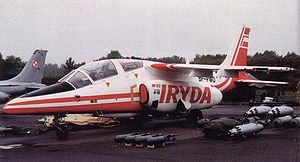 Picture - PZL I-22 M93K
Role: Jet Trainer
Manufacturer: PZL Mielec
First flight: 3 March 1985
Introduction: 22 December 1992
Retired: 1996
Status: Retired
Primary user: Polish Air Force
Number built: 17 including prototypes

PZL I-22 Iryda, PZL M93 Iryda, PZL M96 Iryda, was a twin-engine, two-seat Polish military jet trainer aircraft.
Development
In 1976, a program to develop a new jet trainer for the Polish Air Force started at the Institute of Aeronautics (Polish: Instytut Lotnictwa) to replace the TS-11 Iskra. The Iryda was designed in PZL Mielec (then WSK-Mielec). The first prototype was flown on March 3, 1985. The project was finally canceled in the 1990s due to problems and a lack of funding. Another reason was a crash of the pre-production series aircraft, even though the cause of accident was exceeding of the performance limits during forced flutter tests.
Operators
Poland Polish Air Force. 8 aircraft (1992-1996)
Specifications (M93K)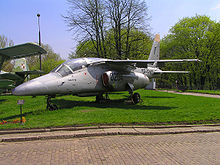 Picture - PZL I-22 Iryda
Data from Instytut Lotnictwa
General characteristics
Crew: 2: student, instructor
Length: 13.22 m (43.36 ft)
Wingspan: 9.60 m (31.49 ft)
Height: 4.30 m (14.10 ft)
Wing area: 19.92 m² (214.31 ft²)
Empty weight: 4,600 kg (10,143 lb)
Loaded weight: 6,650 kg (14,663 lb)
Useful load: 1,800 kg (3,969 lb)
Max takeoff weight: 7,500 kg (16537.5 lb)
Powerplant: 2x— PZL K-15 turbojet, 14.7 kN (3307.5 lbf) each

Performance
Maximum speed: .82 Mach (584 mph) 940 km/h at altitude 5,000 m (16,400 ft)
Range: 1,200 km (746 miles)
Service ceiling: 13,700 m (44,936 feet)
Rate of climb: 41 m/s (134.5 ft/s)
Thrust/weight: 0.4

Comparable aircraft
Dassault-Breguet/Dornier Alpha Jet
Aero L-39 Albatros
BAE Hawk
Soko G-4 Super Galeb

PZL I-22 Iryda Pictures and PZL I-22 Iryda for Sale.
Living Warbirds: The best warbirds DVD series.
Source: WikiPedia