PZL P.1 Aircraft Information
PZL P.1
PZL P.1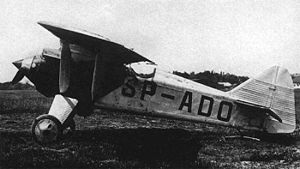 Picture - PZL P.1, second prototype
Role: Fighter
Manufacturer: PZL
First flight: August 1929
Status: Prototype
Primary user: Polish Air Force
Number built: 2

The PZL P.1 was a Polish fighter, designed by the engineer Zygmunt Puławski, manufactured by the PZL state-owned factory. It remained a prototype, but it was the first of the Polish PZL gull wing fighter series, leading to the PZL P.7, PZL P.11 and PZL P.24.
Design and development
Among the first tasks of newly created in 1928 PZL aircraft works was to design a modern fighter for the Polish Air Force. As a result, a construction team led by the talented young designer Zygmunt Puławski designed an all-metal, metal-covered monoplane fighter, designated PZL P.1. Puławski's invention was a high gull wing, to give a pilot an optimal view, without an upper wing before his eyes, like in classic parasol monoplanes and biplanes of that time. The wing, supported with struts, could be thin in its root part, at joint with a fuselage. Other new idea was a scissors-like fixed undercarriage, with shock absorbers hidden in the fuselage. The P.1 was powered with a 630 hp Hispano-Suiza inline engine.
The first prototype was flown in August 1929 by Bolesław Orliński. In the first flight, the wing leading edge distorted, but Orliński saved the aircraft and possibly the whole program. In late 1929, after static trials, the prototype was modified and strengthened. In March 1930, the second prototype was flown (P.1/II). It introduced, among other changes, a revised shape of rudder, similar to Pulawski's next fighters.
The construction of P.1 was met with interest around the world. The second prototype took part in a fighter contest in Bucharest in June 1930, where it proved a modern design. It took overall the 4th place out of 7 competitors, but it won in 8 out of 15 trials.
The P.1 remained a prototype, because it was decided that a fighter for the Polish Air Force should be powered with a radial engine, produced under licence in Poland. As a result of this decision, the next fighter designs were produced, based upon the P.1, starting with the PZL P.6. This decision has been criticized by some modern authors, as radial engines produced more drag, without advantage of more power, and reduced visibility from the cockpit. It was planned in 1929-1930 to build an improved P.1, with the designation PZL P.2, but this was abandoned after building the fuselage. Puławski himself hoped for a second chance to build fighters powered with inline engines, and developed the PZL P.8 in such a layout in 1931.
Technical description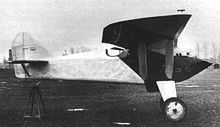 Picture - First prototype after modification
The PZL P.1 was an all-metal braced high-wing monoplane, duralumin-covered. The fuselage was made of a duralumin frame, rectangular in cross-section. Two-spar wing of trapezoid shape, thinner by the fuselage, covered with a rimmed Wibault type duralumin sheet, supported with two struts on either side. Pilot's cockpit was open, with a windshield. Two fuel tanks in wings (400 l). A fixed undercarriage with a rear skid. Inline engine in front, with a water radiator under the fuselage, two-blade propeller.
Operators
Poland
Polish Air Force

Specifications (P.1/II)
General characteristics
Crew: 1
Length: 6.98 m (22 ft 10ż in)
Wingspan: 10.85 m (35 ft 7 in)
Height: 2.96 m (9 ft 8Żin)
Wing area: 19.5 m▓ (210 ft▓)
Empty weight: 1,118 kg (2,460 lb)
Loaded weight: 1,580 kg (3,476 lb)
Useful load: 462 kg (1,016 lb)
Powerplant: 1xŚ Hispano-Suiza 12 Lb V12 engine, water-cooled, 470 kW (630 hp)

Performance
Maximum speed: 302 km/h (163 knots, 188 mph)
Cruise speed: 250 km/h (135 knots, 155 mph)
Stall speed: 102 km/h (55 knots, 63 mph)
Range: 600 km (324 nm, 373 mi)
Service ceiling: 8,000 m (26,200 ft)
Rate of climb: 6 m/s (1,200ft/m)
Wing loading: 81 kg/m▓ (16.2)

Armament
2 x 7.7 mm Vickers E machine guns in a fuselage (planned)

Bibliography
Cynk, Jerzy B. History of the Polish Air Force 1918-1968. Reading, Berkshire, UK: Osprey Publishing Ltd., 1972. ISBN 0-85045-039-X.
Cynk, Jerzy B. Polish Aircraft, 1893-1939. London: Putnam & Company Ltd., 1971. ISBN 0-370-00085-4.
Eberspacher, Warren A. and Jan P. Koniarek. PZL Fighters Part One - P.1 through P.8. (International Squadron Monograph 2). St. Paul, MN: Phalanx Publishing Co., Ltd., 1995. ISBN 1-883809-12-6.
Glass, Andrzej. Polskie konstrukcje lotnicze 1893-1939 (in Polish: "Polish Aviation Constructions 1893-1939"). Warszawa, Poland: WKiŁ, 1977. No ISBN (main source).

PZL P.1 Pictures and PZL P.1 for Sale.
Living Warbirds: The best warbirds DVD series.
Source: WikiPedia