Republic XF-84H Video - Overview - Strange Planes
Republic XF-84H Video - National Museum of the United States Air Force
Republic XF-84H Aircraft Information
Republic XF-84H
XF-84H "Thunderscreech"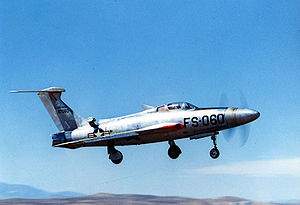 Picture - XF-84H 51-17060 in flight
Role: Experimental fighter
Manufacturer: Republic Aviation
First flight: 22 July 1955
Primaryuser: United States Air Force
Number built: 2 prototypes
Developed from: F-84F Thunderstreak

The Republic XF-84H "Thunderscreech" was an experimental American-built turboprop aircraft based on the F-84F Thunderstreak. Powered by a turbine engine that was mated to a supersonic propeller, the XF-84H had the potential of setting the unofficial air speed record for propeller-driven aircraft, but was unable to overcome teething aerodynamic deficiencies, resulting in the cancellation of the program.
Design and development
Although the USAF Wright Air Development Center was the key sponsor of the Republic Project 3347 turboprop fighter, the initial inception came from a U.S. Navy requirement for a carrier fighter not requiring catapult assistance. Originally designated XF-106, the project and its resultant prototype aircraft were renamed XF-84H, closely identifying the program as an F-84 variant, rather than an entirely new type. With a projected contract for three prototypes, when the US Navy cancelled its order, ultimately, the remaining XF-84H prototypes became pure research aircraft built for the Air Force's Propeller Laboratory at Wright-Patterson Air Force Base to test supersonic propellers in exploring the combination of propeller responsiveness at jet speeds.
The XF-84H was created by modifying a F-84F airframe, installing an Allison XT40-A-1 turboprop engine, capable of 5,850hp (4,362kW) in an admidship housing behind the cockpit with a long extension shaft to the nose-mounted propeller. The turbine engine also provided thrust through its exhaust; in addition, its afterburner which could increase power to 7,230hp (5,391kW), was installed but never used. Thrust was adjusted by changing the blade pitch of the 12ft diameter Aeroproducts propeller, consisting of three steel, square-tipped blades turning at a constant 3,000rpm, with the tips traveling at approximately Mach1.18. To counter the propeller's torque and "P-factor" (the asymmetric blade and disc effect), the XF-84H was fitted with a fixed dorsal yaw vane. The tail was changed to a T-tail to avoid turbulent airflow flow over the horizontal stabilizer/elevator surfaces from propeller wash.
The XF-84H was destabilized by the powerful torque from the propeller, as well as inherent problems with supersonic propeller blades. A number of "exotic" blade configurations were tested before settling on a final design. Various design features were intended to counteract the massive torque including mounting the left leading edge intake 12inches further forward, and providing left and right flaps with differential operation. The two prototypes were equally plagued with engine-related problems that had affected other aircraft of the time with similar Allison T40 engines such as the Douglas XA2D Skyshark and the North American A2J Super Savage attack aircraft. A notable feature of the design was that the XF-84H was the first aircraft to carry a retractable/extendable ram air turbine. In the event of engine failure, it would automatically swing out into the airstream to provide hydraulic and electrical power. Due to frequent engine problems, as a precaution, the unit was often deployed in flight.
Testing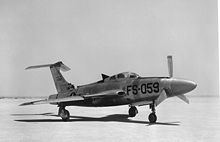 Picture - Prototype 51-17059
After manufacture at Republic's Farmingdale, Long Island, plant, the two XF-84Hs were disassembled and shipped via rail to Edwards Air Force Base for flight testing. The prototypes flew a total of 12 test flights from Edwards, accumulating only 6 hrs, 40 min flight time. Lin Hendrix, one of the Republic test pilots assigned to the program, flew the aircraft once and refused to ever fly it again, claiming "it never flew over 450knots indicated, since at that speed, it developed an unhappy practice of 'snaking', apparently losing longitudinal stability." The other test flights were fraught with engine failures, and persistent hydraulic, nose gear and vibration problems. Test pilot Hank Beaird took the XF-84H up 11 times, with 10 of these flights ending in forced landings.
Noise
The XF-84H was quite possibly the loudest aircraft ever built, earning the nickname "Thunderscreech" as well as the "Mighty Ear Banger". On the ground "run ups", the prototypes could reportedly be heard 25 miles (40km) away. Unlike standard propellers that turn at subsonic speeds, the outer 24-30inches of the blades on the XF-84H's propeller traveled faster than the speed of sound even at idle thrust, producing a continuous visible sonic boom that radiated laterally from the propellers for hundreds of yards. The shock wave was actually powerful enough to knock a man down; an unfortunate crew chief who was inside a nearby C-47 was severely incapacitated during a 30-minute ground run. Coupled with the already considerable noise from the subsonic aspect of the propeller and the dual jet turbines, the aircraft was notorious for inducing severe nausea and headaches among ground crews. In one report, a Republic engineer suffered a seizure after close range exposure to the shock waves emanating from a powered-up XF-84H.
The pervasive noise also severely disrupted operations in the Edwards AFB control tower by risking vibration damage to sensitive components and forcing air traffic personnel to communicate with the XF-84H's crew on the flight line by light signals. After numerous complaints, the Air Force Flight Test Center directed Republic to tow the aircraft out on Rogers Dry Lake, far from the flight line, before running up its engine. The test program did not proceed further than the manufacturer's Phase I proving flights, consequently no USAF test pilots flew the XF-84H. With the likelihood that the engine and equipment failures coupled with the inability to reach design speeds and subsequent instability experienced were insurmountable problems, the USAF cancelled the program in September 1956.
Historical significance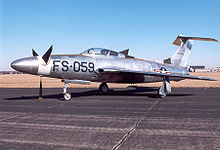 Picture - Prototype 51-17059
Although The Guinness Book of Records recorded the XF-84H as the fastest propeller-driven aircraft ever built, with a design top speed of 670mph (Mach0.9) and 623mph (Mach0.83) during tests, this claim has been disputed. The unofficial record speed is also inconsistent with data from the National Museum of the United States Air Force, which gives a top speed of 520mph (Mach0.70), nonetheless, making the XF-84H the fastest single-engine propeller-driven aircraft until 1989 when a highly modified F8F Bearcat reached 528mph (Mach0.71).
Operators
United States
United States Air Force

Survivors
Two prototypes were built (51-17059 and 51-17060), with buzz number FS-059 and FS-060.
FS-059 was retired and spent many years mounted on a pole outside Meadows Field Airport, Bakersfield, California, where its propeller turned by the use of an electric motor. In 1992, the gate guardian was taken to the 178th Fighter Wing of the Ohio Air National Guard, whose volunteers spent over 3,000 hours returning the Thunderscreech to display condition. It is now on display in the National Museum of the United States Air Force at Wright-Patterson Air Force Base, near Dayton, Ohio.
FS-060 made only four flights, and is assumed to have been scrapped when the project was cancelled in 1956. Its T40 engine was reportedly used to support the Douglas A2D Skyshark flight test program.
Specifications
General characteristics
Crew: 1
Length: 51 ft 5 in (15.67 m)
Wingspan: 33 ft 5 in (10.18 m)
Height: 15 ft 4 in (4.67 m)
Wing area: 30.75 m ()
Empty weight: 17,892 lb (8,132 kg)
Loaded weight: 27,046 lb (12,293 kg)
Powerplant: 1x— Allison XT40-A-1 turboprop, 5,850 hp (4,365 kw)

Performance
Maximum speed: 520 mph (837 km/h)
Range: ;2,000 mi (3,200 km)
Service ceiling: ;40,000 ft (14,600 m)
Rate of climb: 5,000 ft/min (1,520 m/min)
Thrust/weight: 0.66

Tupolev Tu-95 Bear
Aircraft noise

Related development
Republic F-84 Thunderjet
Republic F-84F Thunderstreak
Republic XF-91 Thunderceptor

Comparable aircraft
Consolidated Vultee XP-81
Douglas A2D Skyshark
McDonnell XF-88B
Ryan XF2R Dark Shark

Bibliography
Andrade, John M. U.S. Military Aircraft Designations and Serials Since 1909. Earl Shilton, Leicester, UK: Midland Counties Publications, 1979. ISBN 0-904597-22-9.
Bowers, Peter M. and Enzo Angellucci. The American Fighter. New York: Orion Books, 1987. ISBN 0-517-56588-9.
Bridgman, Leonard, ed. Jane's All The World's Aircraft 1956-1957. New York: McGraw-Hill Book Company, 1956.
Davis, Larry and Dave Menard. F-84 Thunderjet in Action (#61). Carrollton, TX: Squadron/Signal Publications, 1983. ISBN 0-89747-147-4.
Hendrix, Lin. "Thunderscreech." Aeroplane Monthly, Vol. 5, no. 8, August 1977.
Jenkins, Dennis R. and Tony R. Landis. Experimental and Prototype U.S. Air Force Jet Fighters. North Branch, MN: Specialty Press, 2008. ISBN 978-1-58007-111-6.
Keaveney, Kevin. Republic F-84 (Swept-Wing Variants). Arlington, Texas: Aerofax Inc., 1987. ISBN 0-942548-20-5.
Wilkinson, Stephan. "ZWRRWWWBRZR: That's the sound of the prop-driven XF-84H, and it brought grown men to their knees. It didn't fly all that great either. (How Things Work)". Air & Space Magazine, 1 July 2003, pp.1-5.
Winchester, Jim. The World's Worst Aircraft: From Pioneering Failures to Multimillion Dollar Disasters. London: Amber Books Ltd., 2005. ISBN 1-904687-34-2.
Young, Mark C., ed.The Guinness Book of Records 1997. North Salem, New York: Mint Publishers Group, 1997. ISBN 0-85112-014-8.

Living Warbirds: The best warbirds DVD series.
Source: WikiPedia