Richard Pearse Information
Richard Pearse
Richard William Pearse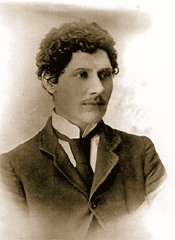 Born: 3 December 1877(1877-12-03) Temuka, New Zealand
Died: 29 July 1953(1953-07-29) (aged 75) Christchurch, New Zealand
Occupation: Aviator
Known for: Pioneering flights in heavier-than-air aircraft

Richard William Pearse (3 December 1877 - 29 July 1953), son of Cornish immigrants from St Columb near Newquay, a New Zealand farmer and inventor who performed pioneering experiments in aviation.
According to witness statements given many years afterward, Pearse flew and landed a powered heavier-than-air machine on 31 March 1903, some nine months before the Wright brothers flew their aircraft. The documentary evidence to support such a claim remains open to interpretation, and Pearse did not develop his aircraft to the same degree as the Wright brothers, who achieved sustained controlled flight. Pearse himself was not a publicity-seeker and also occasionally made contradictory statements which for many years led some of the few who knew of his feats to offer 1904 as the date of his first flight. The lack of any chance of industrial development, such as spurred the Wrights to develop their machine, seems to have suppressed any recognition of Pearse's achievements.
Early engineering work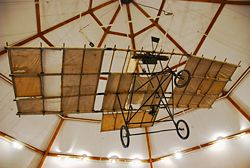 Picture - A replica of Pearse's monoplane
In 1902 Pearse built and patented a bicycle with vertical crank gears and self-inflating tyres. He then designed and built a two-cylinder "oil engine" which he mounted on a tricycle undercarriage surmounted by a linen-covered bamboo wing structure and rudimentary controls. Although it lacked an aerofoil section wing, his flying machine resembled modern aircraft design much more than did the Wright brothers' machine: monoplane rather than biplane; tractor rather than pusher propeller; stabiliser and elevators at the back rather than the front; and ailerons rather than wing-warping for controlling banking. It bore a remarkable resemblance to modern microlight aircraft.
Flights
Pearse made several attempts to fly in 1901, but due to insufficient engine power he achieved no more than brief hops. The following year he redesigned his engine to incorporate double-ended cylinders with two pistons each. Researchers recovered components of his engine (including cylinders made from cast-iron drainpipes) from rubbish dumps in 1963. Replicas of the 1903 engine suggest that it could produce about 15 horsepower (11 kW).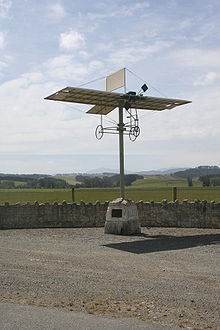 Picture - Richard William Pearse Monument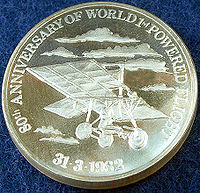 Picture - A silver medal struck by the New Zealand Mint for the New Zealand Museum of Transport and Technology in 1982 to commemorate the "80th Anniversary Of World 1st Powered Flight" by Pearse. MOTAT's website gives 1903 as the year of his first flight, not 1902 as indicated on the medal.[3]
Verifiable eyewitnesses describe Pearse crashing into a hedge on two separate occasions during 1903. His monoplane must have risen to a height of at least three metres on each occasion. Good evidence exists that on 31 March 1903 Pearse achieved a powered, though poorly controlled, flight of several hundred metres. Pearse himself said that he had made a powered takeoff, "but at too low a speed for [his] controls to work". However, he remained airborne until he crashed into the hedge at the end of the field.
With a 15 horsepower (11 kW) engine, Pearse's design had an adequate power-to-weight ratio to become airborne (even without an aerofoil). He continued to develop the ability to achieve fully controlled flight. Pearse incorporated effectively located (albeit possibly rather small) "ailerons". The design's low centre-of-gravity provided pendulum stability. However, diagrams and eye-witness recollections agree that Pearse placed controls for pitch and yaw at the trailing edge of the low-aspect ratio kite-type permanently stalled wing. This control placement (located in turbulent air-flow, and close to the centre of gravity) would have had minimal, possibly inadequate, turning moment to control the pitch or yaw of the aircraft. The principles of his design, however, accord precisely with modern thinking on the subject. The Wright brothers, in comparison, successfully applied the principles of airfoil wing-profile and three-axis control to produce fully controlled flight, although their design, using wing-warping and forward mounted stabilizer, soon became obsolete.
Pearse's work remained poorly documented at the time. No contemporary newspaper record exists. Some photographic records survived, but undated, with some images difficult to interpret. Pearse himself made contradictory statements which for many years led the few who knew of his feats to accept 1904 as the date of flying. Unconcerned about posterity and in remote New Zealand, he received no public credit for his work during his lifetime. The Wrights had considerable difficulty in getting their accomplishment recognised, despite better documentation and witnesses; a "Fliers or Liars?" debate continued for quite some time after Kitty Hawk, and it took highly public demonstrations before the Wright brothers gained wide recognition. Although Pearse patented his design, his innovations - such as ailerons and the lightweight air-cooled engine - did not succeed in influencing others.
List of witnessed flights
31 March 1903 - First powered flight. Estimated distance around 350 yards in a straight line, barely controlled.
March ? 1903 - A distance of only about 150 yards.
2 May 1903 - Distance unknown: the aircraft ended up in a gorse hedge 15 ft (4.6 m) off the ground.
11 May 1903 - Pearse took off along the side of the Opihi River, turned left to fly over the 30' tall river-bank, then turned right to fly parallel to the middle of the river. After flying nearly 1,000 yards, his engine began to overheat and lost power, thus forcing a landing in the almost dry riverbed.

Later activities
Pearse moved to Milton in Otago in about 1911 and discontinued his flying experiments due to the hillier country there. Much of his experimental equipment got dumped in a farm rubbish-pit. However, he continued experimenting and produced a number of inventions. He subsequently moved to Christchurch in the 1920s, where he built three houses and lived off the rentals.
Throughout the 1930s and 1940s, Pearse continued to work on constructing a tilt-rotor flying-machine for personal use - sometimes described as a cross between a windmill and a rubbish-cart. His design resembled an autogyro or helicopter, but involved a tilting propeller/rotor and monoplane wings, which, along with the tail, could fold to allow storage in a conventional garage. Pearse intended the vehicle for driving on the road (like a car) as well for flying. However he became reclusive and paranoid that foreign spies would discover his work. Committed to Sunnyside Mental Hospital in Christchurch in 1951, Pearse died there two years later. Researchers believe that many of his papers were destroyed at that time.
Claims
On his death, the Public Trustee administered Pearse's estate. Fortunately for posterity, the trust officer given the task of disposing of his personal effects recognised the significance of his aeronautical achievements and brought them to wider attention. As a result, aviation pioneer George Bolt saw Pearse's last flying machine. In 1958, Bolt excavated the South Canterbury dump site and discovered some components, including a propeller. His research in the 1960s (among eyewitnesses, most of them schoolchildren at the time of Pearse's early achievements) produced strong evidence for flight in 1903: people who had left the district by 1904 remembered the events, and recalled a particularly harsh winter with heavy snow.
During filming of a television documentary in the 1970s, crew attached a replica of Pearse's 1902 machine by a rope to a team of horses. When the horses bolted, the machine took to the air and flew, indicating that the design could fly. Unfortunately, this did not get filmed, as the crew had packed away their cameras at the end of the day's shooting. Fate seems to have conspired against any of Pearse's machines achieving recognition.
Picture - A replica aeroplane on display at the South Canterbury Museum in Timaru
In the mid 1980s, a MOTAT staff-member expressed the opinion that Pearse himself, having seen that "history had already been written" stated in his later years that though he had in fact flown in March, 1903, he had said "1904" because the Wright brothers at Kittyhawk had become part of history, and that therefore Pearse declined to appear to posterity as a disputatious claimant to the first controlled powered flight. Certainly the opinion expressed makes sense, though the aircraft itself, admittedly "short-coupled" in terms of control, appears to have had the ability of controlled flight. Adding some confusion to the issue, the tilt-propeller aircraft Pearse later worked on bears a very close resemblance to the original aircraft, and the remains at MOTAT, though presented as parts of a single machine, may very well come from three separate machines:
Despite close examination, a definitive determination may have become impossible.
The South Canterbury Museum in Timaru includes display material relating to Pearse and to his contribution to early aviation.
Legacy
At the dawn of the 20th century, a number of enthusiasts in several countries advanced towards powered heavier-than-air flight - a fact easily overlooked in the wake of the first practical controlled flights by the Wright brothers, who gained international fame during their public flight demonstrations of 1908. Pearse, as one of several pre-Wright designers, advanced some distance towards controlled flight. However, unlike many of these other pre-Wright aeronauts, Pearse had little influence on his successors, because details of his ideas and experiments went unpublished.
Pearse's designs and achievements remained virtually unknown beyond the few who witnessed them, and they had no impact on his contemporary aviation designers. However, his concepts had much in common with modern aircraft design, and others later implemented these concepts without knowing of Pearse's efforts. As a result some have described Pearse as a man ahead of his time. (So far ahead of his time, in fact, that the second New Zealand flight did not occur until 5 February 1910 when Vivian Walsh flew an aircraft he had built himself.)
Many New Zealanders have made up their minds that Temuka was the site of the world's first powered flight. Wanaka has a line of tiles mounted on the sidewalk by the lake listing important world and New Zealand historic events. The 1903 tile says that the first powered flight in history occurred in Timaru (with some emphasis), and at the bottom of the tile for 1903 the Wright Brothers were listed as having also flown that year.
Much controversy persists around the many competing claims of early aviators. See first flying machine for more discussion.
Popular culture
Film and the stage have commemorated Dick Pearse's remarkable achievements over the years. Three plays centred on Pearse: The Pain and the Passion, by Sherry Ede, Too High the Sun by Stephen Bain and France Hervé, and Pearse, by John Leask, which was performed during the Dick Pearse Century of Flight 1903-2003 celebrations in Timaru. In the 1970s, New Zealand's TV One produced a television movie about Pearse and his first flight. The film focused on Pearse's reclusive manner and his small town's perception of his eccentric activities.
Forgotten Silver, a 1995 mockumentary by filmmakers Costa Botes and Peter Jackson, purports to uncover a long-lost segment of motion picture film, which with digital enhancement of a newspaper seen in one shot, "proves" that Pearse successfully flew in March 1903, predating the Wrights' achievement by several months.
In 2006, New Zealand composer Ross Devereux made Pearse the subject of a two-act rock opera, entitled The Planemaker - A Richard Pearse Story.
A memorial to Pearse's attempts at powered flight stands near Pleasant Point in South Canterbury.
The Museum of Transport and Technology (MOTAT) in Auckland displays a replica of Pearse's aircraft. For the centenary of Pearse's alleged flight, a replica motor was also made. The two, combined successfully, became airborne, albeit very briefly. Visitors to the museum can also see Pearse's last flying machine and the scant remains of his first aircraft.
List of firsts in aviation

Bibliography
Ogilvie, Gordon. The Riddle of Richard Pearse. Auckland, New Zealand: Reed Publishing, Revised edition, 1994. ISBN 0-589-00794-7.
Rodliffe, C. Geoffrey. Flight over Waitohi. Auckland, New Zealand: Acme Printing Works, 1997. ISBN 0-473-05048-X.
Rodliffe, C. Geoffrey. Richard Pearse: Pioneer Aviator. Auckland, New Zealand: Museum of Transport and Technology. Inc., 1983. ISBN 0-473-09686-2.

More airplanes.
Source: WikiPedia