Rockwell Commander 112 Video - 112C - In the cockpit
Rockwell Commander 112 Video - Austrian Flight Club
Rockwell Commander 112 Aircraft Information
Rockwell Commander 112
Commander 112/114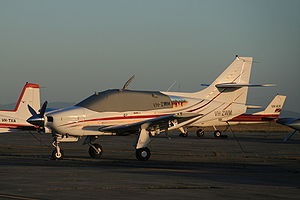 Picture - Commander 114
Role: Four-seat cabin monoplane
National origin: United States
Manufacturer: Rockwell
First flight: 1970
Introduced: 1972

The Rockwell Commander 112 is an American four-seat cabin single piston-engine monoplane designed and built by North American Rockwell (later Rockwell International) in the 1970s. A developed version was also built by Commander Aircraft in the 1990s and early 2000s, and as of late 2008 the type is due to go into production again in the near future.
Development
In 1970 Rockwell designed and built two versions of a four-seat cabin low-wing monoplane; the fixed tricycle landing gear Commander 111 and the retractable tricycle landing gear Commander 112. Only two prototype Commander 111s were built; the company decided that only the Commander 112 would go into production. A prototype Commander 112 crashed after the tail failed during testing, which led to a redesign of the tail unit; this delayed the delivery of the first production aircraft until late in 1972.
The 112 prototypes were powered by a 180hp (134kW) Lycoming O-360 engine; this was replaced by a 200hp (149kW) IO-360 engine in production aircraft. After 123 production aircraft had been built a number of improvements were made to the 112 in 1974, including an internally-redesigned wing with increased fuel capacity and a 100lb increase in maximum take off weight (MTOW) to 2,650lbs; 112s built to this standard were marketed as Commander 112As. After another 30 112s were built, Rockwell offered purchasers of 112s the option of having their aircraft built with the increased 68 US gallon fuel capacity or with a reduced fuel capacity of 48 US gallons.
Rockwell introduced a new model of the 112, the Commander 112TC with a turbocharged engine of 210hp and another increase in MTOW (to 2,850lbs), in 1976. Also introduced that year was the Commander 114 with a more powerful six-cylinder Lycoming IO-540 engine of 260hp. The 112, 112TC and 114 were all subsequently upgraded, to the 112B, 112TCA and 114A respectively. The final year of production was 1979, by which time the marketing name Alpine Commander was used for the 112TCA and Grand Turismo Commander for the 114A.
Following the end of production Rockwell sold the design rights to Gulfstream American in 1981 along with other designs in the Rockwell stable, but Gulfstream did not re-start production as it was only interested in the Turbo Commander. In 1988 Gulfstream sold the rights to Randall Greene, who set up Commander Aircraft to provide support for existing aircraft and build new aircraft. The new aircraft were designated Commander 114Bs, with deliveries commencing in 1992. Production ceased again in 2002 after about 200 114Bs and turbocharged 114TCs had been built, and Commander Aircraft was subsequently liquidated. In 2005 the Commander Premier Aircraft Corporation was formed by over 50 owners of Commanders, in order to provide spare parts support for their aircraft. Commander Premier purchased the assets of Commander Aircraft from the bankruptcy trustee in mid-2005 and moved all production equipment from Oklahoma City to a new facility in Cape Girardeau, Missouri. Commander Premier plans to build a new model in three variants; the Commander 115, the 115TC and the 115AT.
Variants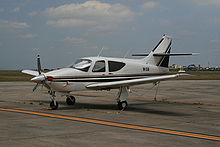 Picture - A late-build Commander 112A, sharing many similarities with the 114
111 Fixed landing gear variant powered by a 180hp Lycoming O-360 engine, two prototypes built.
112
Production variant with retractable landing gear and powered by a 200hp Lycoming IO-360, 125 built.
112A
Marketing name for a strengthened variant of the 112 to meet the FAR23 Amendement 7 requirements with increased maximum take off weight, 364 built.
112B
112A with an increased maximum take off weight, increased wingspan, new propeller and larger wheels, 46 built.
112TC
112A with turbocharged Lycoming TO-360-C1A6D engine, 108 built.
112TCA
112TC with increased load and higher take off weight and other improvements similar to 112B, later named Alpine Commander, 160 built.
114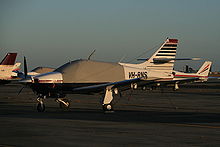 Picture - A late-model Commander 114; with a different-shaped engine cowling and fresh-air inlet in the leading edge of the tail fin (seen in this photo with a red plug to prevent birds entering) compared to early-model aircraft
112 with a 260hp Lycoming IO-540-T4A5D engine, 460 built.
114A
114 updated similar to 112B, later named Grand Turismo, 41 built.
114B
Variant of 114A built by Commander Aircraft with new propeller, revised engine cowling and a Lycoming IO-540-T45BD engine.
114TC
Variant of 114B with turbocharged Lycoming TIO-540-AGIA engine.
Specifications (114A Grand Turismo)
Data from
General characteristics
Crew: 1
Capacity: 3 passengers
Length: 25 ft 0½ in (7.63 m)
Wingspan: 35 ft 7¼ in (10.85 m)
Height: 8 ft 5 in (2.57 m)
Wing area: 163.80 ft² (15.22 m²)
Empty weight: 2070 lb (939 kg)
Gross weight: 3260 lb (1479 kg)
Powerplant: 1 x— Lycoming IO-540-T4B5D, 260 hp (194 kW)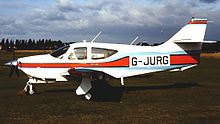 Picture - A 1979-built 114A
Performance
Maximum speed: 191 mph (307 km/h)
Range: 813 miles (1308 km)
Service ceiling: 16,500 ft (5030 m)

2002 Pirelli Tower plane crash

Taylor, Michael J. H. (1989). Jane's Encyclopedia of Aviation. London: Studio Editions.
The Illustrated Encyclopedia of Aircraft (Part Work 1982-1985). Orbis Publishing.

Rockwell Commander 112 Pictures and Rockwell Commander 112 for Sale.
Living Warbirds: The best warbirds DVD series.
Source: WikiPedia