Roe IV Triplane Video - Replica - Judy Leden, senior instructor at Airways Airsports Flying
Roe IV Triplane Aircraft Information
Roe IV Triplane
IV Triplane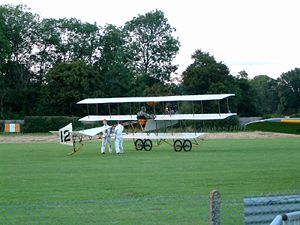 Picture - The Shuttleworth Collection's replica Roe IV Triplane
Role: Experimental aircraft
Manufacturer: Avro
Designed by: Alliott Verdon Roe
First flight: September 1910
Retired: August 1911
Number built: 1

The Roe IV Triplane was an early British aircraft. It was an all-new design by Alliott Verdon Roe for A.V. Roe and Company and reflected the basic aircraft configuration that was to become the convention. With this design, Roe returned to wing warping as a means of control.
The single example built was used for a while as a trainer at the Avro Flying School at Brooklands, Surrey.
A full-scale flying replica was built for the 1960s film Those Magnificent Men in Their Flying Machines and was afterwards donated to the Shuttleworth Collection, where it remains as of 2010.
Specifications
General characteristics
Crew: 1
Length: 30 ft (9 m)
Wingspan: 32 ft (10 m)
Height: 9 ft (3 m)
Wing area: 294 ft² (27.3 m²)
Loaded weight: 650 lb (295 kg)

Performance
Maximum speed: 25 mph

Taylor, Michael J. H. (1989). Jane's Encyclopedia of Aviation. London: Studio Editions. pp. 91.
World Aircraft Information Files. London: Bright Star Publishing. pp. File 889 Sheet 92.

Roe IV Triplane Pictures and Roe IV Triplane for Sale.
Living Warbirds: The best warbirds DVD series.
Source: WikiPedia