Rogozarski IK-3 Video - Picture
Rogozarski IK-3 Warbird Information
Rogozarski IK-3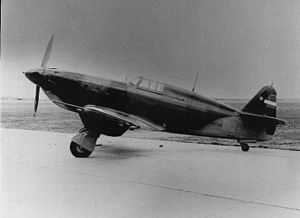 Aircraft Picture - RogoÅžarski IK-3
Role: Fighter
Manufacturer: Ikarus A.D. (parts), RogoÅžarski A.D (final assembly)
Designer: Kosta Sivcev, Ljubomir Ilic, Slobodan Zrnić
First flight: 1938
Introduction: 1940
Primary user: Royal Yugoslav Air Force
Number built: 12

The RogoÅžarski IK-3 was a 1930s Yugoslav low-wing monoplane single seat interceptor fighter with retractable landing gear, and was designed by Ljubomir Ilić and Kosta Sivčev as a successor to their IK-1/IK-2 fighter.
Project Design
Under strict secrecy, Ing. Zrnić's team initiated the design of a monoplane fighter in 1936 that would be a marked improvement over the biplane fighters then in use. Wind tunnel testing was carried out in France before being submitted to the Yugoslav Air Ministry, who approved construction of a single prototype. Construction of the IK-3 was assigned to RogoÅžarski A. D. in Belgrade.
Prototype
The IK-3 prototype first flew in the spring of 1938 powered by a Hispano-Suiza 12Y-29 liquid-cooled supercharged V12, rated at 890 hp (664 kW) for take-off and at 920 hp (686 kW) at 11,810 feet (3600 m) altitude and was was armed with one 20 mm Hispano-Suiza HS-404 cannon and two 7.92 mm FN-Browning machine guns mounted over the engine. It was of mixed steel tube, wood, and fabric construction with a Messier retractable landing gear.
Six test pilots flew the prototype in a test program that saw alterations made to the landing gear and the engine installation. During the test program on January 19, 1939 the test pilot Captain Milan Pokorni entered a terminal velocity dive from which he did not recover after a series of aerobatic maneuvers. The accident investigation did not find an aircraft-related fault for the accident, and the Yugoslav Air Ministry ordered an initial production lot of twelve aircraft.
IK-3 Production
Several changes were added to the production version of the IK-3:
More structural members were added to the rearward-sliding canopy enclosure;
Bulletproof glass was incorporated into the windshield;
Use of a Czech-built version of the same engine used in the prototype, the Avia H.S. 12Ycrs.

The first IK-3s were delivered in the summer of 1940 to an experimental fighter squadron whose pilots preferred it over the Messerschmitt Bf 109E-3 and the Hawker Hurricane, as the IK-3 was more maneuverable. Additionally, the aircraft was found to be easily maintained.
With the success of the IK-3, planning began for licensing manufacture in Turkey as well as increased production by RogoÅžarski - a second production batch of 25 aircraft were ordered. However, production of the second batch had only just started when Germany invaded Yugoslavia on April 6, 1941.
Planned design improvements to the IK-3
As production of the IK-3 proceeded the design team was working on improved versions of the IK-3. Among the IK-3 improvements planned was the installation of a more powerful engine. Engines that were considered included an upgraded 1,100 hp Hispano-Suiza 12Y-51, the Daimler-Benz DB 601A and the 1,030 HP Rolls-Royce Merlin III.
Simultaneously, RogoÅžarski was pursuing a new fighter design, the IK-5, that was to be powered by two Hispano-Suiza 12Y engines. Two versions were planned, a single seat interceptor and a two seat long range "destroyer" with heavy nose mounted armament. Models of the IK-5 had been wind tunnel tested and construction of a prototype begun when the German invasion ended work.
The Ikarus S-49 fighter, produced after the Second World War, was based on the IK-3.
Operational history
At the beginning of the April war, only 6 of the 12 IK-3 from the first production series were operational. One aircraft was lost in a fatal accident before the war (it dived into the Danube River under power; investigators concluded the pilot had blacked out), four were grounded for scheduled services and repairs and one aircraft was undergoing modification to Series II IK-3 standard in the Rogozarski airplane factory. The six remaining IK-3s were assigned to 161st and 162nd fighter squadron (3 IK-3 each) of the 51st Fighter group. The 51st fighter group was part of the 6th fighter regiment of Royal Yugoslav Air Force which was to defend the Yugoslav capital, Belgrade. Both fighter squadrons were stationed at Zemun airport. One source states: " . . the IK-3s put up a valiant resistance against the Luftwaffe, scoring a number of "kills" before they were finally destroyed in combat." Another source claims 11 victories for the IK-3, with Narednik (Flight Sergeant) M. Semiz as most successful (4 victories).
Operators
Kingdom of Yugoslavia
Royal Yugoslav Air Force

Germany
Luftwaffe

Specifications (RogoÅžarski IK-3)
Data from
General characteristics
Crew: 1
Length: 27 ft 5 in (8.38 m)
Wingspan: 33 ft 10 in (10.33 m)
Height: 10 ft 8 in (3.23 m)
Wing area: 179 ft˛ (16.6 m˛)
Empty weight: 4,123 lb (1,874 kg)
Loaded weight: 5,291 lb (2,405 kg)
Powerplant: 1 x— Avia-built Hispano-Suiza 12Ycrs V-12 liquid-cooled engine, 920 shp (686 kW)

Performance
Maximum speed: 327 mph (526 km/h) at 17,715 ft (5,401 m)
Range: 310 miles (496 km)
Service ceiling: 26,250 ft (8,000 m)
Wing loading: 29 lb/ft˛ (113 kg/m˛)
Power/mass: 0.17 hp/lb (0.29 kW/kg)

Armament
Guns:
1x— 20 mm Hispano-Suiza HS-404 cannon
2x— 7.92 mm FN-Browning machine guns

Yugoslav Royal Air Force

Related development
Ikarus S-49

Comparable aircraft
Curtiss P-36
Curtiss P-40
Heinkel He 112
IAR 80
Macchi C.200
Messerschmitt Bf 109
Miles M.20
Morane-Saulnier M.S.406
Polikarpov I-16
PZL.50 Jastrząb
Hawker Hurricane I
Supermarine Spitfire
Yakovlev Yak-1

Bibliography
Green, William. War Planes of the Second World War, Volume Four: Fighters. London: MacDonald & Co.(Publishers) Ltd., 1961 (sixth impression 1969). ISBN 0-356-01448-7.
Oštrić, Å ime I. and Janić, Čedomir J. "Ik Fighters (Yugoslavia: 1930-40s)" Aircraft in Profile, Volume 13 (nos. 241-246). Windsor, Berkshire, UK: Profile Publications Ltd., 1973, p. 169-193- ISBN 0-85383-022-3.

Rogozarski IK-3 Pictures
More airplane video.
Source: WikiPedia