Rogozarski SIM-XII-H Video - Picture
Rogozarski SIM-XII-H Warbird Information
Rogozarski SIM-XII-H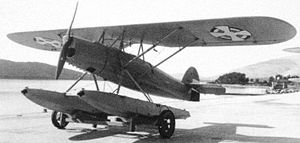 Role: Trainer floatplane
National origin: Yugoslavia
Manufacturer: Prva Srpska Fabrika Aeroplana Zivojin Rogozarski A.D.
Designer: S.Milutinovi─ç
First flight: 7. February 1938
Introduction: 1939
Retired: 1941
Status: inactive
Primary user: Yugoslav Royal Air Force
Produced: from 1939 to 1941
Number built: 9
Developed from: Rogozarski SIM-X

The Rogozarski SIM-XII-H was a 1930s Yugoslav trainer floatplane, one-engined, with two crew members. It was designed and built at the Rogo┼żarski factory in Belgrade.

Airplane Picture - Seaplanes Rogozarski SIM-XII-H (left) and SIM-XIV-H (right) (Kumbor 1938)
Design and development
Unsuccessfully trying to choose the most appropriate seaplane pilot training command naval aviation factory Rogo┼żarski addressed the 1937th and ordered the seaplane school project that would fit in their characteristics the school board SIM-X. Since she could not make a simple modification (adaptation of existing aircraft SIM-X) for installation of EDO floats, head designer Eng. Sima Milutinovic incorporated increased engine power Walter Major 6 190KS, leading to an increase in aircraft size. Thus, a training school-engine high-flying boat with two float represented an entirely new plane, called SIM-XII-H. During 1937. The access to the project and at the end of the prototype was ready for testing . The test flight was conducted seventh February 1938th test pilot Ivan KoroÜa in hydro-based Divulje. After the flight tests achieved satisfactory results, ordered the first batch of four copies of these aircraft, which were delivered in mid-1939th year .
Aircraft SIM-XII-H, supported parasol crates, two seaplane float, with engine power Walter Major 6 (190KS), predominantly wooden construction, the fuselage of elliptical cross-section is entirely made of wood and covered with plywood wings are supporting structure made of wood covered with screen, with rounded ends. On each side, the wings are supported by a pair of inclined struts which relied on the fuselage. The fuel tank was located in the central part between the wings that is. at their junction. The first series of aircraft was built two (couple) EDO float (EDO Float Model 47).
Operational history
Experience with the use of aircraft SIM-XII-H, among pilots and technical staff of the aircraft was popularly called a "small SIM", were very positive and the Command PV (Maritime Royal Navy) 15 July 1940th year under contract with the factory for the second series Rogo┼żarski these aircraft (also 4 copies) with the difference that these flying boat was equipped for instrument that is. "blind" flying. Rogo┼żarski this aircraft is delivered in five months but no floats because the floats delivery from Canada was delayed several months. By agreement with the Navy in the factory Rogo┼żarski approached the design and development of domestic aircraft floats for this but this job not completed by the April outbreak of war. In this pre-war two aircraft SIM-XII-H had accidents and two in the Bay of Kotor 1940th year. Both aircraft have been proposed for disposal, and PV is the command that requested the approval of floats from this move to new aircraft (planes SIM-XII-H of the second series) considering that these planes were equipped with Instrument ("blind") flight. Since the approval arrived it was done so that the two aircraft from the second series capable of use before the war broke out .
Operators
Kingdom of Yugoslavia
Royal Yugoslav Air Force 9 aircrafts

Specifications
General characteristics
Crew: 2
Length: 7.50 m (24 ft 7 in)
Wingspan: 11.00 m (36 ft 1 in)
Height: 2.96 m (9 ft 9 in)
Wing area: 2,050 m (22,100 sq ft)
Empty weight: 635 kg (1,400 lb)
Gross weight: 920 kg (2,028 lb)
Powerplant: 1 xŚ Walter Major 6 6-cylinder line, 140 kW (190 hp)
Propellers: 2-bladed

Performance
Maximum speed: 208 km/h (129 mph; 112 kn) 212 at sea level
Range: 840 km (522 mi; 454 nmi)

Yugoslav Royal Air Force
Walter Aircraft Engines
Edo Aircraft Corporation
Rogozarski SIM-đą
Rogozarski SIM-XIV-H
Fizir F1V
Rogozarski PVT
Rogozarski R-100

Grey, C.G. (1972). Jane's All the World's Aircraft 1938. London: David & Charles. ISBN 0-7153-5734-4.
Gunston, Bill (1989). World Encyclopaedia of Aero Engines (2 ed.). Wellingborough: Patrick Stephens Ltd. ISBN 1-85260-163-9.
Rogozarski SIM-XII-H Pictures
More airplane video.
Source: WikiPedia