Royal Aircraft Factory F.E.1 Video - Picture
Royal Aircraft Factory F.E.1 Aircraft Information
Royal Aircraft Factory F.E.1
F.E.1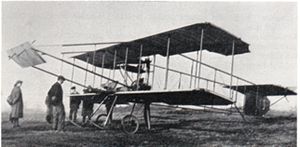 Role: Experimental research aircraft
Manufacturer: Geoffrey de Havilland
Designed by: Geoffrey de Havilland
First flight: September 1910
Primary user: Royal Aircraft Factory
Number built: 1
Unit cost: 400 Pounds

The F.E.1 (Farman Experimental) was the second aircraft built by the pioneer designer Geoffrey de Havilland - he designed and built it in 1910. He used it to teach himself to fly during late 1910. Although it was not built at the Royal Aircraft Factory it became the first aircraft to bear an official Factory designation.
Design and development
Like the Bristol Boxkite and several other contemporary designs, the F.E.1 closely followed the general lines of early Farman aircraft (in turn based on the early Wright machines), with the pilot seated on the lower wing directly in front of the engine, behind a fore-elevator. It was a pusher aircraft, powered by a 45 hp (34 kW) de Havilland Iris engine built for de Havilland by the Iris Motor Company to his own design.
On de Havilland's appointment as assistant designer and test pilot at the Army Balloon Factory at Farnborough (later the Royal Aircraft Factory) in December 1910, the War Office bought the aircraft. De Havilland and several other pilots flew it at Farnborough until it crashed in the summer of 1911 while piloted by Lt. Theodore J. Ridge, who was later killed attempting to fly the S.E.1.
"Rebuild" as the F.E.2
The crashed F.E.1 was "rebuilt" in August 1911 as the F.E.2. In fact it was a "rebuild" in name only, as it was a completely new design, incorporating few if any actual components of the original (at this stage Farnborough were still not authorised to build aircraft from scratch). The Iris engine, seriously damaged in the F.E.1 crash, was replaced by a 50 hp. Gnome rotary engine, a two seater nacelle was fitted, and the fore-elevator was replaced with one incorporated into a sesquiplane tail in the conventional manner. In this form many tests were carried out, including the fitting of a machine gun, and seaplane trials, fitted with a single central float. At this point the F.E.2 was powered by a 70 hp (52 kW) Gnome.
In 1913 the F.E.2 design was once more heavily reworked with a new and streamlined nacelle, upper wing panels which extended the span to 42 ft (12.08 m) and a revised tail with a smaller rudder and tailplane lifted to the top longerons. The Gnome was replaced by a 70 hp (52 kW) air cooled Renault V-8 engine. Effectively, although the factory now routinely constructed original aircraft, it was another case of a new design reusing the designation of an older one. It was lost in a crash in February 1914 when the pilot, R. Kemp lost control while in a dive, killing his passenger.
The F.E.2a/b/d types produced in numbers in World War I followed the same general layout, but were considerably larger, and again of a totally new design. This double re-use of the F.E.2 designation has caused considerable confusion among aviation historians. To minimise this confusion here, the F.E.2 article refers to the last and best known, the wartime fighter.
Operators
United Kingdom
Royal Aircraft Factory

Specifications (F.E.1 in its original form)
General characteristics
Length: 40 ft (12.2 m)
Wingspan: 33 ft (10 m)
Height: ()
Wing area: 340 ft² (31.60 m²)
Loaded weight: 1,100 lb. (500 Kg)

Performance
Maximum speed: 37 mph (60 km/h)

Bibliography
Jackson, A.J. (1978). de Havilland Aircraft since 1909. London: Putnam Publishing. ISBN 0 370 30022 X.
Lewis, Peter British Aircraft 1809-1914 London, Putnam, 1962

Royal Aircraft Factory F.E.1 Pictures
Living Warbirds: The best warbirds DVD series.
Source: WikiPedia