Royal Aircraft Factory R.E.8 Video - Picture
Royal Aircraft Factory R.E.8 Aircraft Information
Royal Aircraft Factory R.E.8
Royal Aircraft Factory R.E.8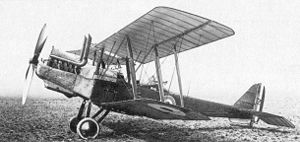 Picture - A Siddeley-Deasy-built R.E.8
Role: Reconnaissance, Bomber
Manufacturer: Royal Aircraft Factory
First flight: 17 June 1916
Introduced: 1916
Retired: 1918
Status: Retired
Primary user: Royal Flying Corps
Produced: 1916- 1918
Number built: 4,077
Unit cost: £2068 (RAF 4a engine)

The Royal Aircraft Factory R.E.8 was a British two-seat biplane reconnaissance and bomber aircraft of the First World War designed by John Kenworthy. Intended as a replacement for the vulnerable B.E.2, the R.E.8 was much more difficult to fly, and was regarded with great suspicion at first in the Royal Flying Corps. Although eventually it gave reasonably satisfactory service, it was never an outstanding combat aircraft. In spite of this, the R.E.8 served as the standard British reconnaissance and artillery spotting aircraft from mid-1917 to the end of the war, serving alongside the rather more popular Armstrong Whitworth F.K.8. Over 4,000 R.E.8s were eventually produced and they served in most theatres including Italy, Russia, Palestine and Mesopotamia, as well as the Western Front.
Design and development
The first of two prototype R.E.8s (Reconnaissance Experimental 8) flew on 17 June 1916. The new type was designed to overcome the failings of the B.E.2 - it had a more powerful motor giving an improved performance, in particular a heavier payload. It was also much better armed, with a synchronised forward-firing .303-in Vickers machine gun and one or two Lewis guns on a Scarff ring in the observer's cockpit, which was finally moved to a position behind the pilot. It was (intentionally) less stable than the B.E.2, although modifications had to be made to improve stability before it could gain acceptance by pilots used to the B.E.2e - making the production version ideal for artillery spotting but giving it little chance of out-manoeuvring enemy fighters.
Most R.E.8s were powered by the 150 hp (112 kW) Royal Aircraft Factory 4a air-cooled 12-cylinder inline engine, though some received the 200 hp (149 kW) RAF 4d engine and others had an Hispano-Suiza engine. A shortage of Hispano-Suiza engines and Rolls-Royce aero engines, such as the Falcon, resulted in the RAF 4 remaining the standard engine. It was installed so that the propeller inclined upwards to improve the takeoff and landing run. This produced a "broken back" appearance to the fuselage and an illusion that the tail sloped upwards. Like most RAF engine installations, the twin exhausts protruded over the upper wing to carry the fumes clear of the crew. As with the B.E.2e, the long extensions on the upper wing were reputed to be liable to collapse if the aircraft was dived too sharply.
A total of 4,077 R.E.8s were produced with a further 353 on order cancelled at the end of the war. With the Royal Aircraft Factory, the R.E.8 was produced by six other companies including Austin Motors, Standard Motors, Siddeley-Deasy and the Coventry Ordnance Works.
Operational history
The first production aircraft reached France in November 1916. At first, pilots converting from the B.E.2e had problems with the R.E.8's more sensitive controls resulting in a number of accidents and the new type was grounded while a larger tailfin was designed. The modified type proved more acceptable but early service was most inauspicious. On 13 April 1917, a patrol of six R.E.8s from No. 59 Squadron RFC was met by aircraft from Jasta 11 and all the R.E.8s were shot down within five minutes.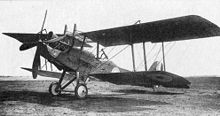 Picture - This illustration of an R.E.8 shows the large four-blade propeller, raised exhausts and large air scoop for the air-cooled inline engine.
The casualty rate in R.E.8 squadrons dropped from the levels of "Bloody April", largely as a result of improved pilot training and tactics. Although never a popular aeroplane, it was reasonably satisfactory for the tasks demanded of it and was even regarded with some affection, gaining the rhyming slang nickname "Harry Tate" (after a popular music hall artist of the time).
The R.E.8 equipped 18 Royal Flying Corps squadrons in 1917 and 19 squadrons in 1918. Belgium was the only country other than Britain (and its Dominions) to operate the R.E.8, receiving 22 in July 1917.
It was intended to replace the R.E.8 with a version of the Bristol Fighter powered by the Sunbeam Arab engine but few "Arab Bristols" had been completed by the end of the war.
By November 1918, the R.E.8 was regarded as completely obsolete and surviving examples were quickly retired after the Armistice.
Survivors
Only two R.E.8s survive. The restoration of R.E.8 F3556 at the Imperial War Museum Duxford was completed in 2004. This aircraft, built by Daimler, had arrived in France on Armistice Day. The other surviving R.E.8 is in Brussels, Belgium and is one of the few examples to have a Hispano-Suiza engine.
Operators
Australia
Australian Flying Corps
No. 1 Squadron AFC in Egypt and Palestine
No. 3 Squadron AFC in France
No. 7 (Training) Squadron in United Kingdom

Belgium Estonia
Estonian Air Force

Soviet Union United Kingdom -
Royal Flying Corps and the Royal Air Force


No. 4 Squadron RAF
No. 5 Squadron RAF
No. 6 Squadron RAF
No. 7 Squadron RAF
No. 8 Squadron RAF
No. 9 Squadron RAF
No. 12 Squadron RAF
No. 13 Squadron RAF
No. 14 Squadron RAF
No. 15 Squadron RAF
No. 16 Squadron RAF
No. 21 Squadron RAF
No. 30 Squadron RAF
No. 34 Squadron RAF
No. 37 Squadron RAF
No. 42 Squadron RAF
No. 50 Squadron RAF


No. 52 Squadron RAF
No. 53 Squadron RAF
No. 59 Squadron RAF
No. 63 Squadron RAF
No. 67 Squadron RAF
No. 69 Squadron RAF
No. 89 Squadron RAF
No. 91 Squadron RAF
No. 105 Squadron RAF
No. 106 Squadron RAF
No. 110 Squadron RAF
No. 113 Squadron RAF
No. 117 Squadron RAF
No. 139 Squadron RAF
No. 142 Squadron RAF
No. 144 Squadron RAF
No. 208 Squadron RAF

Specifications
Data from The Royal Aircraft Factory
General characteristics
Crew: 2 (pilot & observer/gunner)
Length: 27 ft 10½ in (8.50 m)
Wingspan: 42 ft 7 in (12.98 m)
Height: 11 ft 4½ in (3.47 m)
Wing area: 377.5 sq ft (35.1 m²)
Empty weight: 1,803 lb (820 kg)
Loaded weight: 2,678 lb (1,217 kg)
Max takeoff weight: 2,869 lb (1,304 kg)
Powerplant: 1x— Royal Aircraft Factory 4a air-cooled V12 engine, 140 hp (104 kW)

Performance
Maximum speed: 103 mph (90 knots, 166 km/h) at sea level
Stall speed: 47 mph (41 knots, 76 km/h)
Endurance: 4 hours 15 min
Service ceiling: 13,500 ft (4,115 m)
Climb to 6,500 ft (1,980 m): 21 min

Armament
Guns: 1 x .303 in (7.7 mm) forward-firing Vickers gun and 1 or 2 x .303 in (7.7 mm) Lewis guns in rear cockpit
Bombs: up to 224 lb (102 kg) bombs

Comparable aircraft
Royal Aircraft Factory B.E.2
Rumpler C.I
Albatros C.III

Bibliography
Bruce, J.M. "The R.E.8: Historic Military Aircraft: No. 8". Flight, 15 October 1954, pp. 575-581.
Cheesman, E.F. (ed.) Reconnaissance & Bomber Aircraft of the 1914-1918 War. Letchworth, UK: Harleyford, 1962.
Gerdessen, F. "Estonian Air Power 1918-1945". Air Enthusiast No 18, April-July 1982, pp. 61-76. ISSN 0143-5450.
Hare, Paul R. The Royal Aircraft Factory. London:Putnam, 1990. ISBN 0-85177-843-7.
Mason, Francis K. The British Bomber since 1914. London:Putnam, 1994. ISBN 0-85177-861-5.
Munson, Kenneth. Bombers, Patrol and Reconnaissance Aircraft 1914-1919. London: Blandford, 1968. ISBN 0-71370-484-5.
Taylor, John W.R. "Royal Aircraft Factory R.E.8." Combat Aircraft of the World from 1909 to the present. New York: G.P. Putnam's Sons, 1969. ISBN 0-425-03633-2.

Royal Aircraft Factory R.E.8 Pictures
Living Warbirds: The best warbirds DVD series.
Source: WikiPedia