Ryan XV-5 Vertifan Video - Picture
Ryan XV-5 Vertifan Aircraft Information
Ryan XV-5 Vertifan
XV-5 Vertifan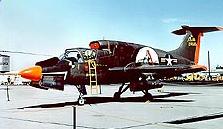 Role: VTOL
Manufacturer: Ryan Aeronautical Company
First flight: 25 May 1964
Status: Retired
Primary users: United States Army NASA
Number built: 2

The Ryan XV-5 Vertifan was a jet powered V/STOL experimental aircraft in the 1960s. The U.S. Army commissioned the Ryan VZ-11RY (which was redesignated as the XV-5 in 1962) in 1961, along with the Lockheed VZ-10 Hummingbird (redesignated as the XV-4).
Design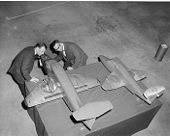 Picture - XV-5A Models.
The XV-5 drove three fans. Engine gases from two 3,000 lbf (13 kN) thrust J85 turbojets, similar to those used in the F-5 Freedom Fighter were sent to exit by turning fans. It was much simpler in concept, if not execution, compared to the future F-35 Lightning II which has one fan driven by a driveshaft, balanced by a rotating rear nozzle. There was a large fan in each wing with covers resembling half-garbage can lids which flipped up for vertical flight. The 36 inch (0.9 m) nose fan provided adequate pitch control, but made flying tricky. The fans provided vertical thrust of 16,000 pounds force (71 kN), nearly three times the thrust of the engines alone.
A set of louvered vanes underneath each of the large wing fans could vector the thrust in any direction and provided yaw control. Each jet engine could be controlled for RPM. Wing fan RPM was determined by the output from the J85 engines and fan flow at the fan inlets. Roll control was by differential actuation of the wing-fan exit louvers.
The project performance was moderately subsonic with delta wings somewhat like an A-4 Skyhawk. There was also a fan in the nose, an unusual intake situated above the 2-seat side-by-side cockpit, and a T-tail.
The XV-5A was finished in Army green, while the XV-5B was painted in white NASA colors. The fans did generate as much thrust as was hoped, but the transition was difficult and abrupt. The XV-5 would be one of the last aircraft made by Ryan, which made mainly drones after the mid 1960s.
The XV-5 was one of many dozens of aircraft which attempted to produce a successful vertical takeoff aircraft, but the lift fan system was heavy, and took a lot of internal volume. Only the Hawker Siddeley Harrier would still be operational by the turn of the 21st century, while technology would make possible the use of a shaft-driven fan in the F-35.
Operational history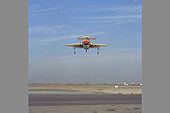 Picture - XV-5B.
Two 12,500 lb (maximum gross weight) XV-5A were evaluated in late 1966 by 15 test pilots (the "XV-5A Fan Club"). One was destroyed in a crash during a public flight demonstration on April 27, 1965, killing Ryan test pilot Lou Everett. Ads and tests proposed a rescue version which would winch a person into a compartment behind the pilots. The second plane was extensively damaged in 1966 during trials as a rescue aircraft when the dummy was ingested into a wing fan, fatally injuring the pilot, Bob Tittle, although it was judged that the fan actually still functioned well enough to continue controlled flight. The second plane was rebuilt as the modified XV-5B, with tests continuing until 1971. A XV-5B can be seen at the Fort Rucker Aviation Museum, Alabama.
Specifications (XV-5) (performance estimated)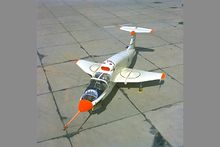 Picture - XV-5B.
Data from Jane's All The World's Aircraft 1965-66
General characteristics
Crew: 2
Length: 44 ft 6¼ in (13.56 m)
Wingspan: 29 ft 10 in (9.09 m)
Height: 14 ft 9 in (4.50 m)
Wing area: 260.3 sq ft (24.19m²)
Empty weight: 7,541 lb (3,420 kg)
Max takeoff weight: 13,600 lb (6,170 kg) (conventional takeoff), 12,300 lb (5,580 kg) (VTOL)
Powerplant: 2x— General Electric J85-GE-5 turbojets, 2,658 lbf (11.85 kN) each

Performance
Maximum speed: 547 mph (880 km/h)
Range: 1,000 mi (1,610 km)
Service ceiling: 40,000 ft (12,200 m)
Rate of climb: 8,000 ft/min (40.7 m/s)

Comparable aircraft
XV-4 Hummingbird

Taylor, John W. R. Jane's All The World's Aircraft 1965-66. London:Sampson Low, Marston & Company, 1965.
Why not put lift fans in the wings? Dr. Raymond L. Puffer, Air Force Flight Center historian
Lift-fan aircraft - Lessons learned from XV-5 flight experience Gerdes, Ronald M. (SYRE; NASA, Ames Research Center, Moffett Field, CA) AIAA-1993-4838 IN:AIAA International Powered Lift Conference, Santa Clara, CA, Dec 1-3, 1993, Technical Papers (A94-16426 02-05), Washington, American Institute of Aeronautics and Astronautics, 1993
International V/STOL Historical Society XV-5 Page unspecific link

Ryan XV-5 Vertifan Pictures
More aircraft.
Source: WikiPedia