Ryan YO-51 Dragonfly Video - Picture
Ryan YO-51 Dragonfly Aircraft Information
Ryan YO-51 Dragonfly
YO-51 Dragonfly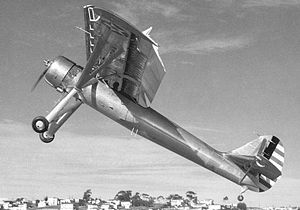 Role: Army observation
Manufacturer: Ryan Aeronautical
First flight: 1940
Primary user: U.S. Army Air Force
Number built: 3

The YO-51 Dragonfly was a United States prototype observation aircraft built for the US Army by Ryan Aeronautical. Typical for aircraft of its type, it was a high-wing braced parasol wing monoplane with fixed tailwheel undercarriage, a two-seat open cockpit, and full-span slots and Fowler flaps for STOL capability.
At gross weight, the YO-51 could, without flaps, take off after a run of 400 feet, while with full flaps the take off run would be only 75 feet, or just four feet more than twice its own length.
Three examples were purchased for evaluation against the Stinson YO-49 and Bellanca YO-50. The Stinson machine won the production contract and no further YO-50s were built.
Specifications
General characteristics
Crew: two, pilot and observer
Length: 35 ft 6 in (10.51 m)
Wingspan: 52 ft 0 in (15.85 m)
Gross weight: 4206 lb (1908 kg)
Powerplant: 1 x— Pratt & Whitney R-985-21 Wasp Junior radial, 440 hp (328 kW)

Performance
Maximum speed: 129 mph (208 km/h)
Cruise speed: 107 mph (172 km/h)

Comparable aircraft
Stinson YO-49
Bellanca YO-50

Bibliography
Donald, David (1997). Complete Encyclopedia of World Aircraft. London: Orbis Publishing Ltd. pp. 794. ISBN 0-7607-0592-5.
O-51 Dragonfly Info, "Dave's Warbirds"

Ryan YO-51 Dragonfly Pictures
More aircraft.
Source: WikiPedia