Saab 17 Video - World War II video - First flight?
Saab 17 Aircraft Information
Saab 17
B 17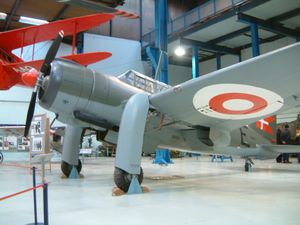 Picture - Saab B 17A in Danish colors.
Role: bomber & reconnaissance
Manufacturer: Saab
First flight: 18 May 1940
Introduced: 1942
Retired: 1950, Sweden 1968, Ethiopia
Primary users: Flygvapnet Ethiopia Finland Austria
Produced: 1941-1944
Number built: 264

The Saab 17 was a Swedish bomber-reconnaissance aircraft.
Development and service
The project first started at the end of the 1930s as the L 10 by ASJA, but after the merger with SAAB in 1937 it was renamed Saab 17. The wings were reinforced to make it possible to use it as a dive bomber. Since there was a shortage of engines the planes were flown to the destination where the engine was removed and reused for the next delivery. The plane was also made in three versions with different engines. The B 17A used a Swedish built Pratt & Whitney Twin Wasp, the B 17B a British Bristol Mercury XXIV licence-built in Poland, and the B 17C an Italian Piaggio P.XI. The aircraft could be fitted with wheels, skis or floats. A unique feature of the Saab 17 was its use of the extended landing gear assembly, with its large covers, as dive brakes.
The first test flight was on 18 May 1940 and first deliveries to Flygvapnet were in 1942. However, the development of jets meant it had a short service history. When the planes ended service in 1947-1950 46 of them were sold to Ethiopia where they were in service until 1968. Two B 17As were sold to Finland. The first one in 1959 and the second in 1960. They served as target tugs in the Finnish Air Force. Both were however soon damaged and removed from service.
Versions
B 17A - Bomber version with Pratt & Whitney Twin Wasp engine; total production: 132
B 17B - Bomber version with British Bristol Mercury XXIV engine; total production: 55
S 17BL - Reconnaissance version on landing gear
S 17BS - Reconnaissance version on floats
B 17C - Bomber version with Piaggio PXI engine; total production: 77

The SAAB 17 had a total production run of 322 aircraft.
Operators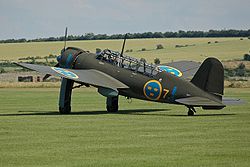 Picture -
Sweden Swedish Air Force Ethiopia Imperial Ethiopian Air Force Finland Finnish Air Force Austria Austrian Air Force
Specifications (B 17A)
Data from Jane's Fighting Aircraft of World War II
General characteristics
Crew: two
Length: 9.80 m (32 ft 2 in)
Wingspan: 13.70 m (44 ft 11 in)
Height: 4.00 m (13 ft 1 in)
Wing area: 28.5 m˛ (306 ft˛)
Empty weight: 2,600 kg (5,720 lb)
Loaded weight: 3,970 kg (8,734 lb)
Powerplant: 1x— Pratt & Whitney R-1830-S1C3G 14-cylinder radial engine, 882 kW (1,200 hp)

Performance
Maximum speed: 435 km/h (272 mph)
Range: 1,800 km (1,125 mi)
Service ceiling: 8,700 m (28,500 ft)
Rate of climb: 10 m/s (2,000 ft/min)
Wing loading: 139 kg/m˛ (28 lb/ft˛)
Power/mass: 220 W/kg (0.14 hp/lb)

Armament
2x— 8 mm ksp m/22F machine guns, fixed forward
1x— 8 mm ksp m/22R flexible tail gun
500 kg (1,100 lb) of bombs

Jane, Fred T. "The Saab-17." Jane's Fighting Aircraft of World War II. London: Studio, 1946. ISBN 1-85170-493-0.

Living Warbirds: The best warbirds DVD series.
Source: WikiPedia