Saab 18 Video and Picture
Saab 18 Aircraft Information
Saab 18
SAAB 18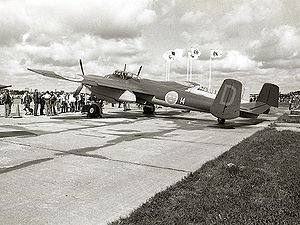 Picture - Saab B 18B at the Swedish Air Force Museum
Role: Bomber/Reconnaissance
Manufacturer: Svenska Aeroplan AB
Designed by: Frid Wx¤nstrx¶m Carl Haddon
First flight: 19 June 1942
Introduction: 1944
Retired: 1959
Primary user: Swedish Air Force
Produced: 1944-1948
Number built: 245

The SAAB 18 was a twin-engine bomber and reconnaissance aircraft, designed and built for use by the Swedish Air Force by Svenska Aeroplan AB (SAAB) in response to a 1938 design competition. Due to delays, it did not enter service until 1944, but quickly became the standard Swedish bomber aircraft. Serving in the bomber, reconnaissance and ground-attack roles, it also assisted in the development of ejection seats and air-to-surface guided missiles until its replacement by the Saab Lansen in the late 1950s.
Design and development
Intended as a replacement for the Junkers Ju 86 in service with the Swedish Air Force, the requirement that led to the Saab 18 called for a three-seat fast reconnaissance aircraft.
AB Svenska Jx¤rnvx¤gsverkstx¤dernas Aeroplanavdelning (ASJA), SAAB, and AB Gx¶taverken (GV) submitted designs for consideration by the Swedish Air Force. GV's GV8 appeared to be the best suited to the requirement, however its cost, and the departure of their chief designer, resulted in SAAB - the company having merged with ASJA in the meantime - being awarded a contract for development of their design.
As a number of Americans were on the design staff of SAAB and ASJA, the Saab 18's design shared some similarities with American designs. The outbreak of World War II in 1939 led to a change of priorities by the Swedish Air Force, and production of the Saab 17 was accelerated, at the expense of work on the Saab 18, which, along with a change of requirements that added the role of medium bomber to the specification, resulted in the first flight of the aircraft being delayed until 19 June 1942.
Manned by a crew of three - a pilot and navigator under a glazed, offset canopy, and a bombardier in the nose - the Saab 18 prototype was a mid-wing monoplane with twin vertical stabilisers, and was powered by two Pratt & Whitney R-1830 Twin Wasp radial engines. Armament consisted of three 13.2-millimetre (0.52 in) machine guns, one fixed firing forwards and controlled by the pilot, the others being in flexible defensive mounts for use by the navigator and bombardier. Up to 1,000 kilograms (2,200 lb) of bombs could be carried in an internal bay, while up to eight 50-kilogram (110 lb) bombs could be carried on underwing hardpoints.
Flight testing showed that the aircraft was underpowered. However, as there was no immediate prospect for the acquisition of more powerful engines, the Saab 18 was ordered into production in both bomber (B 18A) and reconnaissance (S 18A) versions.
Operational history
The B 18A entered service in June 1944, and quickly became Sweden's standard medium bomber aircraft. As license-built Daimler-Benz DB 605 liquid-cooled, inline engines had become available, they were incorporated into the improved Saab 18B, which first flew on 10 July 1944.
Ordered into production as the B 18B dive bomber, the 18B design was further developed into the T 18B, which was planned to be a torpedo bomber variant. Due to difficulties with the torpedoes, however, the T 18B was instead developed into a heavy ground-attack aircraft, mounting a Bofors 57-millimetre (2.2 in) cannon under the nose.
By the late 1940s, the third crewmember's position had been eliminated, reducing the crew of the aircraft to two; the provision of air-to-ground rockets and improved bombsights had removed the requirement for a dedicated bombardier. By this time the Saab 18 had established a reputation for suffering a serious rate of attrition, and this led to the decision to outfit all of the surviving aircraft with ejection seats for the pilot and navigator/gunner.
Production of the Saab 18 totaled 245 examples, with the last T 18B being delivered in 1948. Used in trials of early Swedish air-to-surface missiles, the Saab 18 remained one of Sweden's frontline ground attack and reconnaissance platforms until the late 1950s, when it was replaced by the jet-powered, swept wing Saab 32 Lansen, the B 18B and T 18B being replaced by the A 32A in 1958, with the last S 18As being replaced by S 32Cs in 1959.
Survivors
Only a single example of the Saab 18 survives today: a B 18B, Red David, at the Swedish Air Force Museum, one of a group of eight aircraft lost in a snowstorm in 1946, that was recovered and restored in 1979.
Variants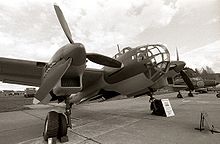 Picture - SAAB B 18B.
Saab 18A Two Pratt & Whitney-powered prototypes. B 18A The first production version, bomber aircraft powered by two Pratt & Whitney R-1830 Twin Wasp radial piston engines. 62 built, all converted to S 18A standard 1946-47. S 18A Photo-reconnaissance conversion of B 18A, fitted with PS-18/A radar. Saab 18B Single Daimler-Benz powered prototype. B 18B Dive bomber version, powered by two Daimler-Benz DB 605B piston engines. 119 built; fitted with up to eight air-to-surface rockets in the late 1940s. T 18B Projected torpedo-bomber variant; developed as ground attack version. 52 built. Armed with 2 x— 20 mm cannons and 1 x— 57 mm cannon. Used as testbed for Rb 302 anti-ship missiles.
Operators
Sweden
Swedish Air Force

Specifications (B 18B)
Data from
General characteristics
Crew: 3 (pilot, navigator/gunner, and bombardier)
Length: 13.23 m (43 ft 5 in)
Wingspan: 17 m (55 ft 9 in)
Height: 4.35 m (14 ft 3 in)
Wing area: 43.75 m (470.9 sq ft)
Empty weight: 6,100 kg (13,448 lb)
Max takeoff weight: 8,800 kg (19,401 lb)
Fuel capacity: 1,700 litres (370 imp gal; 450 US gal)
Powerplant: 2 x— Daimler-Benz DB 605 inverted-vee piston engines, 1,100 kW (1,475 hp) each

Performance
Maximum speed: 575 km/h (357 mph; 310 kn)
Range: 2,600 km (1,616 mi; 1,404 nmi)
Service ceiling: 9,800 m (32,152 ft)

Armament
Guns: one 7.92mm fixed forwards-firing gun in wing root; two 13.2mm defensive guns.
Rockets: 8 air-to-surface rockets on underwing stubs
Bombs: 1,500 kilograms (3,300 lb) in internal bay

Comparable aircraft
A-20 Havoc
de Havilland Mosquito
Dornier Do 17
Petlyakov Pe-2

Donald, David, ed. The Complete Encyclopedia of World Aircraft. London: Orbis, 1997. ISBN 0-7607-0592-5.
Eliasson, Gunnar. Advanced Public Procurement as Industrial Policy: The Aircraft Industry as a Technical University. Springer, 2010. ISBN 1-4419-5848-7.
Frawley, Gerard and Jim Thorn. International Directory of Military Aircraft, 1996/97. Motorbooks International, 1996. ISBN 1-8756-7120-X.
Kopenhagen, W. (ed.) Das groxŸe Flugzeug-Typenbuch. Stuttgart: Transpress. 1987, ISBN 3-344-00162-0.

Living Warbirds: The best warbirds DVD series.
Source: WikiPedia