Saab 21 Video and Picture
Saab 21 Aircraft Information
Saab 21
SAAB 21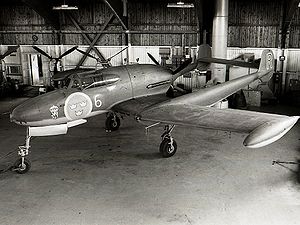 Picture - Saab A 21A-3
Role: Fighter and attack aircraft
Manufacturer: SAAB
Designed by: Frid Wx¤nstrx¶m
First flight: 30 July 1943
Introduced: 1 December 1945
Retired: 23 July 1954
Primary user: Swedish Air Force
Produced: 1945-1949
Number built: 298
Variants: Saab 21R

The SAAB 21 was a Swedish fighter/attack aircraft from SAAB that first took to the air in 1943. It was described as a very efficient weapons platform. It was designed as a twin boom pusher configuration, where the propeller is mounted in the rear of the fuselage, pushing the aircraft forward.
Design and development
Sweden wished to ensure its continued neutrality through a policy of armed strength during World War II but were effectively denied access to foreign weapons. The original design studies began in 1939, based around the use of a "buried" Bristol Taurus engine. The project remained dormant until 1941. In response to the need for air defence, and faced with the prospect of having imported designs unable to be obtained due to the war, Sweden undertook an indigenous rearmament programme including an advanced fighter. The low-wing monoplane Saab 21 fighter ultimately designed round a license-produced version of the Daimler-Benz DB 605B engine, featured innovations such as tricycle landing gear, heavy forward-firing armament, ejector seat, and a twin-boom pusher layout that later allowed the type to be modified with a turbojet engine.
The advantages of a "pushprop" are that the view forward is unobstructed and armament can be concentrated in the nose, while a major drawback is difficulty in escaping from the aircraft in an emergency, as the pilot could get drawn into the propeller blades. SAAB deliberated with a system that would jettison the propeller or even the engine (via a system of explosive bolts) , but eventually installed an early non-patented ejector seat developed by Bofors for the purpose and tested in 1943.
In 1947, the aircraft was extensively redesigned with over 50% airframe, tailplane and wing changes and fitted with a De Havilland Goblin turbojet, acquiring the new designation Saab J 21R.
Operational history
The first of three J 21 prototypes flew on 30 July 1943 flown by SAAB test pilot Claes Smith. During the takeoff, the wrong flap setting resulted in the prototype running into a fence at the end of the runway, damaging one of the landing gears. The subsequent test flight ended with a successful landing on the undamaged undercarriage units.
A total of 54 J 21A-1 fighters constructed at the main plant in Trollhx¤ttan were delivered from December 1945, followed by 124 and 119 examples respectively of the J 21A-2 with revised armament and the J 21A-3 fighter-bomber. Utilized mainly in the bomber role, the limitation of the design led to a proposed front-engine replacement, the J 23. An evaluation of the two designs led to the decision to retain the J 21 series but to consider the modification of the airframe to accommodate a jet engine. While production line J 21A series aircraft were first selected for conversion, the initial piston-engine version continued in production in five series "batches" that were completed in 1948-1949. In service use, the J 21A was phased out after 1954.
Variants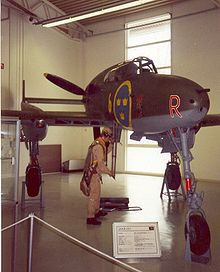 Picture - Saab A 21A-3
J 21A-1 First production series of fighter version. 54 built between 1945 and 1946, retired in 1949. J 21A-2 Second and third production series of fighter version (62 aircraft each built between 1946 and 1947). Aircraft had better avionics and was armed with a Swedish 20 mm gun. Retired between 1953 and 1954. A 21A-3 First and second production series of attack version (66 aircraft each built between 1947 and 1949). Aircraft was basically J 21A-2 equipped with bomb aiming sight, was able to use two RATO rockets, and was armed with unguided rockets and bombs. J 21B Planned version armed with three 20 mm nose guns, radar in the starboard boom, improved aerodynamics and Daimler-Benz DB 605E or Rolls-Royce Griffon engines. None built.
Operators
Sweden
Swedish Air Force

Survivors
Three aircraft are preserved;
A 21A-3, serial 21286 rebuilt into a A 21R, on permanent static display at the Swedish Air Force Museum
A 21A-3, serial 21311, on permanent static display as a J 21A-3 at F 15 Sx¶derhamn Flygmuseum
A 21A-3, serial 21364, on permanent static display at the Swedish Air Force Museum

Specifications (Saab 21A-3)
Data from "A Fork-Tailed Swede."
General characteristics
Crew: one, pilot
Length: 10.45 m (34 ft 3 in)
Wingspan: 11.6 m (38 ft 0 in)
Height: 3.97 (13 ft 0 in)
Wing area: 22.2 m² (238.87 ft²)
Empty weight: 3,250 kg (7,165 lb)
Loaded weight: 4,150 kg (9,149 lb)
Max takeoff weight: 4,413 kg (9,730 lb)
Powerplant: 1x— Daimler-Benz DB 605B, built by SFA. liquid-cooled, supercharged, 60° inverted V12 engine, 1,085 kW (1,455 hp / 1,475 PS)

Performance
Maximum speed: 640 km/h (343 knots, 398 mph)
Cruise speed: 495 km/h (308 mph)
Range: 750 km (466 mi)
Service ceiling: 11,000 m (36,090 ft)
Rate of climb: 15 m/s (2,950 ft/min)

Armament
1x— 20 mm Hispano-Suiza HS.404 or Bofors cannon
2x— 13 mm Bofors-built Colt machine guns in the nose
2x— 13 mm Bofors-built Colt machine guns in the wing
Various bombs and rockets

Related development
Saab 21R

Comparable aircraft
Kyūshū J7W
Ambrosini SS.4
Henschel P.75
Vultee XP-54 Swoose Goose
Curtiss XP-55 Ascender
XP-56 Black Bullet

Bibliography
Billing, Peter. "A Fork-Tailed Swede." Air Enthusiast Twenty-two, August-November 1983. Bromley, Kent, UK: Pilot Press Ltd., 1983.
Erichs, Rolph, Kai Hammerich, and Gudmund Rapp et al. The Saab-Scania Story. Stockholm: Streiffert & Co., 1988. ISBN 91-7886-014-8.
This Happens in the Swedish Air Force (brochure). Stockholm: Information Department of the Air Staff, Flygstabens informationsavdelning, Swedish Air Force, 1983.
Widfeldt, Bo. The Saab 21 A & R (Aircraft in Profile number 138). Leatherhead, Surrey, UK: Profile Publications Ltd., 1966.

Living Warbirds: The best warbirds DVD series.
Source: WikiPedia