Saab 21R Video and Picture
Saab 21R Aircraft Information
Saab 21R
SAAB 21R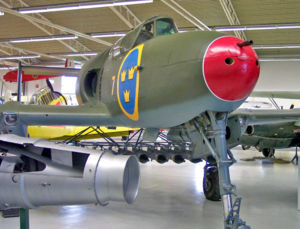 Picture - Saab 21R in Linkx¶ping museum
Role: Fighter and attack aircraft
Manufacturer: SAAB
Designed by: Frid Wx¤nstrx¶m
First flight: 10 March 1947
Introduced: 1950
Retired: 1956
Status: retired
Primary user: Swedish Air Force
Produced: 1950-1952
Number built: 64
Developed from: Saab 21

The Saab 21R was a Swedish twin-boom fighter/attack aircraft made by SAAB. It was a jet-powered development of the piston-engined Saab 21 and is unusual for being the only aircraft that saw service as both a piston-engined fighter, and a jet fighter. As a fighter, its service designation in the Swedish Air Force was J 21R, and saw service in the late 1940s.
Design and development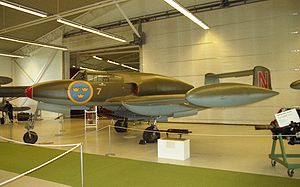 Picture -
The 21R was powered by a De Havilland Goblin 3 turbojet (RM 1) and was Sweden's first jet-powered aircraft to be developed and built domestically.
There were quite a few differences between the 21A and the 21R, aside from the method of propulsion. The most notable difference was that the tailplane was raised to the top of the fins, moving it out of the way of the jet blast.
Operational history
The first prototype Saab 21R first flew on 10 March 1947, just after the Second World War. The aircraft first entered into service with F 10 in August 1950. Although the type was originally intended as a fighter aircraft, a newly developed fighter, the Saab J 29 first flew in October 1948, the number to be produced was halved from 120 to 60, and eventually all 21Rs were converted to attack aircraft as A 21RA or the A 21RB depending on the engine type.
Variants
J 21RA / A 21RA First production series, powered by British-built engines, 34 built in 1950 (including four prototypes), retired in 1953. J 21RB / A 21RB Second production series, powered by Swedish-built engines, 30 built between 1950 and 1952, retired in 1956.
Operators
Sweden
Swedish Air Force

Specifications (Saab 21RA)
Data from Attack and Interceptor Jets
General characteristics
Crew: One
Length: 10.45 m (34 ft 3 in)
Wingspan: 11.37 m (37 ft 4 in)
Height: 2.90 m (9 ft 8 in)
Empty weight: 3,200 kg (7,055 lb)
Max takeoff weight: 5,000 kg (11,023 lb)
Powerplant: 1x— De Havilland Goblin 2 turbojet, 13.8 kN (3,100 lbf)

Performance
Maximum speed: 800 km/h (497 mph)
Range: 720 km (450 mi)
Service ceiling: 12,000 m (39,400 ft)
Takeoff roll: 650 m (2,133 ft)

Armament
1x 20 mm Bofors Cannon
4x 13.2 mm M/39A Heavy machine guns
Centerline pod for an additional 8x 13.2 mm M/39A Heavy machine guns
Wing racks for either: 10x 100 mm or 5x 180 mm Bofors rockets, or 10x 80 mm anti-tank rockets.

Related development
Saab 21

Comparable aircraft
Kyūshū J7W
Curtiss XP-55 Ascender
De Havilland Vampire
Saab 21

Bibliography
Andersson, Hans G. Saab Aircraft since 1937 (1st ed.). London: Putnam, 1989. ISBN 0-85177-831-3.
Billing, Peter. "SAAB's Jet Debutant". Air Enthusiast, Twenty-three, December 1983-March 1984. Bromley, UK:Fine Scroll. ISSN 0143-5450. pp. 20-30.
Sharpe, Michael. Attack and Interceptor Jets. London: Friedman/Fairfax Publishers, 1999. ISBN 1-58663-301-5.
Widfeldt, Bo. The Saab 21 A & R (Aircraft in Profile number 138). Leatherhead, Surrey, UK: Profile Publications Ltd., 1966.

Living Warbirds: The best warbirds DVD series.
Source: WikiPedia