Saab 32 Lansen Video - Overview
Saab 32 Lansen Aircraft Information
Saab 32 Lansen
Saab 32 Lansen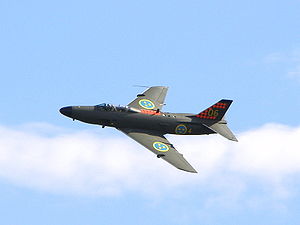 Picture - A Saab 32 at Kristianstad Airshow 2006
Role: Attack aircraft, Fighter aircraft
Manufacturer: Saab
First flight: 3 November 1952 (P1150 prototype)
Introduction: 1955
Retired: 1997 (S 32C and J 32D)
Primary user: Swedish Air Force
Produced: 1953-1959
Number built: 450

The Saab 32 Lansen (Lansen = The Lance) was a two-seat attack aircraft produced by SAAB from 1955 to 1960 for the Swedish Air Force (Flygvapnet). During its long operational life, the Saab 32 also served as a fighter, reconnaissance, electronic warfare and a target-tug aircraft.
Design and development
The Saab Company was approached in 1948 to develop a turbojet-powered strike aircraft to replace a series of 1940s vintage attack, reconnaissance and night-fighter aircraft in the Flygvapnet: the Saab B 18/S 18, J 21R/A 21R and J 30 (de Havilland Mosquito). The design was initially designated the P1150.
Swedish Air Force requirements for the P1150 were demanding: the aircraft had to be able to attack anywhere along Sweden's 1,245 miles (2000 km) of coastline within one hour of launch from a central location. It had to be capable of being launched in any weather, day or night. Special attention was to be paid to integrating the electronics and weapons systems to create the equivalent of today's weapons systems approach to combat aircraft design. The aircraft was to be armed with four 20 mm cannons, rockets, bombs and/or a new anti-ship missile being developed, the Rb 04.
The design team created a sleek airframe with clean lines powered by a license-built Rolls-Royce Avon Series 100. Uniquely, the design of the swept wings was the result of an early application of computer technology. To test the 35° sweepback design, a half-scale wing was mounted on a Saab Safir, the Saab 202 Safir. The design initially featured both Fowler flaps and a leading edge slot. The slot was discarded as unnecessary after trials with the prototypes and never appeared on a production aircraft. A small batch of P1150 prototypes completed design and evaluation trials with series production of the newly renamed Saab J 32 Lansen (J for "Jakt" [Fighter]) beginning in 1953. There were no trainer versions, but some Lansens had rudimentary controls installed in the rear seat.
Operational history
When the A 32A entered service they replaced the last piston powered SAAB B 18 bomber. Soon after entering squadron service, the J 32 Lansen broke the sound barrier on 25 October 1953 when a production aircraft exceeded Mach 1 in a shallow dive. The J 32 carried four 30 mm ADEN cannons while the A 32 ("A" stands for attack) had an armament of four 20 mm Bofors m/49 cannon hidden under flaps in the nose and the Rb 04C anti-ship missile, one of the earliest of its type in western service. The Lansen normally was fitted with two missiles but it could also carry an additional missile. Its main role was to prevent any Soviet invasion across Sweden's extensive coastline.
One planned use of the A 32A was to deliver nuclear warheads or chemical weapons. Sweden had an active nuclear weapons program during the 1950s and 1960s, but no weapons were ever produced.
The A 32 Lansen was Sweden's last purpose-built attack aircraft. Throughout the Cold War years, the Lansen distinguished itself with a solid if unspectacular career; Swedish pilots often described it as pleasant to fly. Gradually being replaced by more modern types, the Saab 32 soldiered on into the late 1990s. Two still remain operational with the sole task of taking high altitude air samples for research purposes in collaboration with the Swedish Radiation Safety Authority. One of those have been used to collect volcanic ash samples in April and May 2010.
Variants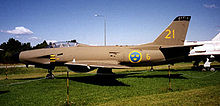 Picture - A Saab 32 Lansen at the Swedish Air Force museum in Linkx¶ping.
A 32A Ground attack and maritime strike version. 287 aircraft built between 1955 and 1957, retired in 1978. Armed with four 20 mm Bofors nose guns (license-built Hispano-Suiza Mk V guns) and could carry two SAAB 304 missiles or unguided rocket pods. J 32B All-weather fighter version initially operated only for bad weather / night fighter duties. Two prototypes and 118 production aircraft built between 1958 and 1960, retired in 1973. Armed with four 30 mm ADEN guns, Rb 24 missiles (license-built AIM-9 Sidewinder) and could carry radar-guided air-to-air missiles, or 75 mm unguided rocket pods. J 32B was powered by stronger Svenska Flygmotor RM 6A (Rolls-Royce Avon Mk 47A) engine. S 32C Specialized maritime and photo reconnaissance version developed from A 32A. 45 aircraft built between 1958 and 1959, retired in 1978. Equipped with PS-432/A radar with extended range and with four cameras - two SKa 17 and two SKa 18. J 32D Target tug version. Six J 32B were modified, retired in 1997. J 32E ECM (electronic warfare / electronic countermeasures) version used also for ECM training. Fourteen J 32B were modified, retired in 1997. Aircraft was equipped with jamming system G 24 in one of three versions (for L, S or C bands) used for jamming ground and naval radars. Additionally Adrian (for S and C bands) and Petrus (for X band) pods were used for jamming aerial radars. J 32AD Project of day fighter version from 1953 as interim solution between the J 29 Tunnan and J 35 Draken, designated J 32AD ("D" stands for Dag [day]). Aircraft was lighter, without radar and armed with four 20 mm and one 30 mm guns in nose and different missiles. None built, 120 Hawker Hunter fighters bought instead. J 32U Project of fighter version from 1954 ("U" stands for utveckling [development]) with much better performance than J 32B. Aircraft was equipped with stronger Rolls-Royce RA 19R engine and had improved wing design.
Operators
Sweden
Swedish Air Force
F 1 Hx¤sslx¶
F 3 Malmslx¤tt
F 4 Frx¶sx¶n
F 6 Karlsborg
F 7 Sx¥tenx¤s
F 11 Nykx¶ping
F 12 Kalmar
F 13 Norrkx¶ping
F 14 Halmstad
F 15 Sx¶derhamn
F 16 Uppsala
F 17 Kallinge
F 21 Lulex¥

Specifications (J 32B)
Data from The Great Book of Fighters
General characteristics
Crew: Two
Length: 14.94 m (49 ft 0 in)
Wingspan: 13.0 m (42 ft 8 in)
Height: 4.65 m (15 ft 3 in)
Wing area: 37.4 m² (402.6 ft²)
Empty weight: 7,500 kg (16,535 lb)
Max takeoff weight: 13,500 kg (29,760 lb)
Powerplant: 1x— Svenska Flygmotor RM 6A afterburning turbojet, 47.0 kN dry, 65.3 kN with afterburning (10,560 lbf / 14,685 lbf)

Performance
Maximum speed: 1200 km/h (745 mph)
Range: 2,000 km (1,240 mi)
Service ceiling: 15,000 m (49,200 ft)
Rate of climb: 100 m/s (19,685 ft/min)

Armament
4 x— 30 mm ADEN cannons 90 rounds each
4 x— Rb 24 air-to-air missiles
4 x— 75 mm air to air rocket pods

Comparable aircraft
F-84F Thunderstreak
Dassault Mystx¨re
F-9 Cougar
F3H Demon

Bibliography
Erichs, Rolph et al. The Saab-Scania Story. Stockholm: Streiffert & Co., 1988. ISBN 91-7886-014-8.
Forsgren, Jan. "Database:SAAB 32 Lansen". Aeroplane, November 2010, Vol 38 No. 11, Issue 451. pp. 64-74.
Taylor, John W.R. "Saab 32 Lansen (Lance)." Combat Aircraft of the World from 1909 to the present. New York: G.P. Putnam's Sons, 1969. ISBN 0-425-03633-2.
This Happens in the Swedish Air Force (brochure). Stockholm: Information Department of the Air Staff, Flygstabens informationsavdelning, Swedish Air Force, 1983.

Living Warbirds: The best warbirds DVD series.
Source: WikiPedia