Saab Information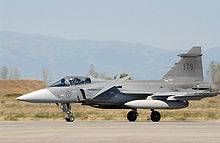 Picture - JAS 39 Gripen
Saab
Industry: Aerospace and defence
Founded: 1937
Headquarters: Stockholm, Sweden
Area served: Worldwide
Key people: Hx¥kan Buskhe (President & CEO) Marcus Wallenberg (Chairman)
Products: Military aircraft Military systems
Revenue: 24.647 billion SEK (2009)
Operating income: 1.374 billion SEK (2009)
Net income: 0.699 billion SEK (2009)
Employees: 13,159 (2009)
Website: saabgroup.com

Saab AB is an aerospace and defence company based in Sweden.
History
"Svenska Aeroplan AB (aktiebolag)" (Swedish for "Swedish Aeroplane Company Limited") (SAAB) was founded in 1937 in Trollhx¤ttan, with the merger of SAAB and Linkx¶ping based ASJA. The headquarters moved to Linkx¶ping. The style "Saab" replaced "SAAB" around 1950.
Originally manufacturing aeroplanes, the company sought ways in which to diversify its business and in the late 1940s began manufacturing cars. The Saab Automobile division was based in Trollhx¤ttan. The first car was the Saab 92001 on 10 June 1947. The company soon developed a reputation for safe and reliable cars, with a notable competition history.
In the late 1950s Saab ventured into the computer market with Datasaab. The company was a result partly of the need to make a computer that would be small enough to mount in an aeroplane as navigational equipment. During the 1960s several computers were developed and sold to European countries (used in e.g. banking). The aircraft computer (CK 37) was used in 1971 in the Viggen. The company was sold in 1975 to Sperry UNIVAC, while Saab retained its flight computer development.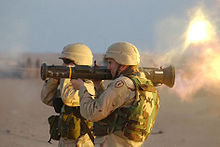 Picture - Saab AT4 portable anti-tank weapon
In May 1965, the company name was changed to Saab AB to reflect its broad range of activities. In 1968 Saab AB merged with the truck maker Scania-Vabis, and between 1969 and 1995 the company was called Saab-Scania AB. General Motors bought 51 percent of the automobile division Saab Automobile in 1990, and acquired the rest a decade later.
During changes in company ownership in the 1990s, the company name once again became Saab AB.
In 1995 Saab Military Aircraft and British Aerospace (now BAE Systems) formed the joint venture company Saab-BAe Gripen AB, to manufacture, market and support Gripen internationally. This co-operation was extended in 2001 with the formation of Gripen International for the same purpose.
Since 1998 the British aerospace company BAE Systems has been the largest shareholder in Saab following its acquisition of a 35% stake from Investor AB by its predecessor, British Aerospace. In January 2005 BAE reduced its shareholding to 20%. Investor AB also maintains a 20% share. Investor AB hold 38% of the voting rights and is, with the other Wallenberg institutions, the majority owner.
In December 2005 saab joined the Dassault nEUROn project, as a major partner.
In October 2008 the company announced its intention to merge its operations with that of Simrad Optronics. The new unit will develop high-tech optronics products and will be headquartered in Norway, although other details of the new arrangement have not been finalized.
On January 1, 2010 the company restructured from fifteen business units into five business areas; Aeronautics, Dynamics, Electronic Defence Systems, Security and Defence Solutions, and Support and Services. According to Saab the restructuring was undertaken to become more market and customer oriented.
Aircraft production
The main focus of aircraft production is fighter aircraft. Saab has been making aeroplanes since the 1930s, and the purely jet predecessors to the Gripen were the Tunnan, the Lansen, the Draken and the Viggen. The last civilian models made by Saab were the Saab 340 and Saab 2000. Both were mid-range, turboprop-powered, passenger planes. The development and the manufacturing of these aeroplanes takes place in Linkx¶ping, Sweden.
Organization
Aeronautics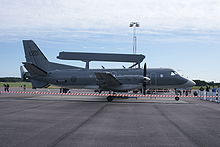 Picture - Saab 340 with Erieye radar
Aeronautics offers; airborne systems, related subsystems, Unmanned Aerial Systems (UAS) and aerostructures The business area Aeronautics is responsible for airframe structures for JAS 39 Gripen, and whole sections for Airbus, Boeing and NH90.
System development of the JAS 39 Gripen and the Skeldar VTOL UAV. Aeronautics is also partner in the European joint UAV-project Dassault nEUROn, where Saab develop Avionics and is responsible for the overall architecture and design. Marketing and support of the JAS 39 Gripen fighter jet is also included in the Aeronautics business area.
Dynamics
Dynamics offers ground combat weapons, missile systems, torpedoes, sensor systems, unmanned underwater vehicles and signature management systems, remotely operated vehicles for armed forces as well as civil security applications.
Short range weapons offered include; Carl-Gustaf, AT4/AT4 CS, STRIX and MBT LAW.Missile systems offered are; RBS 70, RBS 23 BAMSE, RBS 15.
Electronic Defence Systems
With the area of Electronic Defence Systems airborne, ground based and naval radars are offered including; Erieye, ARTHUR and GIRAFFE.
Various self protection systems are also offered within the business area such as; counter measure dispenser systems, sensors and jammers. The business area also offer display systems, head up displays, monitoring systems and various other avionics related solutions.
Security and Defence Solutions
The security and defence solutions area develop systems within the civil security sector as well as training and simulation solutions. The offer include Airborne early warning systems and C4ISTAR systems.
The training and simulation operations of the area offer tactical training and live-firing solutions for military and civil security use.
Support and Services
Support and Services offer maintenance, integrated support solutions, field facilities, logistics and regional aircraft maintenance.
Aircraft
Military aircraft
Saab 17 (bomber/dive-bomber)
Saab 18 (bomber)
Saab 21 (push-prop)
Saab 21R (jet)
Saab 29 Tunnan
Saab 32 Lansen
Saab 35 Draken
Saab 37 Viggen
Saab 39 Gripen
Saab 105

Civil aircraft
Saab 90 Scandia
Saab 91 Safir
MFI-15 Safari
Saab 340
Saab 2000

Saab Barracuda LLC
ULCANS
The Saab Barracuda LLC facility in Lillington, North Carolina, manufactures signature management products and provides customized services. Foremost among the camouflage, concealment and deception products is the Ultra Lightweight Camouflage Net System - ULCANS - which provides multi-spectral protection against visual, near infrared, thermal infrared and broadband radar detection. ULCANS is fielded with the U.S. Army and other Department of Defense organizations and is available in both woodland and desert versions. Saab Barracuda is one of only two qualified suppliers of ULCANS in North America, and currently holds a competed $1.76 B contract, along with GMA Cover Corp.
Lawsuit
In May, 2010, GMA Cover Corp. filed an antitrust lawsuit against Saab Barracuda, citing predatory pricing practices.
Gallery
Saab 18B (B 18B)
Saab 32 Lansen (J 32B)
Saab 91C (Sk 50C)
Saab 29 Tunnan (J 29F)
Saab 37 Viggen (SF 37)
Saab 340B
Saab 340 with Erieye radar
Saab 2000
Datasaab
Saab Automobile

Bibliography
MacPhaily, Doug and x–stberg, Mikael. Triple Crown BT-9: The ASJA/Saab Sk 14, A Pictorial Essay (in English/Swedish). San Josef,BC/Dundee,Ont: DCF Flying Books, 2003.

Saab Pictures and Saab for Sale.
Living Warbirds: The best warbirds DVD series.
Source: WikiPedia